How my Las Vegas travel wardrobe worked out
Ok, so I might have overpacked a little bit when I put together this Las Vegas travel wardrobe. 😆 But I was happy with what I did wear, and would definitely pack some of the same items again for other destinations.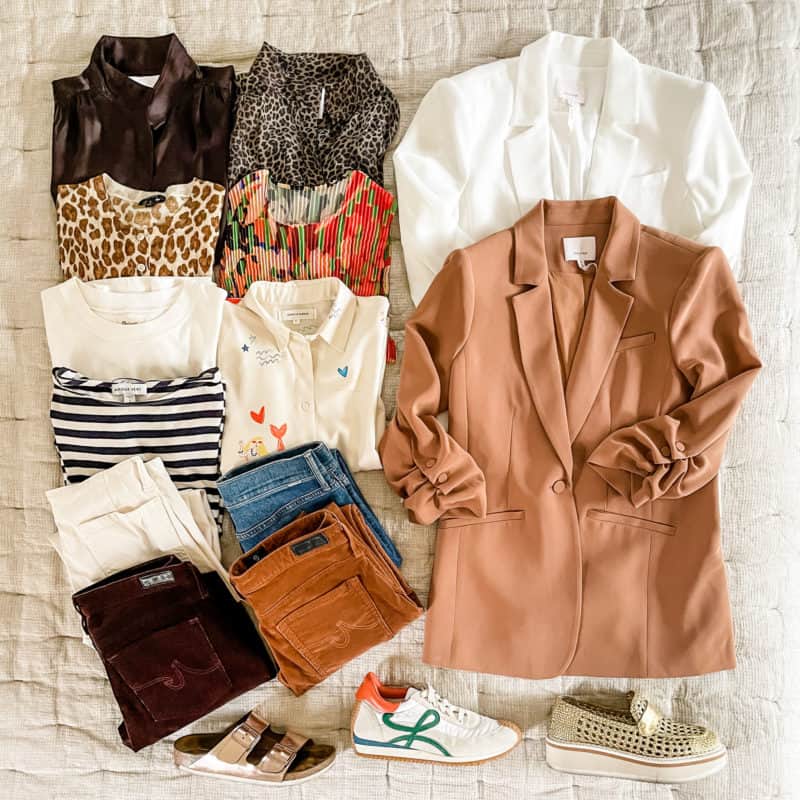 What I packed vs. what I wore
You can find details on what I packed HERE. Everything fit into a carry-on sized bag, except for my toiletries kit, which went in a tote. We did a lot of walking around, some shopping, and had nice dinners each of the four nights. The weather wasn't as hot during the daytime as had been forecast.
Because we were there to celebrate le Monsieur's birthday, I spent less time online, and (mostly) gave him a break from photographer duty. 😉
I wore variations on this combo most nights, though we didn't take photos.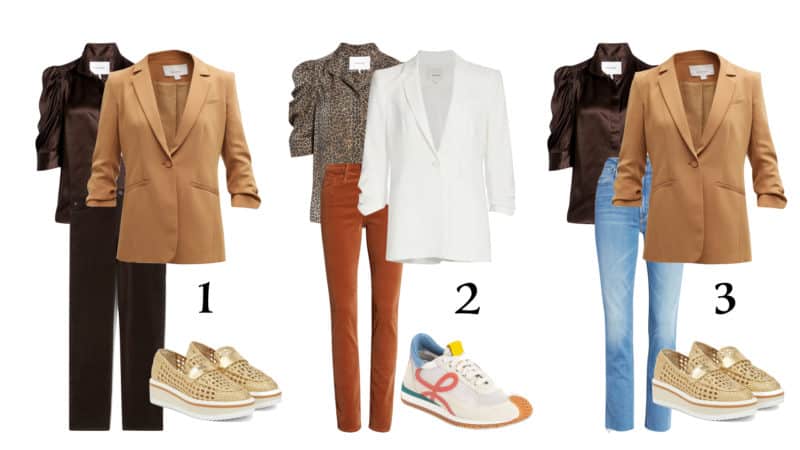 Camel jacket + brown blouse + dark brown corduroys (similar) + loafers
Ivory jacket + leopard blouse + tan corduroys + sneakers (similar)
Camel jacket + brown blouse + jeans + loafers
During the daytime, I wore either the blue or off-white jeans (similar), and the striped tee, or the knit vest* + tan jacket* (similar). It was chilly indoors with the air-conditioning, but with lightweight layers I was comfortable. (*These were my Wild Card picks, not shown in the original travel wardrobe layout.)
I always felt appropriately dressed. A LOT of people were dressed (much) more casually than we were, even at dinner. Though I did see a few women in sparkly cocktail dresses and heels. The bottom line for Las Vegas seems to be: wear what you like & what makes you feel good. If you like dressing up, go for it. If not, no worries.
So let's break it down:
MVP's
Supporting player
Tan jacket (similar). Was good for casual daytime wear.
Benched
Leopard cardigan.
Ivory tee
Pleated shell
Print camp shirt
Wish I'd brought…
We mostly did mask up when we were indoors, but the vast majority of people were unmasked. We'd both had our covalent boosters about 4 weeks prior. We've tested a couple of times since coming home just to be sure and have been negative.
Las Vegas travel report: staying, eating, playing…
I'll freely admit that Las Vegas isn't my first choice for travel, but I always do enjoy myself until the sensory overload kicks in about day 3-4. 🤪
Staying…
This time, we tried out Vdara, which is right behind the Aria on the Strip. It's centrally located, so we can walk almost anywhere on the Strip (or take free trams). It was originally built as condos/timeshares, so our "room" was a small suite with a kitchenette.
It was a comfortable space, but a bit "bare bones." Weird things, like no towel racks, no plates or utensils in the kitchenette, and almost nothing on the walls. I'd brought my Nespresso machine with me, thank goodness! But it did have an excellent view, especially at night…
They do have a spa, but I didn't book anything.
Eating…
We went back to two restaurants we'd enjoyed on past trips, Lago (at Bellagio) and Bardot (at Aria). Both were OK, but had reduced their menus somewhat. And Bardot was so packed, loud and frenetic, we couldn't carry on a conversation.
We tried two new places, however, and I recommend both highly. One is Blossom at the Aria which is mostly Chinese (some other Asian dishes too). The food and service were both outstanding! We would definitely go back. And it was quiet enough that we could easily converse.
The other was Amalfi at Caesar's. It's seafood-focused, though there are other items on the menu. Everything was delicious and the service was friendly & attentive. We'd put this one on our visit-again list.
Playing
We didn't spend a lot of time in the casinos, and mostly stuck to the cheap slots when we did play. I won about $300 the first night on the penny slots, and slowly lost it over the next few days. Here's a tip if you don't like the smoke: the Park MGM is a completely smoke-free environment, including the casino floor. So we tended to go there to play.
We didn't wander too far this time, but one of my favorite spots was right next door…the Conservatory at the Bellagio, which is always spectacular.
We didn't go to any shows this time, but of the ones we've seen before, "Absinthe" and "O" are the two I'd recommend.
The other thing we noticed that's different from pre-Covid days is that shops aren't open as many hours as they used to be, and a lot of restaurants (except food courts & counters) seem to close in between lunch and dinner. We wandered around for about an hour one day trying to find something open where we could sit down for a late lunch.
Overall, it was a nice getaway.
Stay in touch
Sign up to be notified of new posts and updates from une femme d'un certain âge.