What I'm packing for a road trip to Las Vegas
We'll be hitting the road for a few days in Las Vegas to celebrate le Monsieur's birthday! Here's what I'm packing…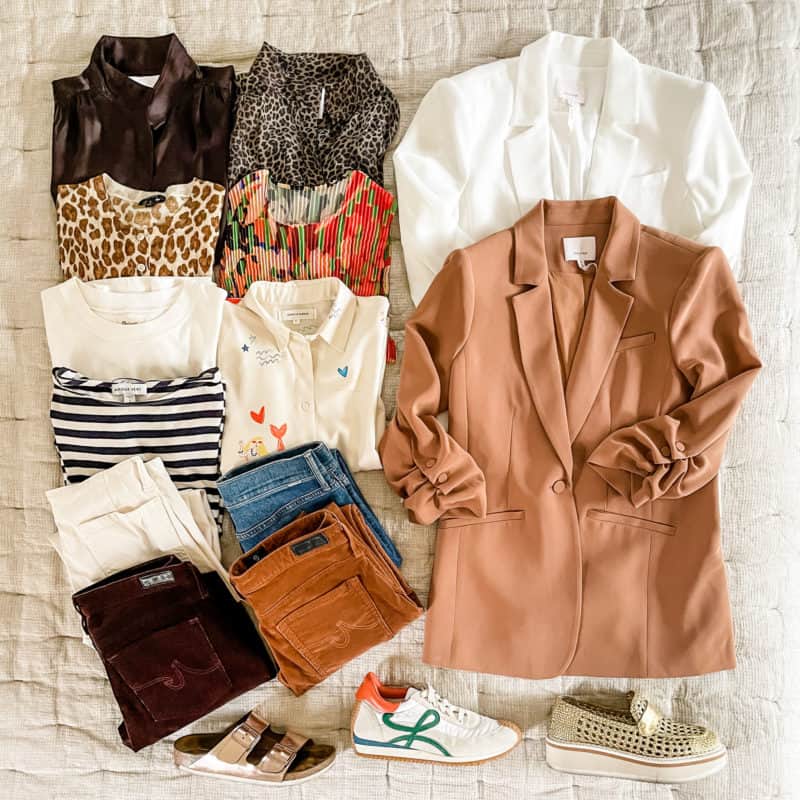 LM loves Vegas like I love Paris, so when we started talking about a possible getaway for his birthday, it was his first choice. It would have been a short flight, but we decided to skip the airport hassle and road trip it. Door-to-door it doesn't take much longer to drive there, and we can set our own schedule.
While he still enjoys a little bit of gambling, these days restaurants and relaxing are a bigger draw for us. And we enjoy just walking around looking at the crazy spectacle of it all.
What I packed for a Las Vegas road trip
While it's easier to pack for driving than flying, I still don't want to shlep a lot more than I need. I could probably get by with less than I've included here, but all of this easily fits into a small suitcase so I'm giving myself some variety and options.
Days are forecast to be quite warm and evenings mild, but I find I'm always cold in the air-conditioned interiors, where we'll probably spend the majority of time. So I'm packing lightweight layers that can be mixed for casual or "smart casual" outfits.
Shoes
At one point I considered bringing a pair of dressier strappy, low-heeled sandals, but remembered that in Las Vegas, the walking distance just from parking lot to restaurant can come close to 1/2 mile. I didn't think they'd be comfortable enough for that so left them behind. My days of teetering around in cute but painful shoes have long since passed. 😉
For the clothing, I went with a mostly neutral palette of browns and ivory/off-white. I usually pack a ratio of 2-3 tops for each bottom, depending on weather and circumstances. I always lay out different possible outfit combinations, then try everything on.
Bottoms
I decided to go with tried-and-true pieces that will be easy to style, and can be dressed up or down.
off-white, lightweight, relaxed denim pants. (Similar)
two pairs corduroy jeans. These both have a very fine wale and rich color, so can be dressed up as needed.
Tops
Some of these pieces are several seasons old and no longer available, so I've linked to similar styles when possible.
I don't anticipate I'll wear all of these, but I'll have options depending on weather and venue, and they take up almost no space in my bag.

Jackets

Accessories & jewelry
I usually either pack too much or too little jewelry. This time, I decided to go with a small "no-brainer" jewelry capsule (mostly my favorite French Kande pieces) that can be worn in just about any combination. Also (not shown) this pearl bypass ring.
I'm not going to mess with changing bags between day & evening, so am just bringing my trusty puzzle bag, which can be worn cross-body or carried. When considering what to pack for Las Vegas, remember that you'll probably be spending a lot of time on your feet. I suggest sticking with a lighter weight bag that closes securely and can be worn hands-free. (This bag is also a great option for travel.)
Wild Cards
I always give myself a "wild card" option or two at the last minute, depending on weather forecasts and whim.
The last time we were in Las Vegas, we were surprised by an unexpected cold front, and I was freezing for a good part of the trip. So I'm throwing in one cashmere pullover, and a tan denim jacket (similar) for daytime as just-in-case options.
In case you missed it…
Thanks for reading! If you enjoy une femme d'un certain âge, please support me by sharing on Facebook, Pinterest, or other social media, and subscribe HERE to receive email notifications of new posts, and exclusive content. Thank you!
Stay in touch
Sign up to be notified of new posts and updates from une femme d'un certain âge.