Shopping With Friends
I've always been drawn to the Scandanavian minimalist aesthetic of COS, but have often found the styles too long and/or boxy for me. But yesterday while out for some lunch and shopping with Brenda Kinsel, I was reminded that I need to give this retailer a closer look from time to time.
While flipping through the racks, Brenda brought my attention to the cool pattern on this light a-line shirt. It's the kind of thing that I would have scrolled right by online. The fabric and print are SO much better in person, but it was the fun a-line shape that made me try it on. This is the kind of throw-on-and-go top that will be great for summer and warm weather travel. It's fitted through the shoulders and bust which balances the fuller shape and keeps it from being overwhelming. I sized up to an 8.
Takeaway: sometimes it pays to shop in person, and ahead of the season. (I also found an in-season wool cardigan that I'll show you soon.) We found some cute things for Brenda too, which I'll let her tell you about.
Help For Winter Lips And Hands
My lips get SO dry in the winter, and I'm always looking for products to help keep them comfortable, and avoid chapping and flaking. I love Makeover Workshop Re-Creation Lip Treatment, and use it at home daily. But it's also nice to have something you can toss in your bag and take with you.
I've tried lip oils before, but found them messy and gooey. I tried this one reluctantly at the insistence of a Sales Associate, and came back and bought it the next day. NOT gooey, NOT messy, and the applicator makes it easy to control the amount. It really keeps my lips from drying out while on the go. Paraben-free, mineral-oil-free, not tested on animals, and vegan!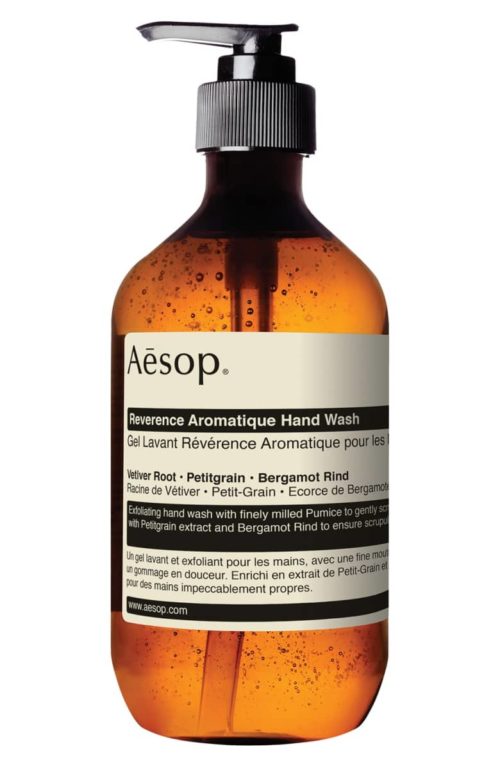 And while we were at the mall yesterday, I picked up another bottle of this hand wash (also vegan, cruelty-free). It's an excellent exfoliant for rough winter hands and body, and smells heavenly.
A Valentine's Offer…
If you've had your eye on any of the gorgeous pieces from French Kande, here's something to sweeten the pot: get one of these Love Bracelet Sets for just $19 with any $250 purchase! These limited edition pieces tend to go fast, so don't miss out.
Affiliate links in posts may generate commissions for unefemme.net. See my complete disclosure policy here.