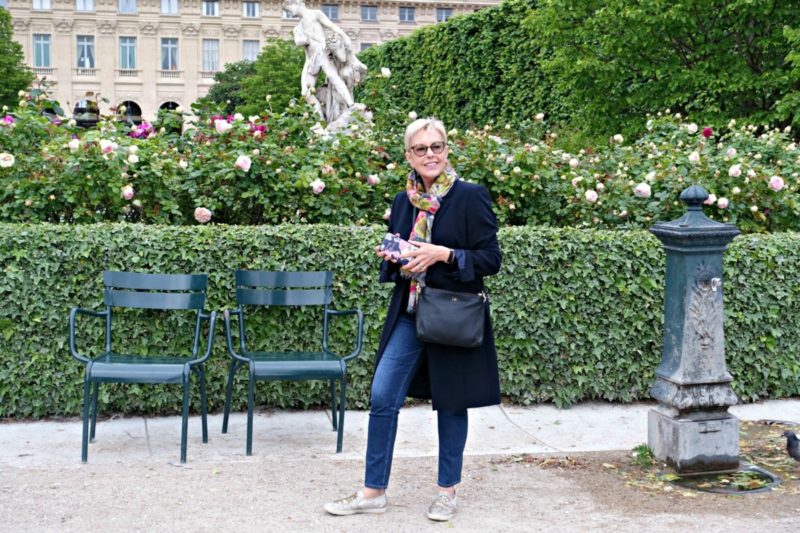 I've received a few questions recently about handbags for travel, so it seemed like a good time to share some updated recommendations.
My Travel Bag Checklist
Choosing a travel bag or purse really comes down to the type of travel and personal preferences, but there are a few attributes that I always consider.
Size
What will you need to carry with you during the day? Will your bag need to accommodate extra clothing, medications, food or water?
Can you downsize some items (like a wallet, cosmetics bag, or camera)?
My recommendation is to go with the smallest bag you think you'll need. The more room you have, the greater the temptation to toss in stuff "just in case." Stash a small reusable nylon shopping bag or two in case you pick up some items during the day and need more room.
Weight
Travel often involves a lot more walking or standing that we usually do at home. So it's important to start with a bag that's relatively lightweight. A purse that weighs 3 pounds empty will feel like lugging around a toddler once you add your belongings and spend a few hours on your feet.
A leather bag will generally weigh more than fabric. Hardware, structure and compartments will all add weight. It's a tradeoff…sometimes the organization is worth a few extra ounces.
Style
I've come to prefer a simple, sleek bag that has some organization, but isn't too stiff and bulky.
Crossbody bags are my personal preference; they allow you to have your hands free, and I find them easier on the neck and shoulders. Look for straps that aren't too thin; a strap that's at least 1/2 inch wide will be more comfortable over time. (I'm not a fan of backpacks, but I know some people prefer them.)
A darker color will be less likely to show dirt or scuffs, though some materials may be more resistant.
Are you bringing more than one bag, or will you need a single bag that can go from day to evening? If the latter, I recommend sticking to a neutral color.
If you're traveling to a destination where heavy rainfall is the norm, consider water-resistance. You can also treat leather and some fabric bags with a waterproofing spray before go.
Security
A bag that zips completely closed will be most secure.
Another reason I prefer a crossbody bag is that I can keep it in front of me and close to my body in crowds, and it's a tougher target for a snatch-and-run thief.
I've never felt the need to travel with one of those special anti-theft bags, but if you feel more secure with one, there are a lot of choices.
If you do travel with a backpack, I've seen it suggested to wear it on your chest rather than your back in crowds or on public transportation.
I still believe the best security is staying aware of your surroundings, and moving away from people who seem to be unnecessarily close or are trying to distract you.
The Varsity Team
The Lightweight. This small nylon "Le Pliage" bag has a removable crossbody strap, and classic Longchamp style. The size is deceptive; this actually holds quite a lot. (Also available in Medium.) I traveled with this bag when we went to Japan in 2016, and added a purse organizer (similar to this one).
The Manager. Though I haven't tried this bag myself, many of you have recommended various MZ Wallace bags for travel. This model looked like a good balance of size, style, light weight, and organization. Here's a larger satchel style (with optional crossbody strap). Updated to add: several commenters have specifically recommended the "Paige," which is a slightly smaller version of the one shown above.
The Utility Player. This style offers the option of carrying in hand/over the arm or wearing crossbody. Nice for day-to-evening wear. (Also in Medium and Large size. All sizes offered in several color choices.) I've examined this one up close and it's extremely light!
The Alternate. Many of you have recommended Baggallini bags for travel, and this style is highly rated. I thought I'd show you an option that isn't black, but it is also available in black and taupe.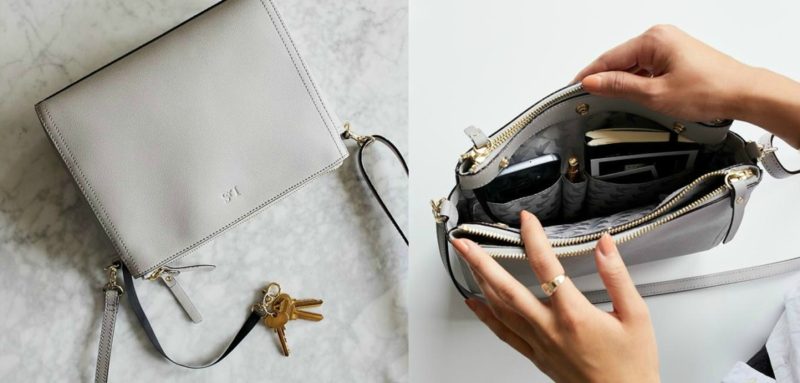 The MVP. Most leather bags have become too heavy for me for travel use, but this one is the exception. (It's the bag I'm wearing in the top photo.) This is a great little bag that holds quite a bit more than you'd think from its size. Though the middle section doesn't zip closed, it does snap securely. The strap can convert from a crossbody to shoulder to wristlet length (though I use it exclusively crossbody). It's lightweight and good-looking, and available in multiple colors and hardware options.
I'm still not sure which bag(s) I'll be taking to France next month. What bags or handbag features have you found best for travel?
Affiliate links in posts may generate commissions for unefemme.net. See my complete disclosure policy here.