Travel in style: a coastal chic weekend capsule wardrobe
Whether it's an impromptu road trip up the coast, or a getaway to celebrate a special event, a weekend escape can be a refreshing break. One bag is usually all you need. And a little planning can help prevent over- or under-packing. So I've put together a sample weekend wardrobe capsule to give you some ideas.
A coastal chic weekend capsule wardrobe
For this weekend getaway capsule wardrobe, I've selected pieces from the Autumn seasonal color palette. The colors all coordinate. So you can easily mix and match to create looks from very casual to smart casual. To keep with the "coastal" theme, I've selected simple pieces in mostly light neutrals and subtle patterns.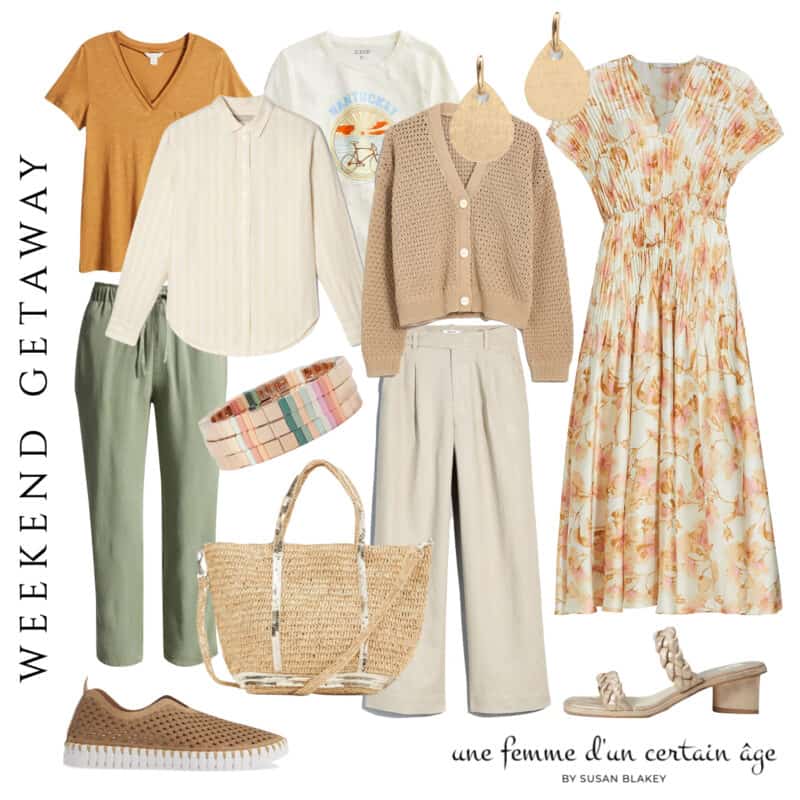 If you're planning a longer trip, you can always add more pieces. And if your time away will include some pool or beach time, of course pack a swim suit (my favorite HERE), and a hat for sun protection. (That linen shirt in the capsule will work nicely as a cover-up too!)
(For more coastal capsules in other seasonal palettes, check out: Summer serenity: mastering coastal chic… and Coastal cool: a chic Winter palette capsule.)
Out & about
Perhaps a visit to the local street fair, some wine tasting, or exploring local art galleries? I've included a hat and the linen shirt (worn on its own or open over the tee) for sun protection, but be sure keep your sunscreen handy. Maybe toss a foldable shopping bag into your tote, in case you find some treasures. 😉
Apéro with friends
Your friends suggested meeting up at this little place right on the water for drinks and appetizers, and watching the sunset. (Well, at least until the evening fog rolls in, and then you'll be glad for a light sweater!)
Afternoon wedding or dinner out
Maybe there's a wedding on the itinerary, or perhaps you managed to score dinner reservations at that bistro everyone's been buzzing about. I included a dress in this capsule wardrobe to give you a slightly more formal option that's still relaxed.
Here are a few more dress options (in all seasonal palettes) to consider:

What's your favorite weekend getaway destination?
Just a note: I'll be taking a blogging break for just a few days to tackle some "back-end" blog projects and get myself back on schedule. In the meantime, you can visit The Style Hub for all of my style and fashion-related posts. And check out my Travel Wardrobe resource hub for more packing tips and capsule wardrobe ideas.
Thanks for reading! If you enjoy une femme d'un certain âge, please support me by sharing on Facebook, Pinterest, or other social media, and subscribe HERE to receive email notifications of new posts, and exclusive content. Thank you!
Stay in touch
Sign up to be notified of new posts and updates from une femme d'un certain âge.