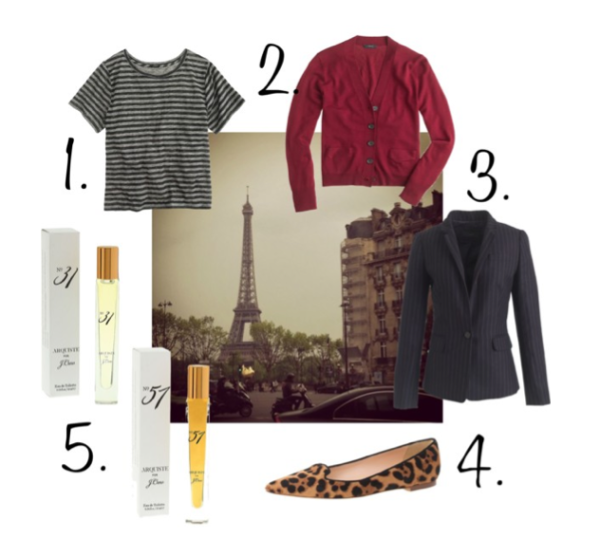 A few years ago, I decided that one of my criteria for wardrobe items was "would I wear it in Paris?" While at times I have deviated from that style mantra, I find that when I follow it, it never steers me wrong.
I've been pleasantly surprised with many of the new season selections at J.Crew, several of which are solidly in "wear in Paris" territory.
1. This little striped linen tee has an easy fit and looks great with jeans, skirts, under a jacket, whatever. It's very lightweight so perfect for these last weeks of summer. Layers well over a long-sleeved tee too once fall arrives. I've done the wash test…will work well for travel as it dries overnight on a rack or hanger.
2. I'm so happy to find a v-neck cardigan that is fitted and hits at the hip. This one in Merino wool is available in some fabulous fall colors. (I went with Cabernet shown above.)
3. I've mentioned this Regent Blazer before, but it's such a cool and flattering piece, I can hardly wait for cooler days to wear it. It's available in Regular and Petite sizes in the pinstripe, and the solid version is available in Tall as well. (You can wear the collar up or folded down.)
4. Beyond the ballet, this leopard flat begs to be worn with dresses, jeans, trousers.
5. I'll admit it, I'm impressed. I've become very picky about fragrances in the last couple of years, and have only found two or three that appeal to me over time. (For me, the true test of a fragrance is how I feel about it 3-4 hours in.) I'd read about the inspiration behind these two Arquiste® for J.Crew fragrances (the first modern art show featuring all female artists, curated by Peggy Guggenheim) and it piqued my curiosity enough to try both scents, though I really wasn't expecting much. And…I really, really like both. No. 31 is a perfect daytime fragrance, while No. 57 is a bit more sultry, nice for evening (in fact 57 reminds me very much of Serge Lutens "Chergui", one of the few I've been wearing in the last year.) After sampling I purchased both in the travel size with a roller ball applicator,  but will probably pick up the spray of No 31 as well.
>> Special promotion: as of Aug 27, some of these pieces are 25% off with code ALMOSTFALL .
Do you have a style mantra? Have you found anything recently that fits in with your mantra?
Affiliate links may generate commissions for unefemme.net
Affiliate links in posts may generate commissions for unefemme.net. See my complete disclosure policy here.