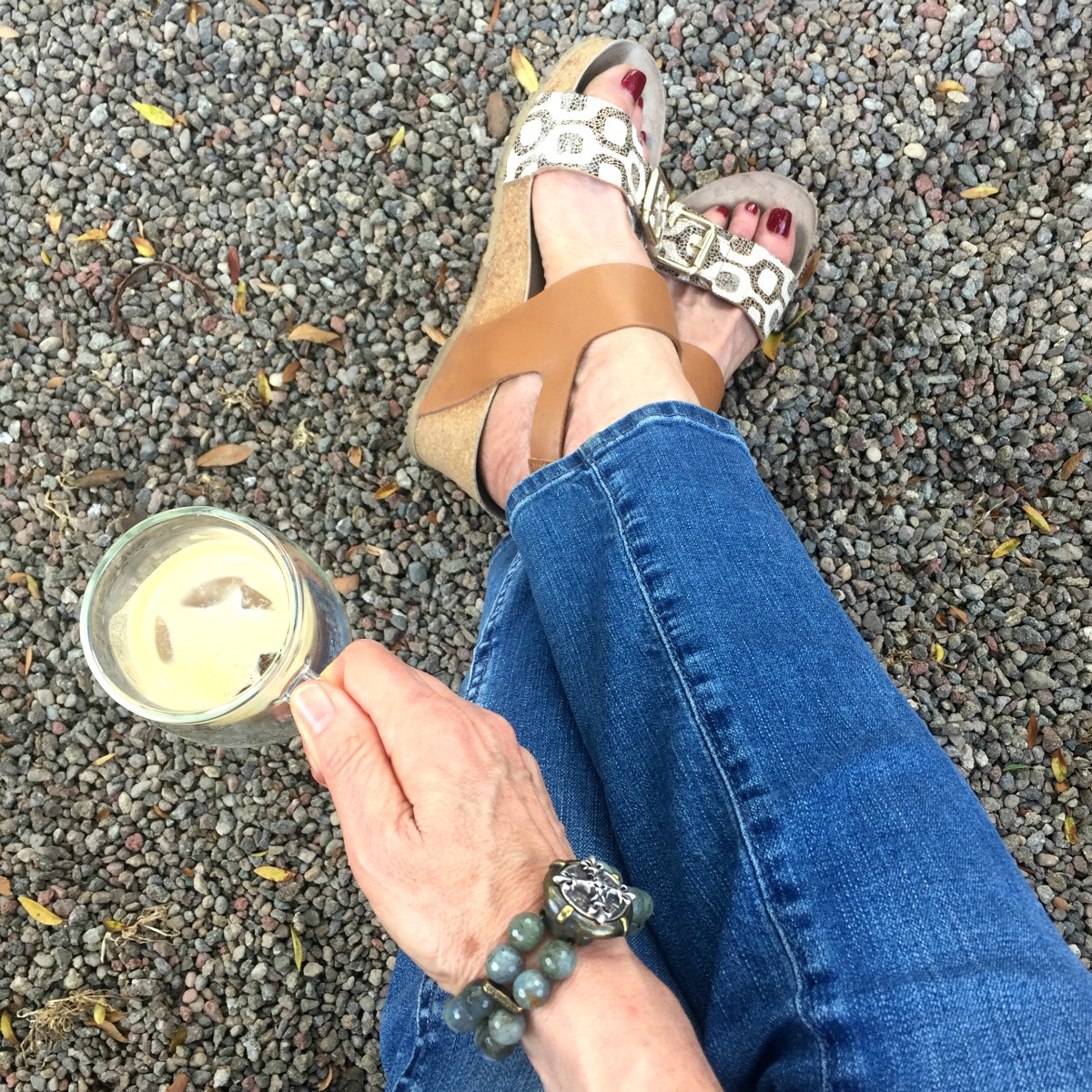 Self-Care Update…
While August is a popular month for getting away on vacation, for me it's often a good time to regroup, reset and put self-care on the front burner. My definition of self-care includes tackling projects I've been putting off. Here's an update on a few of them…
Above: taking a break after another round of closet purging and organizing. Iced espresso has become my new Favorite Thing this summer, along with these sandals.
Teeth
My tooth extraction went well (as well as something like that can go). I had very little pain which was easily handled with the occasional Advil. I've been mostly hunkered down at home for the last week, and still have a few days to go before my temporary tooth can be placed. It's still pretty shocking each time I see myself, and I'm very self-conscious when I do go out. I look like Alfred E. Neuman. 😉 (Wish I could adopt his "what, me worry?" attitude, at least about my missing tooth!)
Pilates
I've now had four private Pilates sessions, and think this is exactly what I've been needing. Even though I barely break a sweat, I still come home each time feeling as though I've really had a workout. My muscles are just a little bit sore the day after most sessions.
Working one-on-one with an instructor is pricey, but so far it feels like money well spent. It's hard work, and requires a lot of concentration. It's making me realize how disconnected from my body I've become over the years. She'll ask me, "do you feel muscle X engaging?" and my response is often "I'm not sure." In between sessions, I'm starting to be more aware of my posture.
Closet And Wardrobe
I've spent several hours this week working on my closet, and have cleared out quite a lot. I still have a couple of drawers and shelves to tackle. In the past, I've been too ruthless, and culled pieces I wish I'd kept. But at the same time, I'm also trying to release those items that I'm feeling "meh" about. What's interesting is that some things I loved a couple of years ago are now in the "meh" pile. It makes me more skeptical about thinking of any item as a "forever" piece. I'll be posting more about what I kept and what I tossed soon.
This is also the time of year I tend to find myself in the style doldrums. It's too hot to layer, and I've been living in my white linen shirts with looser, lighter-weight cropped jeans. But I'm getting very bored, and am keeping an eye out in the summer sales for some lightweight tops with some color and/or pattern. (And that AREN'T polyester!)
Blog
I'm playing with the formatting and look of the blog a bit, but it's still a work in progress. If you notice anything that doesn't seem to be working correctly, please let me know. There were a couple of unrelated tech glitches earlier in the week, but they seem to be resolved now.
How's your month of August going so far?
Affiliate links in posts may generate commissions for unefemme.net. See my complete disclosure policy here.