The week between Christmas and New Year's has always been my favorite part of the holidays. The pressure's off, traffic's lighter, and crowds have thinned. But it still feels festive with holiday decorations still up, and celebration of a New Year still lies ahead.
I've really been enjoying the peace (and the leftovers) and thinking about ideas and projects for the new year. (I'll be sharing more of my thoughts on this next week.) But in the meantime, here are a few things I'm appreciating this week…
Lightweight layers
It was sunny and warm over the Christmas weekend, but has turned damp and chilly again. Even with a sweater on indoors, I tend to feel cold most of the time. (And our house is older and not well-insulated.) I find adding a lightweight base layer keeps me warm without feeling too bundled up.
My friend Lisa has been recommending these "tissue turtlenecks" for some time, and I finally picked up a couple of them. They keep my neck warm without being too snug or bulky, and are soft, light, and comfortable underneath a sweater or cardigan. I sized up to a Medium and the fit is close but not tight.
They're available in a bunch of colors, and currently marked down. Sizes XX-Small to 3X.
I'm always on the lookout for socks that are warm and soft but not bulky, and these from Falke hit that trifecta. They're knit with cotton on the inside and merino wool on the outside. They're thin enough to wear with more of my shoes and boots, and don't bunch up. Several neutral colors available.
What we've been watching…
Emily in Paris, Season 3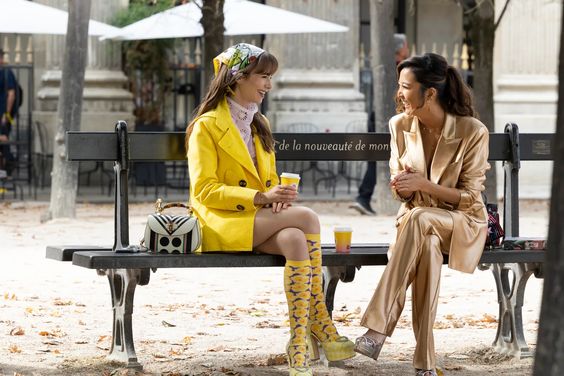 Never mind the totally implausible plot points, characters that are often caricatures, and absurdly over-the-top outfits that at times make Carrie Bradshaw look like a bastion of restraint. Emily in Paris is light, frothy fun. Yes, I've softened my stance.
And even the French may have softened their stance, as Lily Collins graces the Dec/Jan cover of French Vogue. Vraiment!
Season 3 just landed on Netflix a few days ago, and we've already breezed through it. Of course, the gorgeous shots of Paris sprinkled through each episode are a big draw for me. But I have to admit, I'm even finding some snippets of style inspiration among the 48-car-pileup of eye-searing outfits (will be writing more on this later)…
Slow Horses
I LOVE a good spy thriller, and this one is another reason to try out an Apple+ subscription ("The Morning Show" is another.) The premise: Slough House is a dumping ground for MI5 f'ups (the "Slow Horses"), where they presumably will be kept occupied with administrative busywork until they quit or retire. But they somehow find themselves in the middle of active operations and must rise to the occasion.
The cast is excellent, including Gary Oldman (as Jackson Lamb, in charge of the Slow Horses) and Kristin Scott Thomas, who is #2 at MI5. Their scenes together are always a treat as they verbally joust and try to stay one step ahead of each other. Though there's some action, there's not much overt violence, though it's still quite suspenseful. We're anxiously awaiting the episode that drops tonight!
A quiet New Year's Eve
We'll probably settle in with some bubbly and a movie, my kind of NYE! I hope your celebration is exactly what you want, and wish you a healthy & prosperous 2023. Happy New Year! 🥳
Affiliate links in posts may generate commissions for unefemme.net. See my complete disclosure policy here.