Best of 2022: my favorite outfits & more
Well here we are, wrapping up and getting ready to say goodbye to 2022. It's become something of a tradition to share my favorite outfits from the year, so I've tripped back through the archives and collected my Top 10 looks…
Why these? They're the outfits that I feel most myself in, that I've worn repeatedly, and would happily wear again.
Favorite outfits of 2022
Spring
Three of my favorite things that work well together: leopard print, stripes, and a pop of color!
First shown HERE.
I really love this combination of colors. The blouse was a custom piece from Amanda Thompson in London. It's a lightweight silk, so perfect for when I need something a little dressier for warmer seasons, but can also work with a more casual look.
First shown HERE
Well, I mean, it's PARIS! But this is also such a timeless look that always feels appropriate.
First shown HERE.
Summer
I played a bit more with silhouettes this year, including trying out some fuller leg jeans. Here I kept the top layers short and structured, and really liked how it balanced the volume of the jeans.
First shown HERE.
I really wish I'd captured a standing shot of this outfit, as I love everything about it! (And I repeated it several times during the early fall.) There's the cotton blazer I picked up in Paris, a tee in my very favorite green, and the juxtaposition of rough and refined that is my sartorial happy place.

First shown HERE.
Fall
I was so happy to find this little leopard cardigan, and have worn it often, either on its own or layered under a jacket. Here with a pair of lantern cut jeans and patent leather Birks. (Wearing size Small in the cardigan.)

First shown HERE.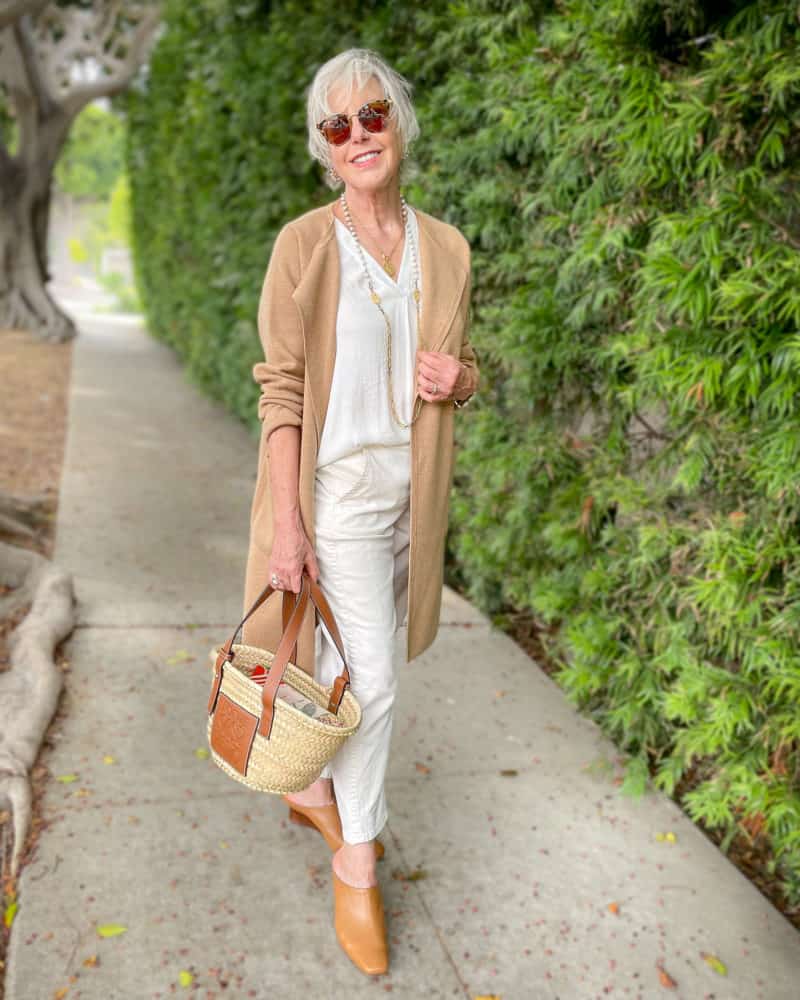 And here are those lantern jeans again, this time with a longer sweater blazer for a tonal look. (I'm wearing XS in the long sweater jacket.)

First shown HERE.
I really leaned into the cropped-over-relaxed silhouette this year, especially lantern pants. I LOVE this pants style, and hope it sticks around a while. I've worn this pants/jacket combo with various tops on multiple occasions. (Sizes: Jacket XXS, Vest S, Pants Petite S)

First shown HERE.
Winter
I loved this look because it felt festive without being too over-the-top. (Sizes: topcoat 6 Petite, sweater XS, pants 28)

First shown HERE.
And the most recent addition to my favorite looks of 2022. I love the colors and mix of textures here. (Sizes: jacket Small, sweater Small, jeans 28)

First shown HERE.
My gray hair journey
I made one big change in 2022…I grew out my gray hair!
Left, in January | Right, October
I'm SO glad I did this! I'm really pleased with the natural color and love the brightness of it.
Most of the response has been positive, but a few people have commented that it's "aging" and that I looked younger with colored hair. Even if that were true, I don't care. I want to look my best no matter my age, but I've come to the point where that doesn't mean trying to look younger. Vibrant, yes. Engaged and energized, yes. But getting older is a privilege, and I hope to embrace rather than fear it.
More popular posts from 2022…
Stay in touch
Sign up to be notified of new posts and updates from une femme d'un certain âge.