These fall "trends" are actually classics…
Those of us over 50 are often advised to avoid trends. But many of this fall's fashion trends are actually classic and easy to wear…
Today I'm joining up with some fabulous blogger friends to share our favorite fall fashions. I can't wait to see what styles they're rocking this fall! Check out the links at the bottom of this post.
Wearable fall fashion trends for women over 50
Trends are no longer as singular or overarching as they once were. They can start off slowly and build momentum over several seasons. When items that align with your personal style are "on-trend," it can be an opportunity to find a wider selection and invest in your favorites. Here are a few favorite fall fashion "trends" that are actually classics, and will have some staying power in your wardrobe:
Loafers
From sleek to chunky or lug-soled, there's a loafer out there to suit just about any style. I've always been a big fan of loafers, and have been tempted by several new styles this season. So far these are keepers for both looks and comfort. This "Chai Latte" color is a great neutral that goes with almost anything, but several other colors are available in this style. They run true-to-size.
Here are a few more styles that caught my eye…


Relaxed blazers
Blazers seem to be THE jacket this fall. They're a perennial of course, but in recent seasons they've loosened up a bit and have shed their staid, corporate associations. Oversized, relaxed, or longer blazers are versatile pieces that can top everything from jeans to dresses. This blazer with ruched sleeves in a crepe fabric is one of my favorites. I'm wearing size 6.
Here are a few more options…


Animal prints & textures
I've long considered leopard print a neutral, but have been mostly giving it a rest the last few seasons. This cute and wearable cardigan put it back on my radar. Almost every brand has some version of a leopard, zebra, or reptile print this season.
If leopard's not your thing, here's the same cardigan in a striking zebra print.
I'm also seeing a lot of croc-textured shoes, boots and bags. I really like these sleek loafers.
More from the wild side…


White & ecru denim
(See above ⬆️ )
Don't pack away your white or light-colored pants just yet. I'm still seeing a lot of white and ecru denim on the racks, and think it adds a nice bit of freshness to a fall look. Summers & Winters: opt for white denim to wear with you with cool colors (cobalt blues, grays, charcoal, lavenders, spruce). Springs & Autumns: ecru/ivory will look smashing with camel, cognac, brown, rust, oranges, golds, aqua, olive.
More options….


Knee boots
Will this be the year I finally replace my 15-year-old knee boots? I've been on the hunt for a comfortable low-heeled boot that isn't too clunky, but every year I've come away empty-handed. Knee boots have been touted as one of this fall's big trends, so I'm keeping my eyes open.
These are spendy, but have a graceful shape and are weatherproof. I've always had good luck with the durability and comfort of Aquatalia boots, so this one's on the short list. Also available in black.
This one's a bit more budget-friendly, also a nice shape.
That 2″ heel is at the top end of my comfort range, but dang, I love the look of these...
I'll be noodling these choices and will let you know if anything sticks…

More over 50 fall fashion…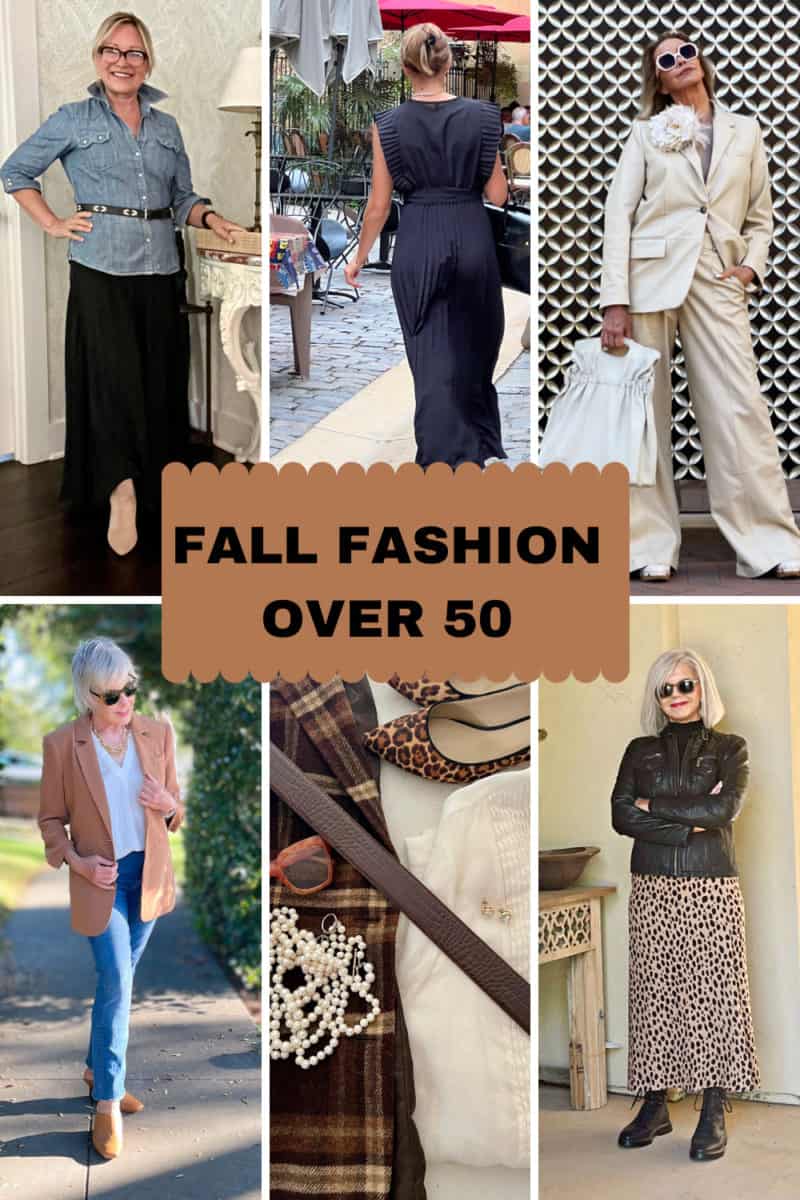 Check out the fashion trends my blogger friends are loving this fall…
Stay in touch
Sign up to be notified of new posts and updates from une femme d'un certain âge.