The one thing I always pack for warm weather travel…
If you're planning to travel someplace warm, and want to stay cool but need some coverage, consider packing a relaxed linen shirt or top.
In comments and responses to my post on 12-piece travel capsule wardrobes, some of you mentioned that you'll be traveling to warmer climates, and asked for suggestions. While the wardrobe ideas I shared in that post are intended for milder transitional seasons, I wanted to address this common question.
My top pick to pack for warm-to-hot weather
Perhaps your itinerary includes visiting churches, temples, or other sites where "modest" dress may be required. Or perhaps you just want to minimize your sun exposure. Staying cool and covered can be challenging. One piece I always pack for warmer seasons or destinations (and have never regretted) is a relaxed linen shirt. Linen is lightweight, breathable, washable, and dries more quickly than cotton.
I wear mine alone as a top, or as a lightweight topper over a tee, tank, or sleeveless dress. I also find a linen shirt helps keep me from getting chilled in air-conditioned interiors.
It may be hard to wrap your head around if you're still dealing with freezing temperatures, but I've found February and March are the best months to shop for linen pieces (especially with sleeves). By May, the styles available skew more bare and beachy.
Cool & covered linen shirts for travel
I purchased an earlier version of this shirt several years ago. After many trips, and many washings, it's still in my wardrobe. (Shown above with a maxi dress. I'm thinking about dyeing it to more of an ivory color.) The Absinthe color is also tempting. Autumns, the Pacifica color is for you! Summers, check out Plume, a soft lilac. Most colors are offered in Petite and Plus sizes too.
Here's another good one for you Autumns! This linen button-front tunic is available in Regular, Plus, Petite, and Tall sizes.
I like the subtle stripes on this one. Sizes XX-Small to XX-Large.
This one's quite budget-friendly, very well-reviewed, and available in several colors. Sizes XS-XL.
Nautical and nice, this sailboat-embroidered top is available in sizes 2-14.
They call this a "beach shirt," but you could probably also wear it as a casual dress. Or unbutton the bottom few buttons and wear over a pair of slim pants. Sizes XX-Small to 3X.
This cheetah print shirt is pretty cute too…
Personally, I don't mind a bit of rumple, and put it down to one of linen's unique charms. But if the wrinkles are a deal-breaker, you might want to try no-iron linen.
The shirt I'm wearing at the top is last year's version of this one. While it may pick up a slight crease or two over the day (especially if you're sitting), it will still look crisp and un-rumpled. And any creases will usually fall out if you hang overnight. It's available in 4 colors, sizes 00(0-2) to 4(20/22). Here's one in a navy and white stripe that's perfect for you Winters!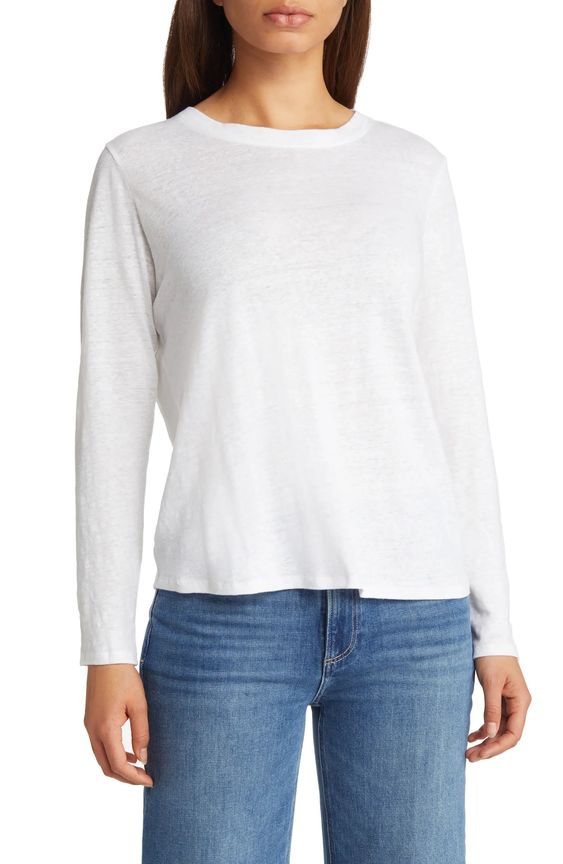 A linen tee or knit is another option. Here's a simple crewneck tee with long sleeves. This could be a good layering piece for travel too. It's available in 5 colors, sizes Petite P to 3X.
To wear with your linen top…
And if you need a bottom piece that's not shorts or a skirt, I highly recommend these stretch crepe pants. I've found them comfortable even in heat & humidity. They're available in a bunch of neutral shades, sizes Petite P to 3X.
Stay in touch
Sign up to be notified of new posts and updates from une femme d'un certain âge.