It's been a busy week, and it feels as though my attention has been pulled in a million different directions. But here are a few random things I wanted to share….
A cozy sweater
They aren't kidding when they call this sweater "supersoft." I can't do a full turtleneck, so this lower rollneck is just enough to keep the chill off without feeling like I'm being strangled. It's also fitted enough that you can wear a necklace on the outside if you like.
There are a bunch of good colors, and it's available in size XX-Small to 3X. I ordered the Small which is a good fit: relaxed but not oversized. Here's a color breakdown for the seasonal palettes:
Spring: Heather Blade, Sweet Dahlia
Summer: Pale Pink, Aqua Multi, Hthr Graphite
Autumn: Hthr Mushroom, Bridgeport Brown
Winter: Hthr Pine (shown), Midnight Burgundy, Black
I need to see that red in person, but it looks warm-ish on my monitor, so probably best for Springs & some Autumns.
Rediscovering a favorite fragrance
I like to change up my fragrance with seasonal changes. A few days ago, I was going through my stash and trying some old favorites, and this is the one that resonated and didn't annoy me after a few hours. (I don't know about you, but I think either my chemistry or olfactory perception changes every few years. Which is why I've never been able to settle on a "signature" scent.)
Just a note: I mostly wear fragrance when I'm at home or know I won't be in confined spaces with others.
Subtle sparkle
If you prefer your jewelry on the delicate side, you might like the new "Petite Pavé" collection from Dean Davidson. They kindly sent me these earrings and ring to try, and they're lovely! Both are pieces I'd wear for every day, though if you wanted more of a statement piece, I'd check out these dramatic drop earrings, or bold circles. And all of these styles are available in gold or silver!

A clean machine
How did I not know about this before?? I love my front-loading washing machine, but if I'm not diligent about leaving the door open in between uses, it can get to smelling a bit musty. A friend recommended these cleaning tablets so I ordered, and they work like a charm. I just use them on the "clean washer" cycle, and not only is the musty smell gone, but I can see how much cleaner the drum looks.
Derry Girls is back!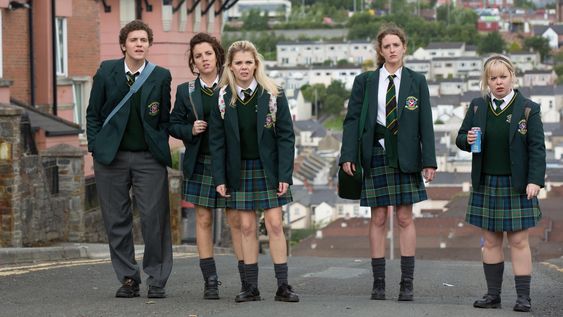 The final season of Derry Girls has landed, and if your Netflix queue could use a little levity and over-the-top characters, you'll want to check this one out. (But first catch up on Seasons 1 & 2, if you haven't already…) There are some fun cameos this season, and yes, Uncle Colm returns.
ICYMI…recent popular posts
Fall weather was made for boots & a sweater
A French bob haircut, and how going gray affects your color palette
How to make a relaxed outfit look polished
Affiliate links in posts may generate commissions for unefemme.net. See my complete disclosure policy here.