Accommodations: Chateau de la Barre
We tried something new when planning our trip this time: we decided to work with a travel agent. We've done pretty well planning trips on our own in the past, but this time we wanted to be sure that we were making the most of our limited time. The Loire Valley is a very large region and is very spread out. We knew we'd need a car but still wanted to plan to stay where we could visit the points of interest with a minimum of driving time.
Chateau de la Barre is about 45 minutes outside of Le Mans. It's the home of and run as a luxury small hotel by the Count and Countess de Vanssay, and has been in his family since the early 1400's. Some parts of the main house date back even further. Upon our arrival, we were welcomed by the family dogs and the Count (who introduced himself as Guy and was as charming, funny and down-to-earth as you could imagine). He helped us with our luggage, then offered us some fresh apple cider made from an apple tree on the property in one of the sitting rooms. The day had been cool and drizzly and the fire and cider were welcome.
Our room was the Chambre Jaune, which featured an Aubusson tapestry behind the bed, and some 18th Century Italian furniture. (The bed linens were actual linens, embroidered.)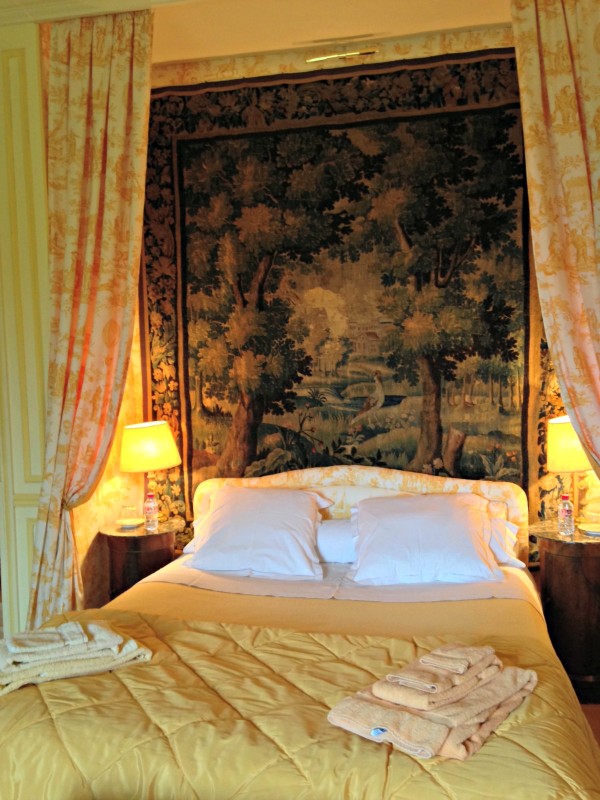 Nice toiletries too… 😉
The view of the garden from our window was lovely.
The room itself was spacious and comfortable. We were treated to a lovely breakfast each morning of fresh fruits, yogurts, cereals, pastries, juices and scrambled eggs. There are two dining rooms and the number of guests determines which is used for breakfast. We also joined a "Grand Siecle" dinner in the large dining room, hosted by the Count and Countess on our second evening there and it was exquisite and very memorable. There were two other couples by that point staying at the chateau, and it was a convivial evening. But first the Countess gave us a tour of the main parts of the Chateau, including the old "main keep" which dated from the 1300's (and included an interior well as a defense against a siege). Because the chateau has remained in the same family through the centuries, much documentation from even the earliest years survives and the family history is fascinating (and would make for a GREAT novel!).
Mme. de Vanssay (Marnie) was also SO incredibly gracious and helpful with suggesting activities and places to eat, providing maps and driving directions, and she goes out of her way to make her guests' stay as comfortable and entertaining as possible. This was such a luxurious, unique and memorable experience, one I would recommend it highly if you're planning to visit the Loire Valley.
Chateau de la Barre, Conflans-sur-Anille, FR.
No compensation or consideration was received for this post. The above post represents my own personal opinions and observations.
Stay in touch
Sign up to be notified of new posts and updates from une femme d'un certain âge.