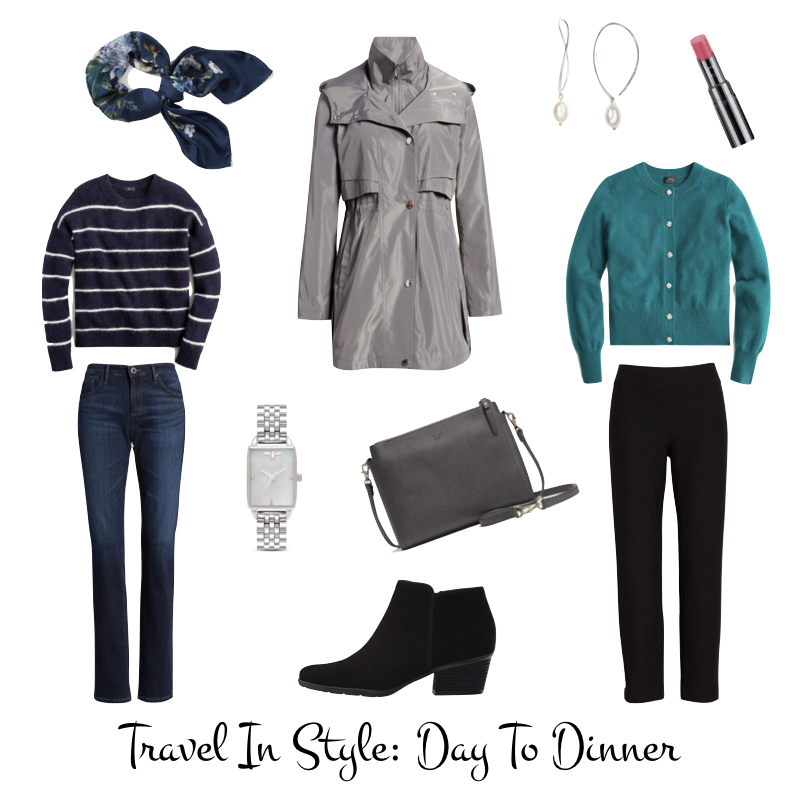 There's probably no more crucial bit of advice I can offer about packing than: Start With The Shoes. They're the most important part of a travel wardrobe, and can be the most challenging part to get right. But it's worth the effort, as even the best day on the best vacation can be ruined when your feet hurt.
The best shoes for travel (for you) will depend on:
Destination (city? country? region?)
Activities (will you be mostly sightseeing on foot? taking a cruise?)
Weather
Your style preferences
Your feet (high instep? Plantar fasciitis? bunions? narrow or wide? custom orthotics? Everyone's feet are different, and what's comfortable for one person may not be for another.)
Aside from special occasions (e.g. weddings) or outdoor activities that require specific footwear (e.g. running, hiking, skiing, horseback riding) you can probably get by with 2-3 pairs of shoes for most trips of a few weeks or less. (You may need more options if you'll be traveling between cool and warm destinations.)
Except for the warmest destinations, I almost always include a pair of weatherproof ankle boots in my travel wardrobes.
Ankle Boots For Travel
Ah ankle boots, how do I love thee? Let me count the ways… They're protective for travel days (if you've ever had someone run over your foot with their heavy wheeled suitcase in a crowded airport or train station, you'll relate). It's easy to find styles that meet my day-to-dinner requirement. And it's easier than ever to find "weatherproof" and waterproof options, to keep your feet dry in wet conditions.
The best ankle boots for travel will be comfortable enough to wear sightseeing all day, yet polished enough to go out to dinner. Unless it's a special occasion, we've found that "smart casual" is generally as dressed up as we need to be, even in cities.
I've had very good luck over the years with Aquatalia boots (both for comfort and durability) but they can be a bit spendy. I love the crinkled patent leather on this style; it's refined but soft and pliable. This style is currently marked down, and still available in several sizes. (More sizes available here, but at full price.) Yes, it's weatherproof.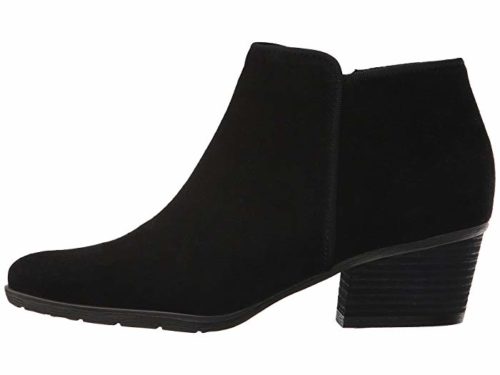 Many of you have recommended Blondo weatherproof boots, and they seem to be well-reviewed. This style is classic (and available in several colors/finishes). It's also a more budget-friendly option, and is currently marked down!
If you prefer a style with a lower heel, this one might be worth a look.
No, you don't have to stick to black. Though it can be an easy dress-up-or-down option, many dark neutrals will work just as well, depending on your color palette and clothing.
This boot is listed as "waterproof," and is offered in both black and this nice Cinnamon brown. Both Medium and Wide widths available.
Animal prints can be surprisingly versatile too. Leopard print is a neutral of course, as are many reptile prints and textures. Here's a waterproof option from Blondo (also available in black and brown suede).
You'll want to "road test" any new boots or shoes for several hours on your feet before you make a decision about whether to pack. Be sure there's enough padding and support, and that there are no spots that pinch or rub. And be sure the heel height is one you can tolerate for long periods.
More Weatherproof Ankle Boots
Check out more of my Travel Wardrobe tips and suggestions HERE. I'll be featuring more footwear and travel clothing options in future posts. Subscribe to my posts by email (just use the Stay In Touch form below) and never miss an update!
Affiliate links in posts may generate commissions for unefemme.net. See my complete disclosure policy here.