Casual elegance: how to elevate a simple outfit
I've been on a real decluttering kick around the house lately, and that desire for clean, open spaces has spilled over into how I want to dress. Here's a simple, casual elegant outfit that ticks all of the boxes for me.
Anything too complicated or contrived feels like style kryptonite. I'm coming back around to the (loose) idea of a uniform, to keep things simple and prevent "closet creep." Wearable, relaxed elegance is what I'm drawn to now, but that doesn't have to mean bland or generic. A few well-chosen accessories can do a lot of heavy lifting to personalize and add interest.
Style goal: uncluttered, relaxed elegance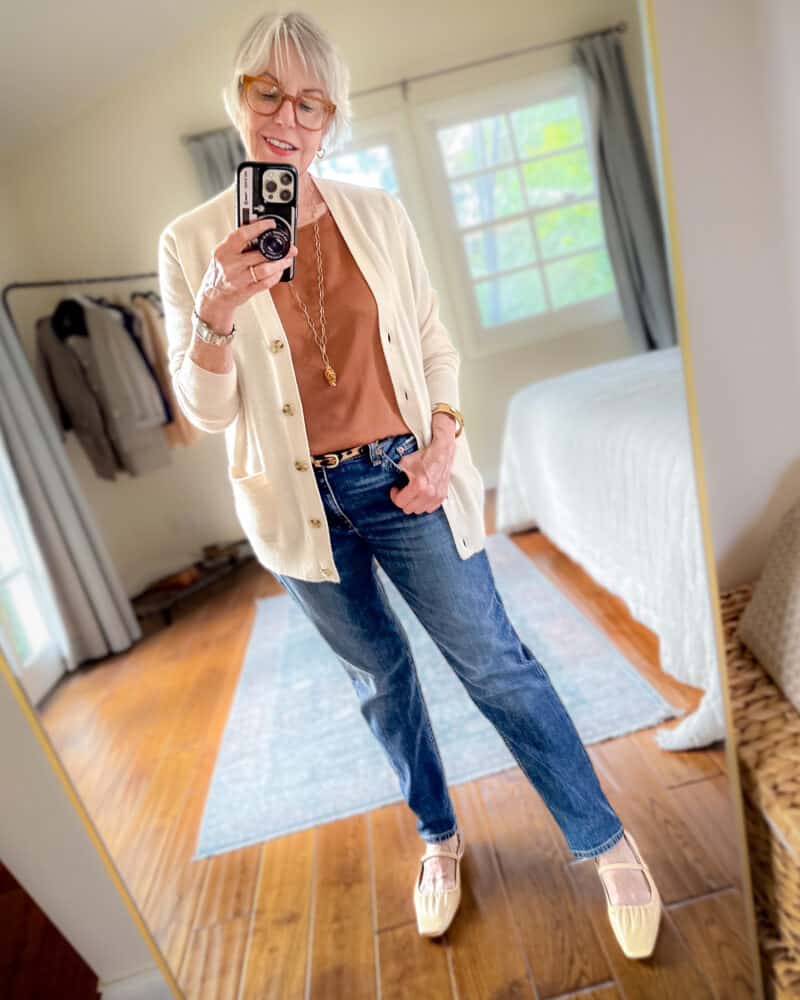 It's been a bit too warm for a sweater lately, but it's supposed to cool down quite a bit over the next few days. So I'm hoping to wear this out to lunch with a friend later this week. This relaxed cashmere cardigan has a very luxe look and is incredibly soft! 3 colors available, sizes XXX-Small to 3X. (I'm wearing X-Small.)
With a longer sweater or top like this, I like to keep the bottom half relatively slim. If I had to pare back to single style of slim leg jeans, I'd probably go with this rag & bone "dre" style which is comfortable and easy to style. (It's described as low-rise, but on me it's a mid-rise.)
I'm wearing the washable stretch silk tee from Quince (gifted) which also hits my "relaxed elegance" target. And it's quite lightweight and comfortable. I really like the open rounded neckline, which makes it easy to style with a variety of jackets or top layers. It was a bit long for me, so I had it hemmed a couple of inches. It's a great piece for transitional weather, and comes in a bunch of colors.
More washable silk tops…

I've become a fan of belts to make a simple or casual outfit look more finished. Here I've added a skinny leopard belt, which pulls together the various browns/beiges in the outfit.
I find most ballet flats a bit too straight-up Classic for my style, but this ballet-slingback hybrid has a more modern look that really grabbed me. They're quite comfortable for daily wear, and can dress up or down. They're available in four colors, and like most Vince shoes, run 1/2 size large.
More slingback flats…

Come visit The Style Hub for more style tips and outfit ideas! And be sure to sign up for my newsletter for updates and exclusive content.
Stay in touch
Sign up to be notified of new posts and updates from une femme d'un certain âge.