When a styling session takes an unexpected turn…
A few of my readers have asked about my process for putting outfits together. In this post, I'm sharing how I recently styled a new plaid blazer.
Whenever I buy a new piece (no matter how much I love it) I don't remove the tags right away. First, I want to be sure that it will work cohesively with other pieces already in my wardrobe. And I want to be sure that it's not too similar to something I already have.
My styling process isn't always linear. In fact, it's rarely linear, specially if I'm trying a new cut or silhouette. In this case, it's a cropped blazer that I loved the minute I slipped it on in the dressing room. For the past several seasons, I've been trying to re-create the relaxed-plaid-blazer-with-jeans look I've been seeing everywhere on Instagram, Pinterest, etc. But oversized blazers just don't work for me. So I thought maybe this more fitted, cropped version would be the "tweak" on the look that would make it come together.
Usually I start with an idea of the vibe I'm going for with an outfit, and play with a flat lay to see how the pieces I have in mind work together color and texture-wise. Here I was going for a neutral, slightly "tomboy" look with some feminine elements (bag & jewelry).
Outfit #1 – starting point
It may have been "good on paper," but on me I don't think the overall effect stuck the landing. Not terrible, just "meh." I could have added a colorful tee or more jewelry, but it would have been something different than the simple and neutral look I was going for.
Outfit #2 – heading in the right direction
I decided to switch things up with a wide leg jean and a more feminine shoe.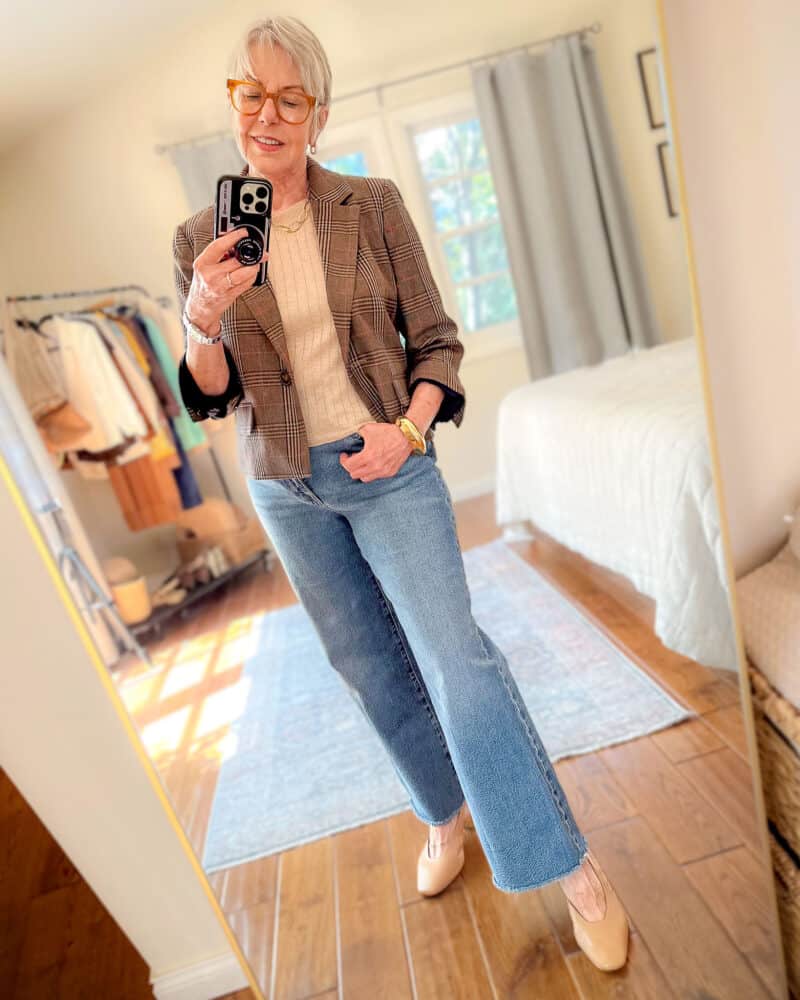 I like this better! The wide leg jeans feel more modern, and I like the clean lines of the shoes and bangle. The ribbed top adds some interest without being too focus-pulling or fighting visually with the blazer.

Outfit #3 – winner!
Then on a whim, I went in a very different direction…
And wouldn't you know, I like this one the best! The relaxed trousers and sneakers deliver that whiff of insouciance I was going for. The metallic shoes add some texture/shine. (I forgot to put it back on for the photo, but the gold bangle from the second outfit works well here too.)

The wide leg trousers are linen from Eileen Fisher, and no longer available. Even though they're a lighter fabric, the darker color gives them enough visual weight to work with the jacket. This trouser style from Madewell would probably work well too.
Now that I have a sense of the cuts and styles that work well with this plaid blazer, it will be much easier to create new outfits. Even if you rely on tried-and-true style formulas to make getting dressed easier, it's good to experiment periodically with new combinations. Don't be afraid to try something outside of your comfort zone or something that "shouldn't" work. You may be surprised and find fabulous new ways to wear some of your favorite pieces.
Stay in touch
Sign up to be notified of new posts and updates from une femme d'un certain âge.