Monday miscellany: easing back in and what I'm eyeing for fall
Today I'm sharing a couple of simple fall outfit ideas, and some of the wardrobe essentials I'm updating this season…
Back to basics: the simple fall styles I'm leaning into now

I've always preferred simple, unfussy styles, and clean, minimalist-leaning looks. Some texture and subtle design details are great, but too much frou-frou (and most prints) don't appeal to me. I'm not sure if it's related to the "quiet luxury" trend, or just a pendulum swing back from the Instagram-ready but often impractical styles of the last few years, but a lot of the new fall arrivals I'm seeing now just look and feel more wearable.
J.Crew has a sale on that includes a lot of great transitional fall pieces, like the sweater-blazer shown above. (It's available in several colors, sizes XX-Small to 3X.) There's also a new v-neck version, included in the sale as well.
I purchased a pair of these 9″ demi-boot jeans a few weeks back in a lighter wash, and have been wearing them quite often. They're a nice midway point between a straight leg and flared (or wide) leg style. I decided to take advantage of the sale and ordered this dark wash pair for fall. (Even though I'm 5'1″, I find the Petite is just a skosh too short for me. So I go one size down in the Regular length, and shorten if needed.)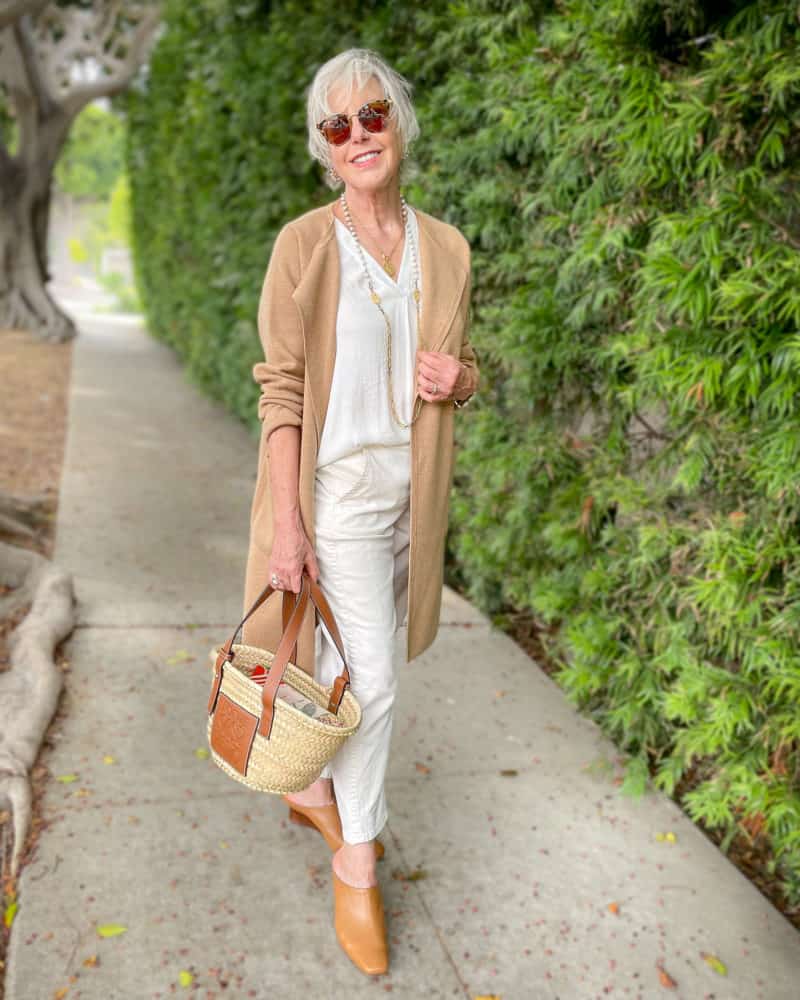 And the longer "Juliette" sweater-blazer is included in the sale… The sale runs through tonight only, though sometimes they get extended.

Espadrilles are a great late-summer-early-fall footwear option, when you want to ease out of sandals, but aren't quite ready for heavier shoes. This low wedge style is available in navy and a fun green. More sale espadrilles here.
OK, so this cashmere v-neck vest isn't on sale. But it's such a versatile layering piece (and SO soft!) that I think it will earn its keep. Wear it on its own, layered under a jacket or over a tee or shirt. This "Buttercream" color is a great neutral for Springs, but there are colors for every seasonal palette available, sizes XX-Small to 3X. It's a more fitted piece, so I sized up to a Medium.
Updating my blazers
I love how a blazer or jacket can really pull an outfit together, but I'm "over" the oversized menswear-style blazers that have dominated the style scene for the last several seasons. I'm really liking the more cropped and fitted blazers I've been seeing recently.
I had a chance to try on this (really cute!) cropped plaid blazer over the weekend, and yes, it came home with me. It has the sharpness of a classic blazer, but with a more feminine vibe. In sizes XX-Small to XX-Large. Runs true-to-size. The sleeves are just slightly long for me, but I usually push or cuff them anyway. Here's the same style in a charcoal plaid for those of you with cool palettes.
I have the longer version of this blazer in a couple of colors (and love it) but kept hoping they'd do a shorter version which is easier to style with wider leg jeans and pants. The navy (above) is nice, but I'm glad I waited for other color options and went with the "Dune" color which is a warm cream (Springs & Autumns!). It nips in nicely at the waist for a flattering look, and runs true-to-size.
A note…
Thank you again for your kind words and support. I'm still adjusting, and probably will be for some time. And I'm still slogging through a lot of the administrative "stuff" that has to be done after a death. But I find having a routine is therapeutic, so I'm getting back to my regular morning workouts, and back to writing here about style.
I always think of fall as a time of fresh starts, and embrace the French concept of la rentrée. I'll be re-focusing on quality content, and a "fewer but better" approach not only to my own wardrobe, but to what I share and recommend here. But if there are topics you'd like me to cover, or you're looking to fill a certain gap in your wardrobe, let me know. I'll either try to address it myself, of direct you to another blogger who may have a better handle on the topic.
Thanks for reading!
Stay in touch
Sign up to be notified of new posts and updates from une femme d'un certain âge.