Most of our holiday gatherings are casual, so I rely on accessories to create "festive, not fussy" looks. Here, a casual holiday party outfit gets kicked up a notch with patent leather boots and sparkly gold necklaces…
A casual holiday party outfit with sweater & jeans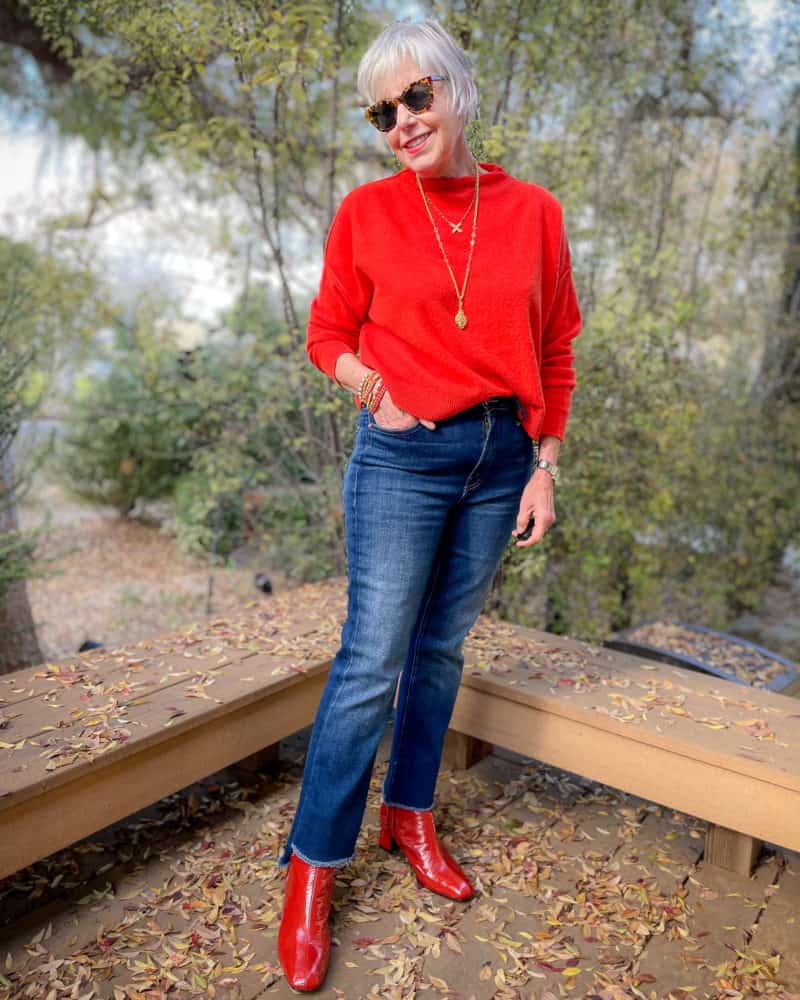 I'm all about keeping it simple and comfortable for the holidays. A sweater and jeans is my "not fussy" starting point; adding bright color, sparkle and shine provide the "festive." (Sweater shown previously here, jeans here & here.)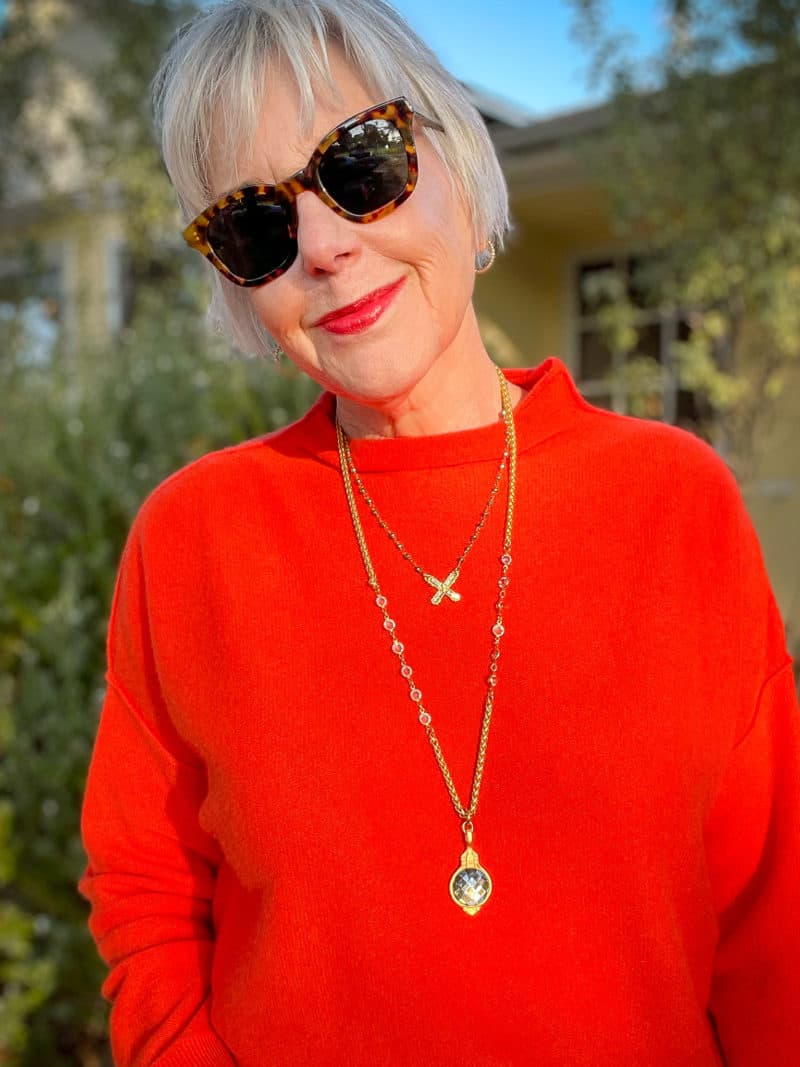 The long necklace can be worn two ways, either with the crystal facing out, or the gold "Dunkerque" medallion on the back side (as in top photo).
I have been on the hunt for literally YEARS for a pair of patent leather boots that are comfortable, chic, and not black. Why patent leather? They can dress up and add refinement to a simple outfit.
And the universe has finally rewarded my patience. One of the attendees of our Color Event a few weeks ago is a shoe designer! And she showed up wearing the cutest patent leather boots, her own design, of course.
Cute & comfortable shoes & boots, made in small batches locally
Meet Keli Daniels, founder of gini & albert los angeles. She designs beautiful & comfortable boots and shoes, which are produced in small batches here in Los Angeles. The company is named after her grandparents; her grandfather was a shoe maker who believed that you shouldn't have to sacrifice comfort for style.
I was able to visit her studio on Monday to try on a few styles, and was so impressed! They are beautifully made, comfortable, and have a vintage-inspired but timeless look.
Keli makes all of her shoes with a generous cushion of memory foam under the ball of the foot and the heel. As I type this, I've been wearing these boots for several hours, and on my feet for most of it. And my feet are still happy! I found most of the styles I tried run true-to-size, though there is some variation between leathers, and some styles run a little larger or smaller.
You can see all of the current styles at her website, HERE. If you're in the Los Angeles area, you can visit her studio by appointment. You can also follow on Instagram @giniandalbert
Did I have trouble deciding which pair to get? Oh, heck yes! I may have come home with more than one…😉
In case you missed it…
Affiliate links in posts may generate commissions for unefemme.net. See my complete disclosure policy here.