Nautical & nice…it's hard to go wrong with blue and white
Blue (or navy) and white is a classic combination that somehow always looks fresh, especially in summer.
Here's a vacation-ready look in navy and white with a straw bag.
There's a range of blues and navy for every seasonal palette. And if you're a warm season (Spring, Autumn) your "white" will be cream, oyster, or ivory. Blue/navy and white/off-white can be an excellent starting point for a capsule or travel wardrobe.
Here are a few more blue and white pieces that recently caught my eye…
Blue & white for every seasonal palette
This soft cotton gauze popover top looks like it could be a Bright Navy from the Spring palette. I'm hoping to check it in person and will report back. There are several other colors available too (including white).
This star print linen shirt is available in sizes XX-Small to 2x. This might work for Winters or Summers (depending on how bright or soft the white is).
This Breton stripe tee has a cream background, so will work for Springs and Autumns. (Yes, the navy stripes are a bit dark, but don't dominate.) I have this tee in two colors; it's a very lightweight fabric, so comfortable even when it's warmer.
Here's a "wafty" linen midi shirtdress in a bright blue for you Winters. It's available in Misses, Petite, Plus and Tall sizes.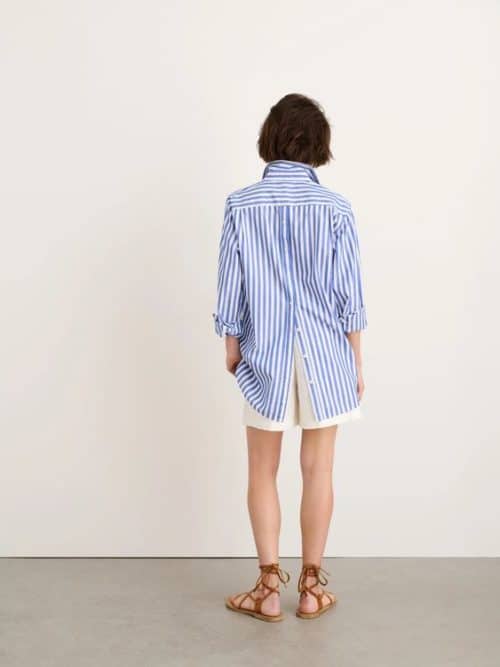 This shirt looks classic from the front, but has this cool button back feature. Sizes XS-XL. The blue looks like it might be good for Summers.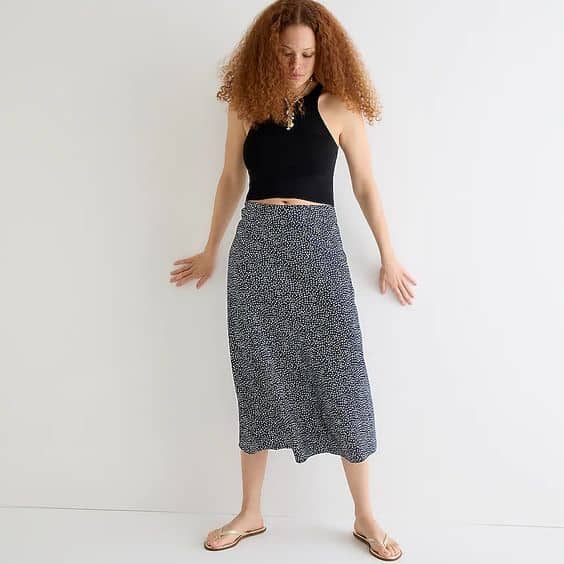 If you're game to try a slip skirt, I think this miniscule navy dot print would be easy to wear. Sizes XX-Small to 3X.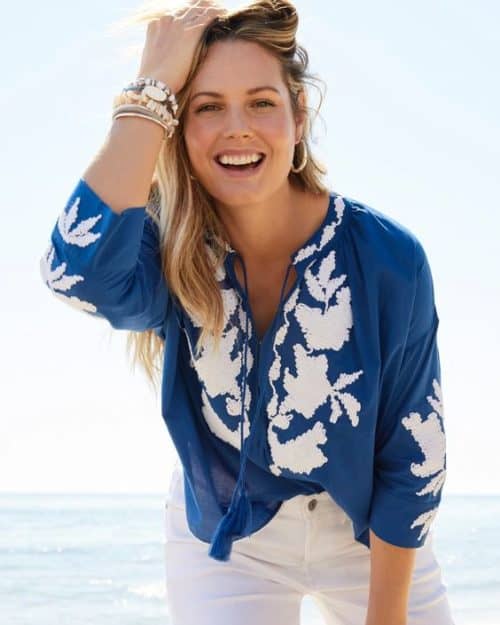 Another one for Winters, this embroidered tie neck blouse is a bold statement piece. Available in Misses size 00(0/2 XS) to 3(16/18 XL) and Petite sizes.
This pretty toile print blouse with a front tie detail would be good for Summers. It's sustainably made from organic cotton, sizes XS-XL.
Autumns, this "reef" color looks on my monitor to be very close to your Kingfisher blue. The cropped cardigan is organic linen, sizes XX-Small to 3X.
Springs, most of our blues are in the aqua/turquoise range. Here's a cotton gauze tunic with a button back detail, sizes 00(0/2 XS) to 4(20/22 XL).
And these linen pants were pretty cute, so I had to throw them in here too. Probably best for Summers. Sizes 00(0/2 XS) to 3(16/18 XL).
And speaking of blue and white…
"Blue & White" was the theme of the May box from My French Country Home. I received my box (gifted) several days ago, and finally had time over the weekend to open it.
My French Country Home Box is a quarterly subscription box filled with uniquely French gifts, hand selected by Sharon Santoni. The contents are always kept secret until everyone has received their box, so part of the fun is discovering what's inside.
This May box included: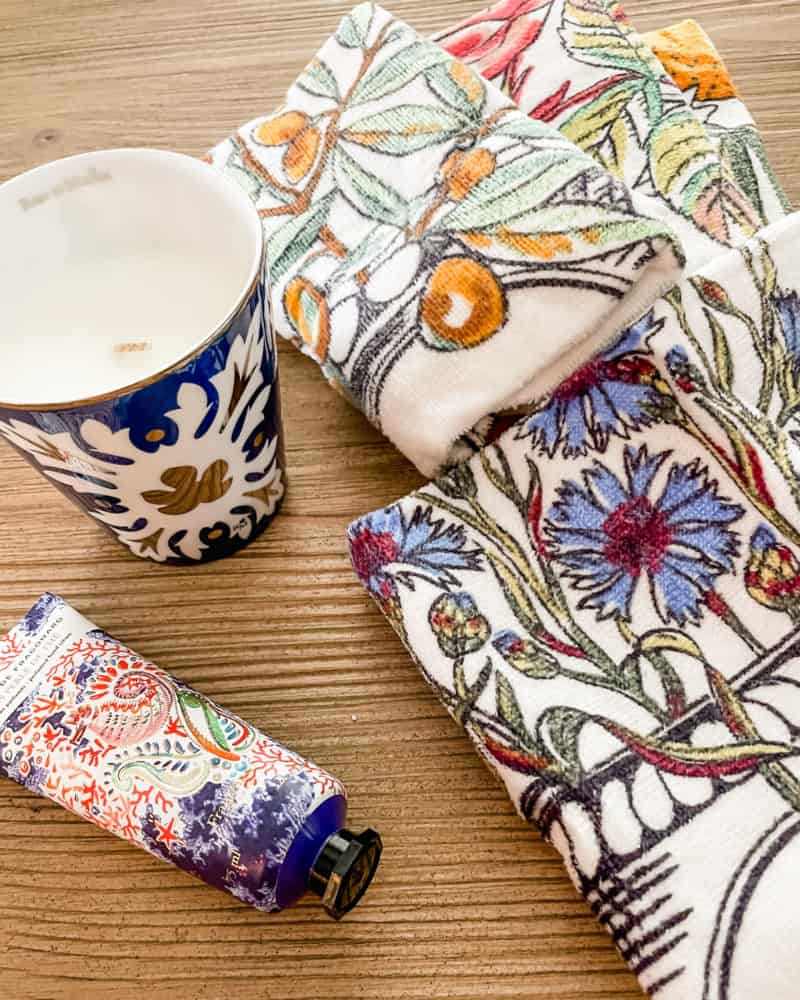 a scented candle from Rose & Marius in a beautiful porcelain container (which can be repurposed)
gorgeous hand towels and hand lotion from Fragonard
a pretty illustrated notepad from Season Paper
a leather pencil case to go in a handbag
Lab Elle flower design earrings in gold and mother-of-pearl
a miniature antique bottle
watercolor print card of a charming Paris scene by Fabienne de la Croix
The next box will be released in August with the theme "un été en France" and you can reserve yours today! These boxes make lovely gifts for lovers of all things French.
Stay in touch
Sign up to be notified of new posts and updates from une femme d'un certain âge.