It's time for a refresh: the wardrobe basics I'm updating now
With summer just around the corner (or already here, for many of you) it's a good time to take stock of and perhaps update the wardrobe basics we'll be relying on for the next few months.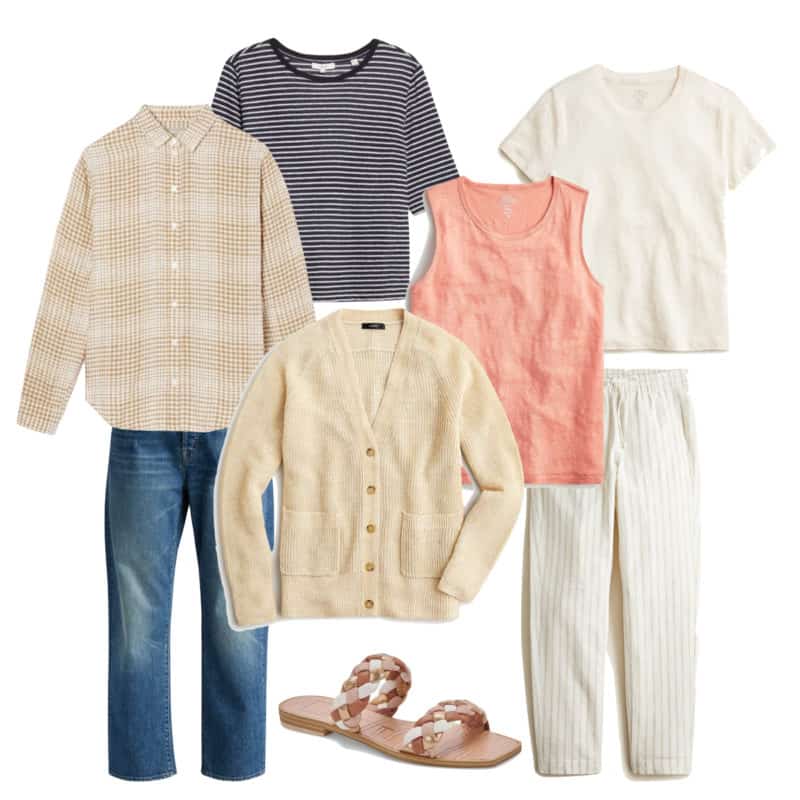 Building a cohesive wardrobe around a core of practical, simple basics makes it easier to get more wear from what's in your closet. But even "timeless" pieces can look dated after a few seasons, or just plain worn out. I'm not advocating chasing trends, but rather making adjustments here and there that can keep us looking modern and current.
The summer wardrobe basics I'm updating now
My summer wardrobe is mostly casual and relatively simple. For the last couple of summers, we didn't really go out much, so I didn't add or change a lot, except for replacing the occasional worn out piece here and there.
And I'm still not looking to revamp my wardrobe, just tweak around the edges a bit. Here are a few summer wardrobe basics I've added:
Jeans
While many of you have said that it's too hot where you live to wear jeans in the summer, our climate is milder/drier and I do wear jeans pretty much year-round.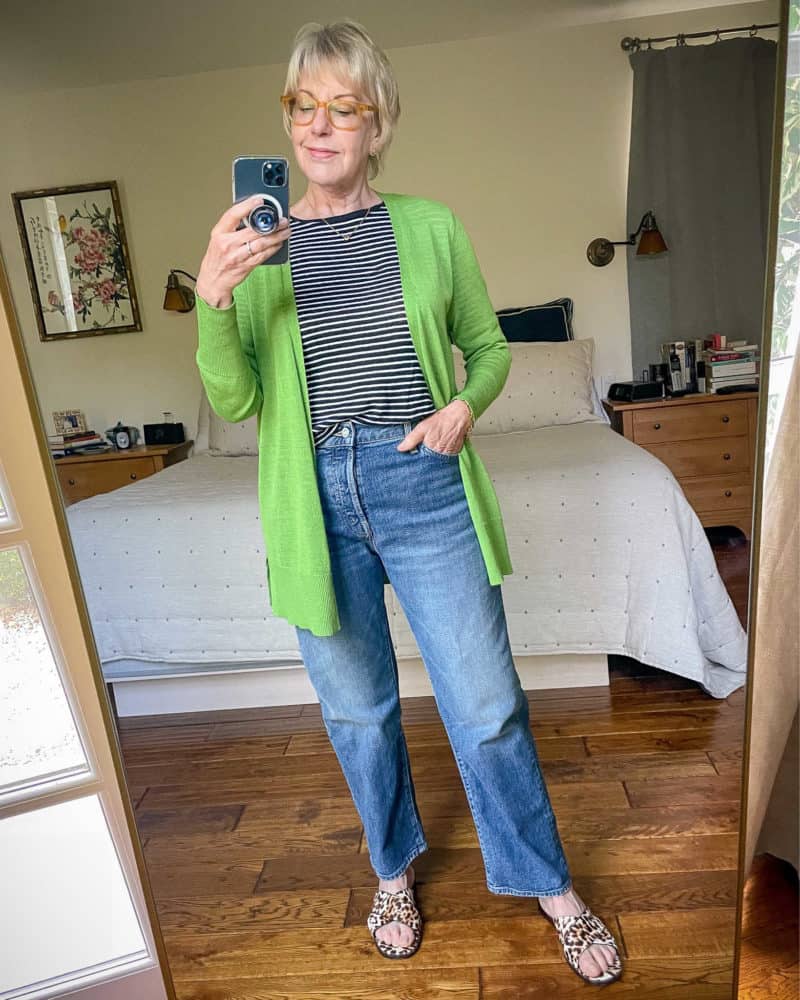 I've always sung the praises of slim straight leg jeans, and still think they're a classic and versatile style. But silhouettes have been moving toward lately toward longer, looser fits. I've been quite drawn to some of these styles, which look fresh to my eye now. After trying several, this one stuck the landing.
These are Mother "The Ditcher" jeans. They are listed as a cropped length, but hit me just below the ankle. They're also one of the few higher rise styles that aren't too high for my short waist. They're comfortable and even though the denim is described as rigid, they aren't stiff and have a little bit of give.
I'm wearing size 28 here. They're a little loose in the waist/hips, and I've ordered the next size down to compare. Will let you know which I keep.
These are available in a bunch of colors/washes, sizes 23-34.
I've had these sandals for a couple of years, and they're still favorites.
More relaxed leg jean styles

Non-denim pants
For those days when it's just too warm for denim, relaxed linen pants are my go-to. I still have a couple of Eileen Fisher pairs from a few seasons back that are in good shape, but they're in darker colors. I wanted something light and fresh-looking, so went with these.
This striped one is final sale, but I'm happy with my purchase. (Several other colors available, not final sale.) I sized up to a Petite Medium for a roomier fit. It's available in Misses (sizes XX-Small to 3X), Petite and Tall sizes. The stripe is subtle and low contrast, the white is a soft, not stark white.
Layering tees
When wearing more volume on the bottom, my tops need to be shorter and/or more fitted. Most of my tees were beginning to look a bit the worse for wear. I love linen knits, and have had good luck finding linen tees and tanks this season.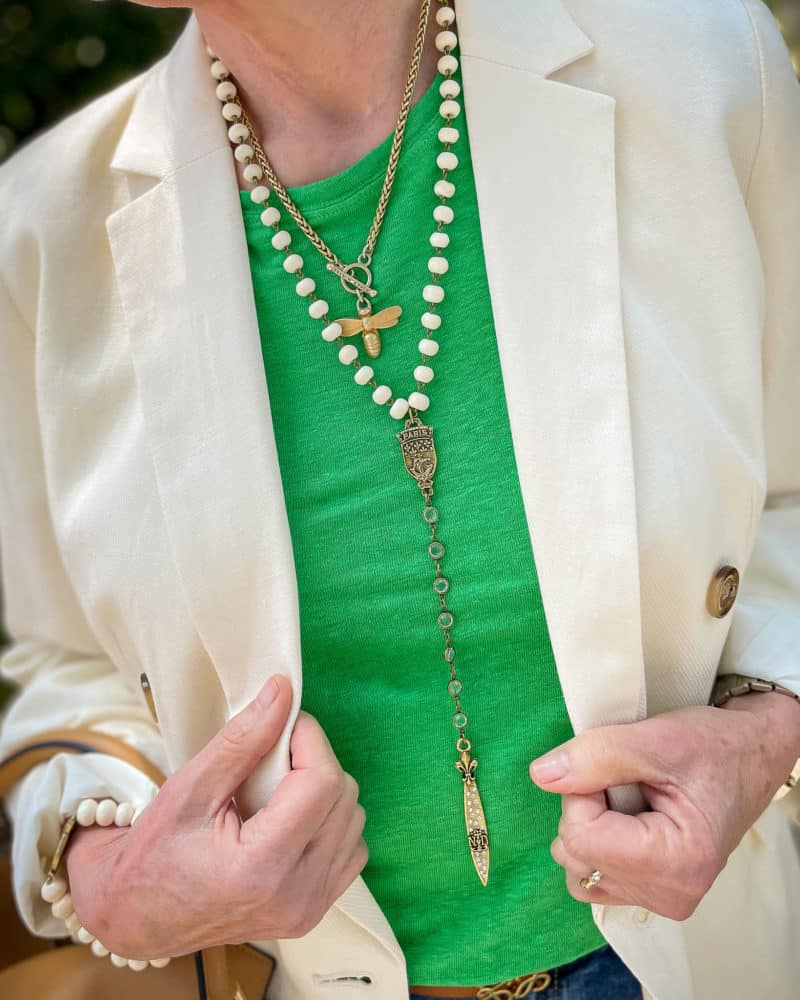 This linen tee is a bit spendy, but is IMO is worth a splurge. It has a flattering shape (including darts at the bust!) and the fabric is soft but not super sheer. Several colors available HERE and HERE.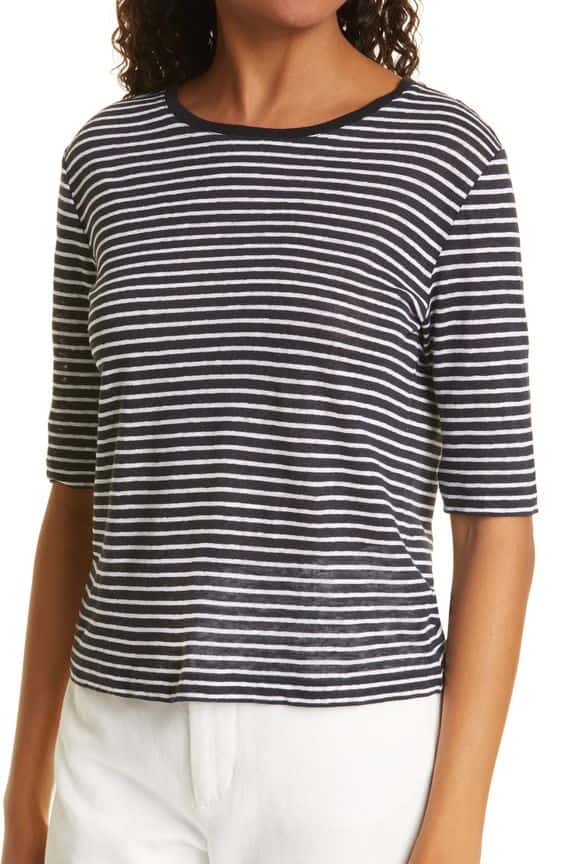 The top I'm wearing in the top photo is this one. The fabric is substantial, and it's well-made. I love the slim elbow sleeves which are flattering and layer easily under a sweater or jacket. It's also available in a light blue stripe, sizes XX-Small to X-Large. Both colors in Plus here.
I'm wearing the Small, which is plenty roomy. If you prefer a snug fit I'd suggest to size down.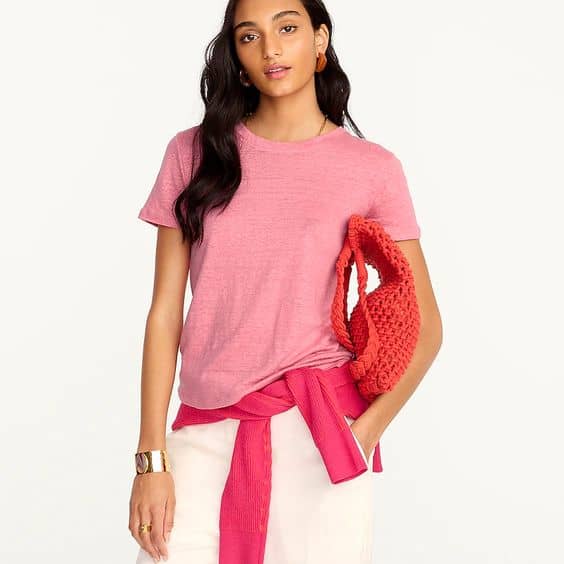 I'm also quite liking these relaxed fit linen tees from J.Crew, which are a more budget-friendly option. They're available in several colors, sizes XX-Small to 3X. (I find the X-Small is plenty roomy.) There's also a v-neck option if you prefer.
And I also picked up a couple of these linen "muscle" tanks to layer under sweaters and jackets or wear alone. The shoulders are wide enough to prevent bra strap peek-a-boo. Available in sizes XX-Small to 3X.
A few of you have asked about washing linen knits. I've had good luck with washing in a lingerie bag on the delicate cycle (cold water!), then hanging to try or reshaping and drying flat.
Lightweight shirts
A breezy button-front shirt provides multiple styling options. You can wear it buttoned as a stand-alone, or wear it open as a lightweight topper over another layer.
This top is available in several colors, sizes X-Small to X-Large. I'm 5'1″ so it hits as tunic length on me, but on someone taller would probably be standard shirt length. I like the roll tab sleeves, which keeps them up.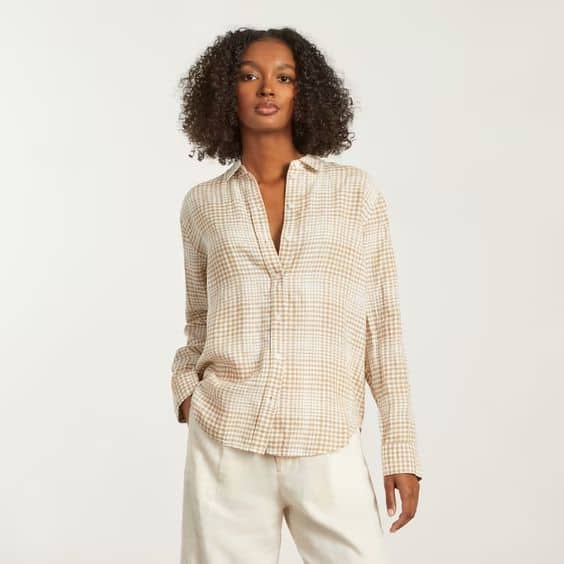 I've been on the hunt for a linen shirt in a warm light neutral, and recently found this one from Everlane. It runs large; I found size 2 gave me a relaxed but not too oversized fit. Here's a styling tip for you Petites:
This shirt comes in several colors, sizes 00-16. Here's a short sleeve option too. Linen is great to travel with, as it's lighter and dries more quickly than cotton.
Lightweight cardigans
Evenings here can cool down quite a bit (especially when the marine layer rolls in). And many businesses or public spaces here in Southern California seem to feel the need to keep air conditioning set at Arctic levels. I get chilled quite easily, so usually have a sweater with me even on the warmest days.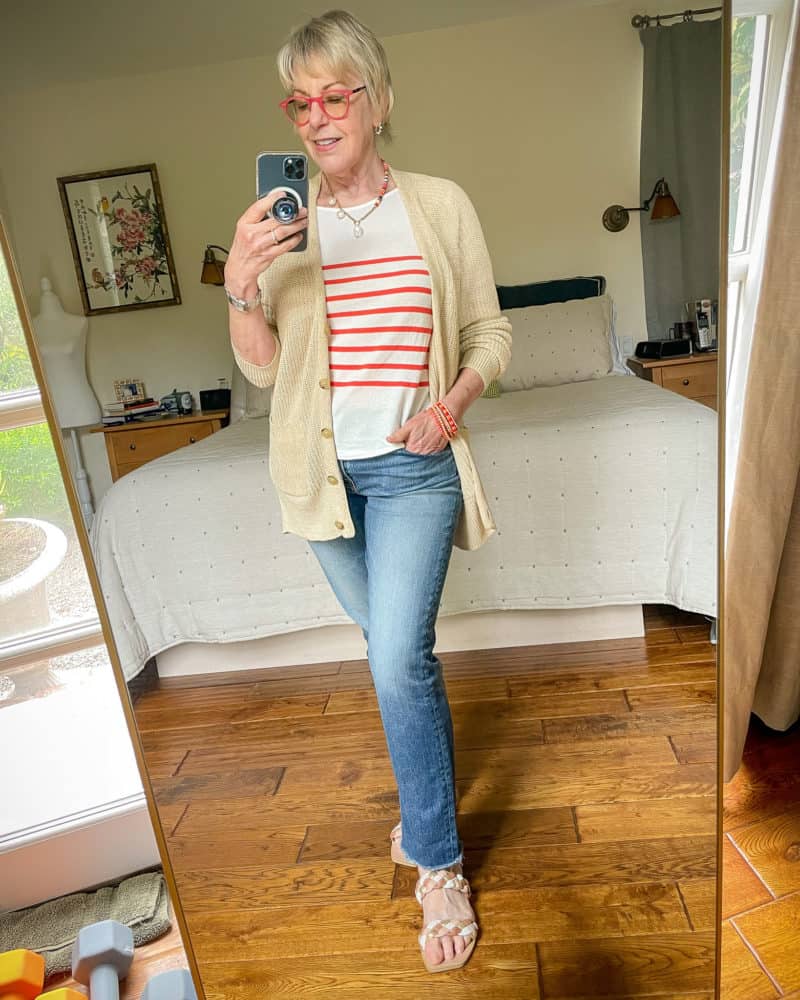 I've been wearing this cardigan or the green one at the top of the post almost daily for the past couple of weeks. I'm wearing the X-Small in the Khaki color. I love this cardigan; I can throw it on over just about anything and it works. Offered in sizes X-Small to 3X (I'm wearing the X-Small) through smaller sizes sold out in some colors. (Hey, J.Crew, this one's worth re-stocking!!)
Are you looking to update any of your summer wardrobe basics?
More summer wardrobe basics…

Stay in touch
Sign up to be notified of new posts and updates from une femme d'un certain âge.