I'm keeping it simple for spring…
Lately I've been craving simplicity, in my routines and especially in my wardrobe. Here's a simple classic casual capsule wardrobe idea for spring…
What I'm leaning into isn't full-on 90's minimalism, but it's not straight-up classic either. It's casual and comfortable, but with a bit of structure, and relies on simple styles with interesting details. I'm sticking mostly to neutrals, though I often like adding one colorful piece. But most prints feel either too insipid or too shouty at the moment.
Here are a few things that caught my eye recently, and a couple that came home with me. 😉
Fresh finds for your spring wardrobe
I love the sleek, modern look of that chunky freshwater pearl bracelet.
Hangin' with "the ladies…"
J.Crew calls this a "sweater lady jacket," because of the shape, I suppose. It's 100% cotton, a bit heavier and more structured than the Jackie cardigan. The color is a true neutral red, which means it can work in every seasonal palette! (It's also available in black and a navy/ivory stripe.)
Available in sizes XX-Small to 3X. I'm 5'1″, wearing the size Small. It hits me just below the waist, so if you're taller it will be more cropped. It can also be worn buttoned up as a top. (I love the gold buttons on this one, takes the whole thing up a notch.)
Underneath, I'm wearing this cashmere tee. I really like this piece, especially for layering under jackets or cardigans. It's offered in Misses, Petite and Plus sizes. I'm wearing the Petite Small.
Here's another one with "lady" in the name: this is the Cropped Lady Trench Coat. If a standard trench is just too much coat for you, this one's worth a look. The website recommended I size down to a 4, but I like the fit of the 6 better (which I'm wearing here).
It's a sharp looking little jacket, and is fully lined. I really like the slightly swing shape which feels very Modern Gamine. Though it's cropped, the length hits me a couple of inches below the waist. The sleeves are a little long; if I decide to keep it I'll probably see about having them shortened.
Refined casual picks
Underneath, I'm wearing this elbow-sleeve top from Talbot's.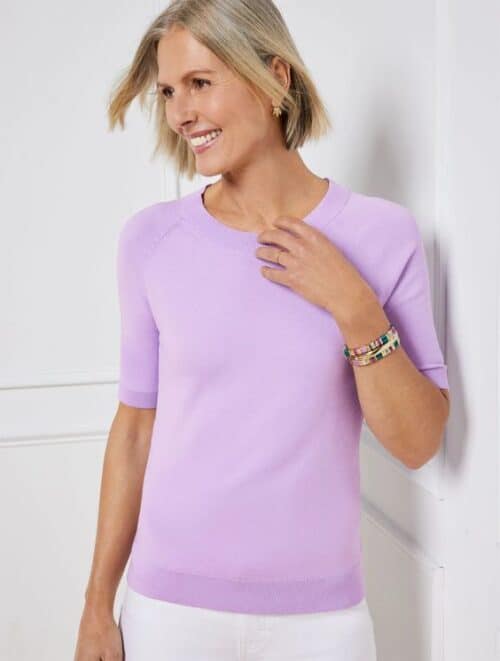 This lightweight sweater top is a more polished alternative to a tee, but can be styled the same way. It's offered in a few colors in Misses, Petite, Plus and Plus Petite sizes. (Sleeves are a little shorter than pictured here, but still cover most of the upper arms.)
Ballet flats are back, and one of spring's hottest footwear trends. But, if your feet are like mine, a completely flat shoe just isn't comfortable. So I'm intrigued by the hidden wedge heel on these. This style is made in Italy and available in several colors. And it's well-reviewed. (I'm eyeing these pointed-toe flats too…)
Last year I started playing with a more relaxed jeans fit than my standby slim-straight leg. Since then, I've been on the lookout for a wide leg pair that's not too cropped, not too flared, and not super high in the rise. I saw these on display when I visited our local J.Crew and really liked the shape, wash, and fabric weight. They didn't have my size, so I've ordered a couple of sizes to try and will report back.
These jeans are offered in Classic sizes 23-37, as well as Petite and Tall lengths.
Let me know if you enjoy these capsule wardrobe ideas, and if so I'll make it a regular feature.
Thanks for reading! If you enjoy une femme d'un certain âge, please support me by sharing on Facebook, Pinterest, or other social media, and subscribe HERE to receive email notifications of new posts, and exclusive content. Thank you!
Stay in touch
Sign up to be notified of new posts and updates from une femme d'un certain âge.