Every year when summer rolls around, I toy with the idea of a caftan. The thought of wearing something light and floaty and colorful and a little bit glamorous is appealing. But then I always chicken out.
So when Cindy (Cindy Hattersley Design) and Jennifer (A Well Styled Life ) asked if I'd like to join them for a Round Robin on caftans, I thought it might be just the motivation I needed to finally try a style I've been curious about.
Shopping in person is still tricky, so online I went. Right away, I realized that most full-length caftans would be far too long for me. So I narrowed my search to shorter styles. I found a lot of "swimsuit coverup" type caftans, but wanted something I could safely wear without a layer underneath.
And then I narrowed further for colors even remotely within my Spring palette. I'll be honest, once I filtered down, there weren't a lot of choices. At least from retailers that seemed reputable and could deliver the item in time to do this post.
"Another martini, Sweetie Darling, and this time the good gin. Not that other swill."
So I ultimately ordered this one. It's a lovely lightweight silk, from Trina Turk. The moment I slipped it on, I felt Absolutely Fabulous! So I set up a Zoom with Patsy and Edina for cocktails. 😉 🍸 (jk)
Whenever I'm trying a new style, I've learned to ask myself a few questions:
How will I wear it? Can it be worn with pieces already in my wardrobe?
When and Where would I wear it? Which leads to…
What's the cost per wear? I'm willing to spend more for quality pieces that I'll either wear often or that are timeless and will have longevity in my wardrobe.
Why am I considering this? Did I love it the minute I put it on? Does it fill a gap in my wardrobe?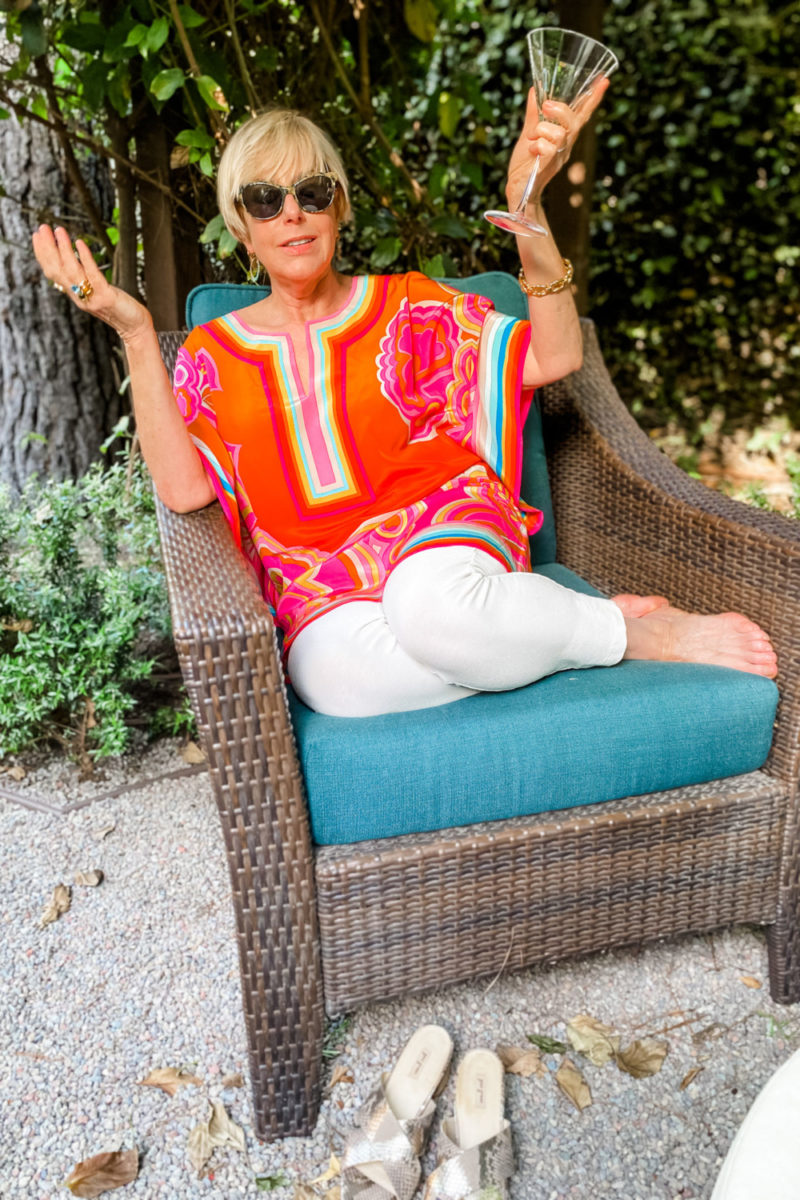 "Seriously, what does a girl have to do to get a drink around here??"
This caftan is such fun to wear and lightweight, in colors I love. I actually do feel rather fabulous in it! ✨ So even though it's a piece I wouldn't wear daily, it is a perennial style that won't date, and would be great to have on hand for summer parties (when we start having those again), out for brunch or even as a travel piece for some warm weather destinations. And for Zoom cocktails in the meantime. 😆
So a caftan may be my "thing" after all! The takeaway? If a style keeps calling out to you, try it! You may just surprise yourself!
I can't wait to see what Cindy and Jennifer have found!
More Summer Caftans…
Thanks for reading!
Affiliate links in posts may generate commissions for unefemme.net. See my complete disclosure policy here.