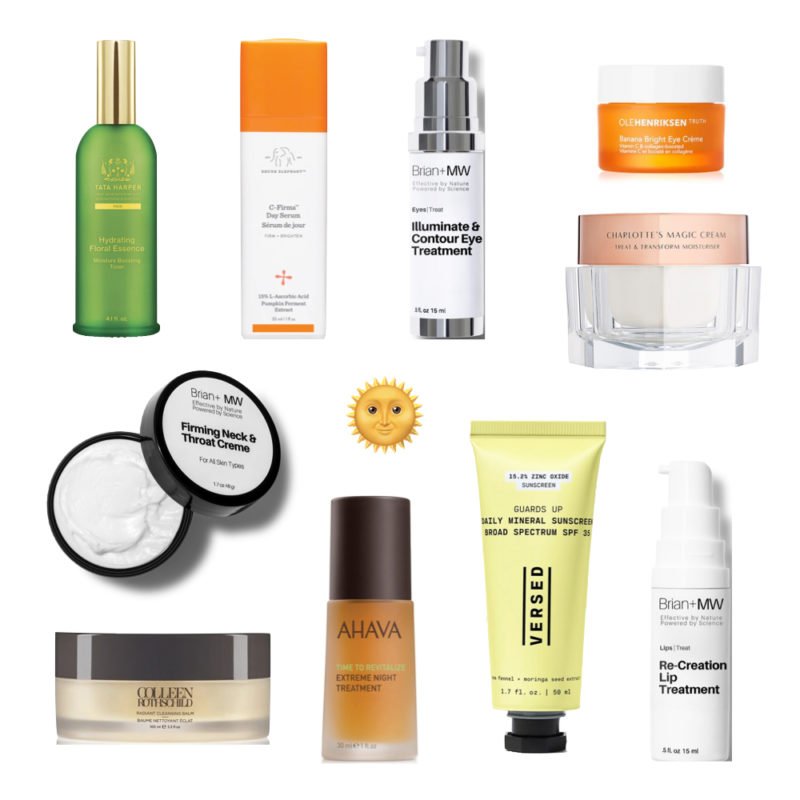 Some of you have recently asked about my skincare routine, so here's the latest. On one hand, I'm really picky about skincare. It has to be effective, and it also has to feel good on my skin. (And be cruelty-free.) But I'm also open to trying new things and switching products when I find something I like better.
My Summer Skincare Routine (for Mature Skin)
This year because of the shutdown, I really haven't been able to get out and try new products, other than samples included with other beauty orders. So I've been mostly sticking to tried-and-true favorites. Summers here tend to be dry, so moisture and hydration are key to keeping my mature skin looking its best.
Mornings:
I don't cleanse in the mornings, just rinse with water and pat dry.
If the air feels particularly dry, I'll start with a spritz of Tata Harper Hydrating Hyaluronic Acid Floral Essence
Next, serum: I use Drunk Elephant C-Firma Day Serum. I like the product, but not the amount of plastic packaging. I'm on the lookout for another vitamin-C serum that's also cruelty free.
Eye cream: I have two that I like. Brian + MW Illuminate & Contour Eye Treatment really improves the texture of the skin around my eyes. It has noticeably reduced that crepeiness on my lids. Ole Henriksen Banana Bright Eye Cream is a good option that's also a little more budget-friendly. It does brighten and reduce dark circles.
Moisturizer: I've been using Charlotte's Magic Cream as a daytime moisturizer for a couple of years, and still haven't found anything else I like as well. It's rich, but really feels like it absorbs into my skin.
Neck cream: I've never had a smooth neck. Even as kid I had deep creases. No product is going to get rid of those. But the Brian + MW Firming Neck & Throat Creme does noticeably improve the texture and firmness. I use this in the evenings as well.
Sunscreen: I never, ever skip this, even if I'm not planning to be outdoors. I've recently switched to Versed Guards Up, and really love it. It looks good on its own, doesn't get cakey, and works brilliantly under makeup.
Lip treatment: Brian + MW Re-Creation Lip Treatment is one of my Holy Grail products. My lips used to be perpetually dry and flaky even though I used lip balms constantly. This treatment used 2-3 times daily works wonders! It eliminated the flakiness, and really improved the texture of my lips. You only need a tiny bit. Give it a few minutes to absorb before applying lipstick.
Evenings:
I've been meaning to try some sheet masks, but there are so many out there, it's been a bit overwhelming trying to figure out which might be best for me. (If you have any particular favorites, I'm open to suggesions!)
All of the products I've mentioned are cruelty-free and paraben-free. How do you find new skincare products? What's your top priority with regard to skincare?
Affiliate links in posts may generate commissions for unefemme.net. See my complete disclosure policy here.