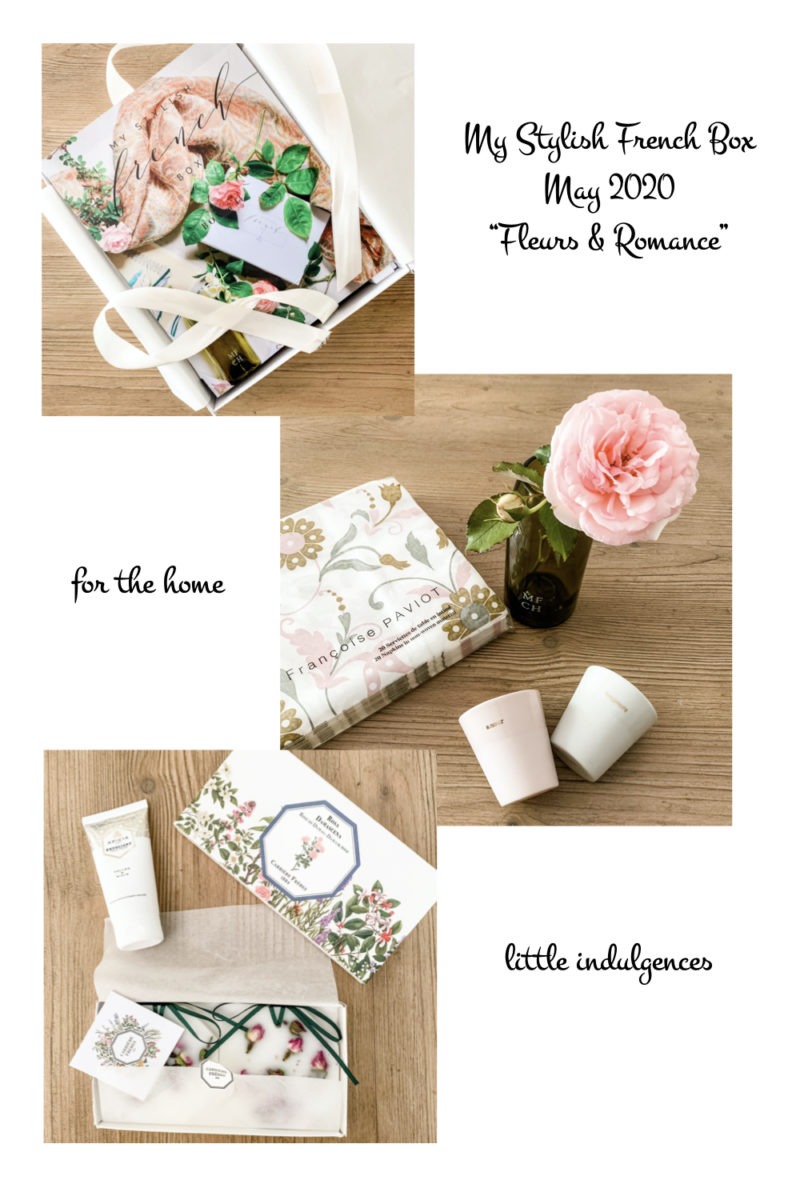 You can probably tell just from the name of this blog that I have a special affinity for All Things French. 😉 We've been visiting France 🇫🇷 annually (sometimes more often) since 2007. With travel on hold at the moment, I've really been missing France and I hope to get back next year. But in the meantime, the May "My Stylish French Box" (gifted) was just the pick-me-up I needed.
"My Stylish French Box" is a subscription box filled with uniquely French items for you and your home. Sharon Santoni of My French Country Home personally selects the items for each box, and works with French brands and artisans to bring a little bit of France to you. I think every one of these boxes is exquisite, but this May box was probably my favorite one yet.
Some of the treasures in the May "Fleurs & Romance" box include:
an upcycled wine bottle vase from Q' de bouteilles
rose scented palettes from Carriere Freres for drawers or to hang in the bathroom
a gorgeous gossamer silk-blend scarf from Petrusse, perfect to drape over your shoulders on cool evenings (or air-conditioned interiors)
a natural pollen facial scrub from Apicia
a lovely daffodil painting by Pierre Yves Bonnot
unique pearl drop earrings from Gisel B
espresso cups from Sophie Masson embossed with "toujours" and "amour"
an antique book
Orders are open now for the next My Stylish French Box, which will be shipped in August. The theme will be "Dinner With Friends," something we are all looking forward to, I think. These boxes make excellent gifts, too!
And be sure to check out My French Country Home Magazine, which is loaded with gorgeous photos, recipes, French lifestyle and travel tips. (My friend Tish Jett will have a column in the next issue!) It's available in both print and digital versions.
Meet Pip
That's what I've started calling him, anyway. I mentioned a few weeks ago that we had a second hummingbird nest in the works on our back patio. Things were going along well: two chicks had hatched and seemed to be growing rapidly.
On Sunday, we noticed the larger chick trying to fly, and mama hovering around, seemingly to give encouragement. But the chick never left the nest. Then on Monday, we noticed the smaller of the two clinging to the outside of the nest, probably pushed out by the larger one. We didn't want to disturb it, but that evening we found it on the ground. It was alive, but seemed to be sickly.
I called a local hummingbird rescue organization to see if they could help. The woman I spoke with told me that sadly, almost all of the current chicks were experiencing a terrible mite infestation, and most were not surviving. She said the smaller fallen chick was probably the male (which hatch later than the females). She suggested I put him in a shoebox lid lined with paper towel, and put him on a ladder or shelf under the nest. Apparently he's better off out of the nest, as that's the source of infestation.
The mama found him not long after and started feeding him again! To treat the mites, the rescue person told me to apply diatomaceous earth* all over him (avoiding the eyes) with a Qtip. And she said I can give him drops of sugar water every few hours to help build up his strength again. (He laps it off the tip of a spoon with the tiniest little tongue you've ever seen!)
Four days later, he's still with us, has perked up considerably, and I think he's grown a little. He's not out of the woods yet, but mama bird is still watching over him and feeding him. At least he has a slightly better chance, I hope. (Sadly, his big sister didn't make it. I think she kept trying to fly but was too weak from the mites, fell to the ground and badly injured herself.)
*so of course, not having a pool, we had no diatomaceous earth on hand. Le Monsieur ran out to the nearest open hardware store and came back with this 😆…
…a 25 lb. box, which was the smallest one they had. Fortunately his uncle has a pool and can use it.
A quick heads-up…Eileen Fisher has 20% off everything this weekend!
So how's your week been?
Bon weekend!
Affiliate links in posts may generate commissions for unefemme.net. See my complete disclosure policy here.