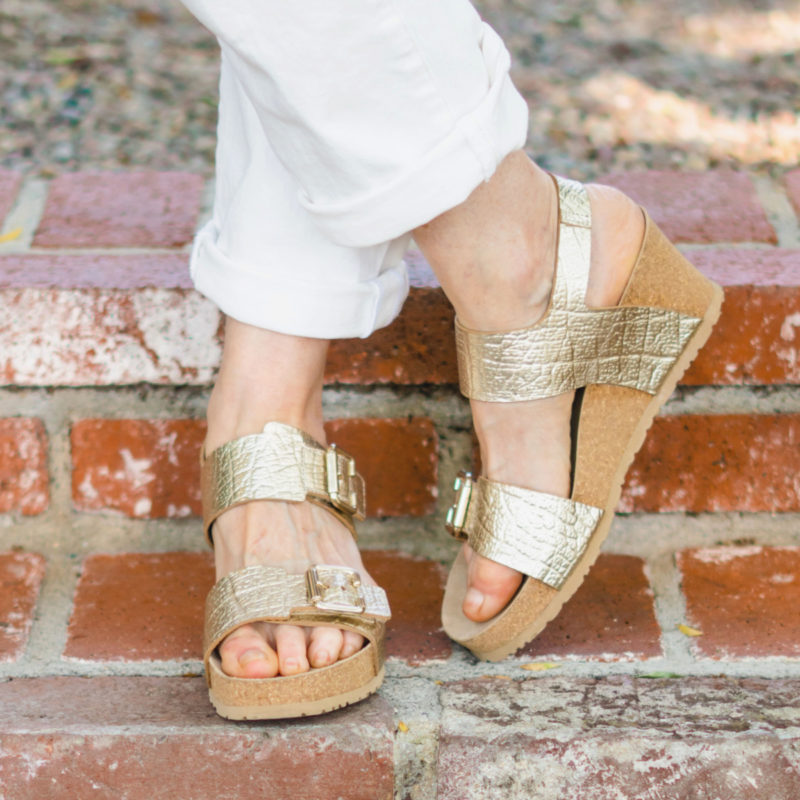 Zhush up your look with comfortable metallic sandals…
I'm a big fan of metallic footwear. It adds a nice pop to an outfit, yet is incredibly versatile. If you only add one pair of sandals this summer, go for the gold (or silver, or bronze). They'll be the ones you reach for over and over.
I've managed to collect a few pairs of metallic sandals over the last several seasons. As comfort is now my Prime Directive, I can attest that all of these are very comfortable, even the ones with a little bit of heel.
Above: I wore a previous pair in this style around Paris on my last two visits, and was able to walk all day, even on cobblestones, without any problem. The velcro straps adjust for a secure fit. Though I sometimes size down in sandals, in these my usual size (38) works. This crinkled gold finish is fun, but they're also available in several other finishes, including silver and rose gold.
A pair of wedge espadrilles has classic appeal and these are a nice muted metallic. In this style I did size down to a 37. If your palette is cool, they're also available in a soft pewter (as well as some other colors).
I love a mule, though not all of them are easy to walk in. These are. (The straps sit high enough on the instep that they don't "thwap" when I walk, either!) Though the finish has both snake print and gold, the effect is subtle. The square toe clinched it for me. Took my usual shoe size of 7.5 (AT 5).
This "jolie laide" sneaker/sandal hybrid is another good option for warm weather travel. (I packed a previous pair in black for a trip to Japan in 2016, and wore them often.) They're supportive, comfortable, and fun. I've had this pair for a couple of years. Sized down to a 7 a for perfect fit.
It doesn't get much more comfortable than these. I have a similar pair in gold, which I've been wearing most days around home, for grocery runs, and our daily walk. Also available here. In this style, I find a 37 Narrow provided the best fit. (My foot is a medium width.)
If you can still manage a bit of a heel, these are some of the most comfortable heels I've ever worn. Until my feet finally rebelled against anything over 2″, these were my "go-to" shoes. They went with everything, and really added a bit of oomph.
Do you have metallic sandals or shoes in your footwear wardrobe?
More comfortable metallic sandals …
Affiliate links in posts may generate commissions for unefemme.net. See my complete disclosure policy here.