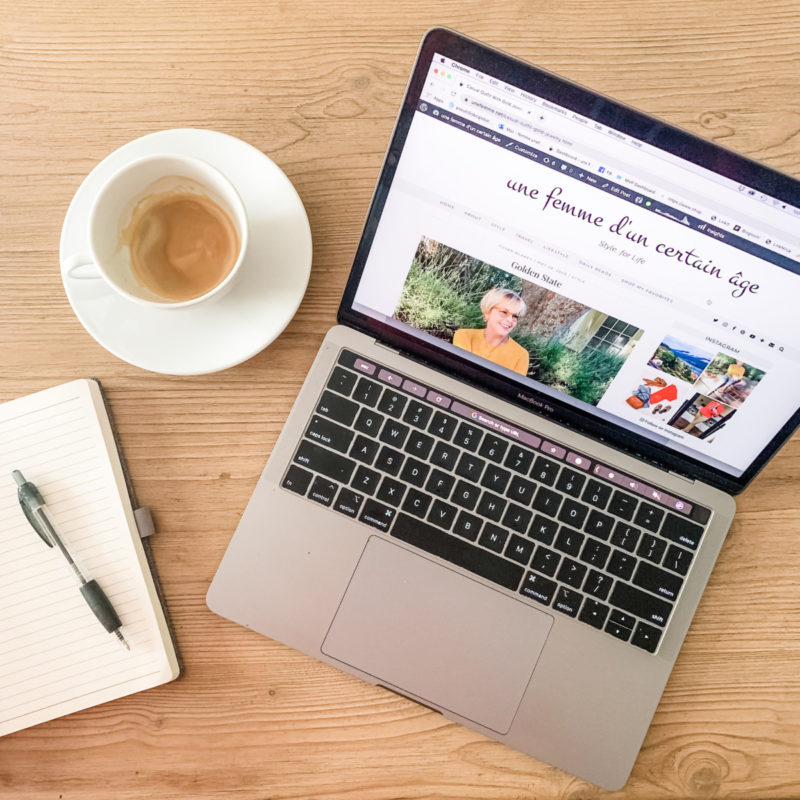 Once upon a time…
I began blogging in 2007, because I couldn't find any style blogs or websites that focused on women over 50. (How things have changed since, and for the better!) Starting a blog was easy; I opened up a free Blogger (blogspot) account, picked a template, and started writing. And then kept going.
In 2012, I went to log on one morning only to get an error "this website does not exist." WHAAAAAA???? 😱 I had no tech support, no "help desk" to go to. Blogger is a G**gle-owned platform, and I could find no resource or contact to learn what had happened or why. Five years of work had vanished just like that. After a few days of panic and no answers, I tried to log in to Blogger for about the 100th time and received a response asking me to reset my gmail password. I did, and a few hours later my blog re-appeared, intact.
I never found out why my blog was removed, or whether the password reset was what brought it back. What I did learn, and fast, was that on most free blogging platforms, you do not own your content. The platform provider does. (That also applies to social media platforms like Instagram.) This was unacceptable to me, so I started researching how to set up a self-hosted site.
Taking control…
In 2013, I migrated une femme d'un certain âge to a self-hosted WordPress platform. That means that I pay a web hosting service to store and deliver my data to the internet as as you see it here. Over the years I've:
upgraded the hosting platform to accommodate increased traffic, for faster loading and to improve your reader experience,
contracted for ongoing tech support and guidance from chloédigital,
invested in some format upgrades for better performance across all device types,
utilized an email service that allows you to subscribe to receive new posts,
hired a freelancer periodically to update old links and expired content
I don't have a staff and still do most of the day-to-day work on the blog myself, but even so it now costs several thousand dollars a year to maintain.
Going Pro…From Hobby To Livelihood
In 2016, the company I'd worked for since 1993 was downsizing. They offered me early retirement and I accepted, hoping I might be able to make a modest living doing something I love. And for the most part I have.
Unless they are selling their own products or services, bloggers generally make money four ways:
Collaborations with brands (often in the form of sponsored posts)
Affiliate links that pay a small, variable commission if a reader makes a purchase after clicking on a link (at no additional cost to the buyer)
Display advertisements
Donations or paid subscriptions
Bloggers can make a lot of money with sponsored posts. I haven't done them often, and only accept offers for brands or products that I would otherwise recommend or believe would be of value to you.
Almost all of my blog income has been from commissions from affiliate links. That's allowed me a large degree of independence to write about and recommend products authentically, and not because I've been paid to do so. But with so many brands and retailers struggling to stay afloat, I'm not sure that I can count on this as much in the future.
I've always wanted all of my content to be free and accessible to everyone, so am not yet ready to consider adding a subscription paywall.
That leaves display advertising. Other than a couple of small business ads early on, I've mostly turned down opportunities to have display advertising on the blog. I didn't want it to negatively impact your reading experience.
But I've recently made the decision to incorporate some display ads on a test basis, for a couple of reasons. First, I'm trying to "walk the walk" when it comes to sustainability and consumption. Being able to diversify my blog income means I'm less directly reliant on purchases for support. Which means that I can focus more on creating content that's not necessarily product-based (something many of you have told me you'd like to see).
In the near future, I'm planning to roll out some personalized style services that I hope will be helpful and support what I do here. (Much now is dependent on the situation with Covid and how long we need to maintain distancing measures and travel restrictions.)
You may begin seeing ads within the next few days. There may be more placements for an initial trial period to test what's most effective. After that I'll be able to tailor how many and where they appear. I appreciate your patience and support as we work out any issues, and as always, thanks for reading.
Bon weekend!
Affiliate links in posts may generate commissions for unefemme.net. See my complete disclosure policy here.