5 Skincare Tips I've Picked Up Along Way…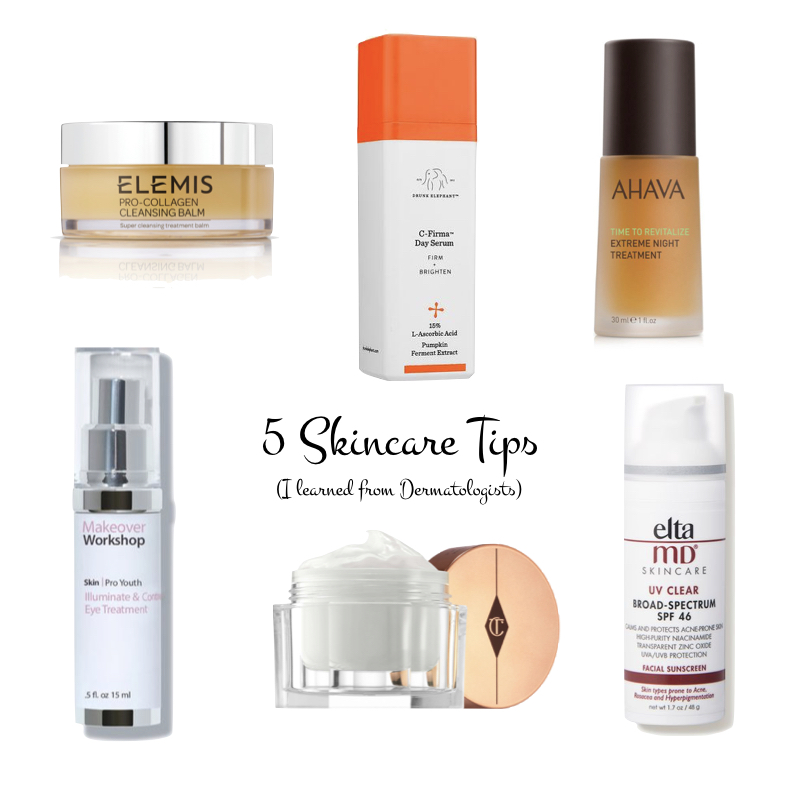 We've come a long way since those days of slathering ourselves in baby oil to bake in the sun, or using Preparation H as an eye cream. (Though I know some women still swear by this…😆) Skincare is big business, and seems to get more complicated and confusing all the time. There are entire blogs and books devoted to the finer points of skincare products and ingredients.
5 Skincare Tips From Dermatologists
I like to keep things as simple as possible, so have relied on tips and recommendations from my dermatologists over the years. Products are always changing, (and I'm always willing to switch if I find something more effective) so I thought I'd share some general tips for using and applying skincare that I've adopted and stuck with over time.
1. Cleansing: once (a day) is enough.
Most of us don't need to wash our face more than once a day. (If your skin is oily, you may be the exception.) Use a cleanser at night to remove makeup and any daily grime. In the morning, a rinse with cool water should be sufficient. I've been using the Elemis Pro-Collagen Cleansing Balm lately and really like it. It's cruelty- and paraben-free (also free of mineral oils and petrochemicals). It's soothing, effective at removing makeup, and it doesn't leave my skin feeling tight or dry.
2. Lead with strength.
In other words, apply the products with the most active ingredients first. If you use prescription Retin-A, apply that first. Serums generally have more active ingredients and are formulated to be absorbed by the skin, so they should go on before moisturizers. For daytime, I like Drunk Elephant C-Firma; at night I use Ahava Extreme Night Treatment (recommended by one of the very helpful skincare experts at City Pharma in Paris.) Both are cruelty- and paraben-free.
3. Pause, and reflect
Give your serum a minute or so to absorb before applying moisturizer, and wait a minute (or more) between your moisturizer and sunscreen. I've been told this allows better absorption and assimilation of ingredients. And from my own experience, it helps makeup go on better.
4. The eyes have it…
Don't apply your eye cream directly onto the lid. Tap gently around the orbital bone (above and below the eye). The cream will get where it needs to go. My go-to eye cream at the moment is Makeover Workshop Illuminate & Contour Eye Treatment. If you're looking for a more budget-friendly option, I also really like Olehenriksen Banana Bright Eye Cream.
5. If you do nothing else…
Sunscreen, sunscreen, sunscreen. Back when I first started seeing a dermatologist for regular mole checks (my Dad had melanoma twice), I asked, "what's the most effective skincare?" His one-word response: "Sunscreen."
My current dermatologist prefers and recommends formulas that include a good percentage of mineral/barrier sunscreens. Look for zinc or zinc oxide. I asked her about the "nanoparticles" concern, and she thinks it's a non-issue. She said these sunscreens are designed to work by providing a physical barrier, which means they sit on top of the skin.
I was disappointed to learn that my current favorite formula has been discontinued, so when I run out I will give the Elta MD a try (my dermatologist's pick, also recommended by friends).
More Cruelty-Free Skincare Products

Do you have any favorite skincare tips or recommendations from your dermatologist?
Stay in touch
Sign up to be notified of new posts and updates from une femme d'un certain âge.