Winter may not be the longest season, but it can sometimes feel that way. Since I've been on my color journey, I've realized more than ever how much color impacts our mood. Sometimes a little bright color can be just the thing to lift our spirits on a dreary day.
Why not add color where it will be seen, even when you're out in the cold? If you've been holding off replacing your winter coat in hope of some good sales, this one's now 50% off. To me the gorgeous aqua color evokes a tropical sea…there, now don't you feel warmer already?
Scarves are another great way to add visible color in winter. This wool blend scarf has Scandanavian charm…
and here's a more budget-friendly option with a softer stripe.
Need something that's wool-free? Here's a pretty peony pink pleated scarf. (Other colors available too.)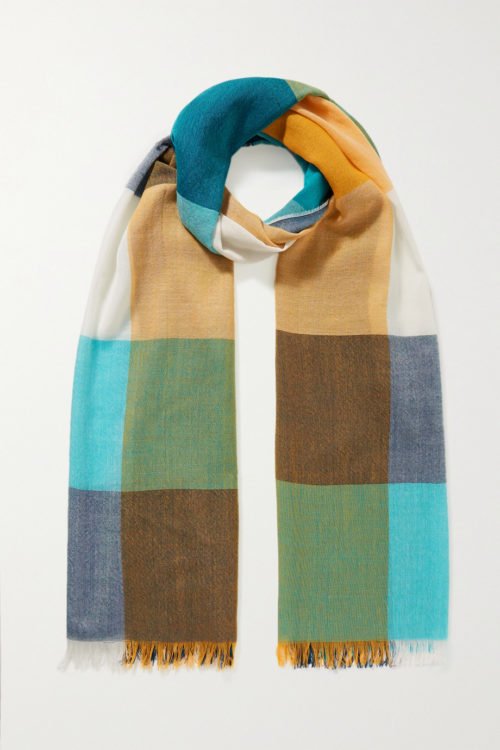 The colors in this merino wool check scarf are sophisticated, but not dull.
I've been seeing a lot of yellow and gold bags for Spring. It can be a great color to add some lift and pop to an outfit, yet in the right shade is surprisingly versatile. This color is called Lemonade. I haven't seen it yet in person, but could be a great choice to wear with cooler palettes. I also like this take on the bucket bag (another trend for Spring), practical and polished. There's a crossbody strap too.
This bag comes in several colors (I have my eye on the Pomegranate) but this sky blue color is versatile too, and cheerful without being overpowering.
This packable, lightweight tote is offered in over a dozen colors and patterns, but IMO red is perennial. ❤️
And speaking of red… 😉☔️
What colors do you like to wear to lift your mood?
Affiliate links in posts may generate commissions for unefemme.net. See my complete disclosure policy here.