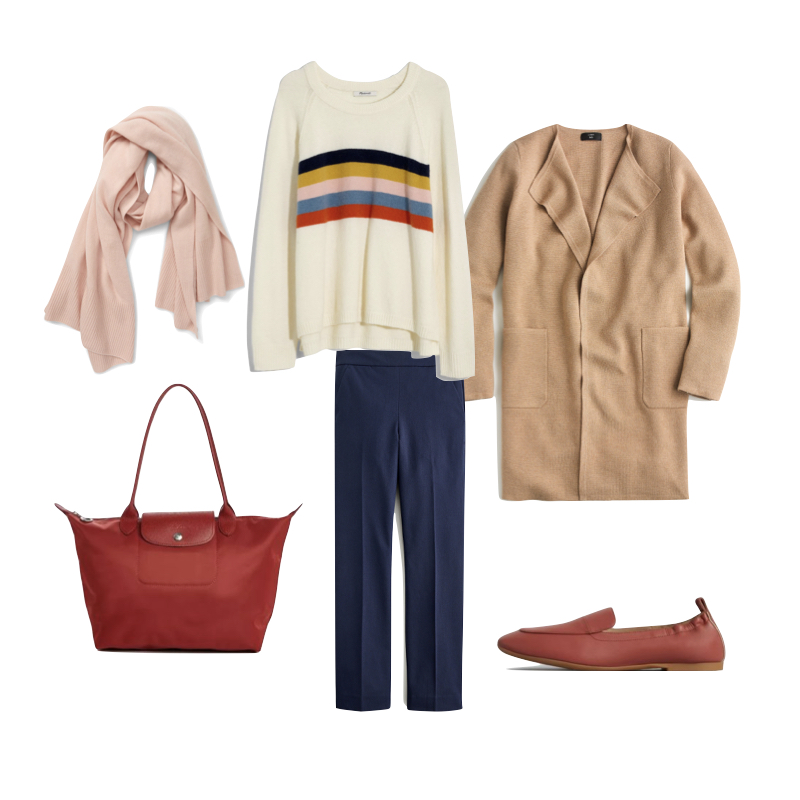 Many of you have asked about wardrobe transitions, either to incorporate a new color palette, or accommodate major lifestyle changes (such as retirement). Since the topic of transitioning away from a black-based wardrobe came up recently, I've used that discussion as the framework for this post. But the steps outlined below would also work for any major wardrobe update.
First, let me say that I'm not here to tell you not to wear black. Even if it's not in your color palette. I certainly understand the appeal; for many years I relied on black as the core of my wardrobe. (I've often joked that my closet looked like it belonged to a cat burglar. 🦹‍♀️)
Why Wear Black?
There are valid reasons that many of us have come to rely on black in our wardrobes:
It's easy to build a cohesive black-based wardrobe. Matching (usually) isn't an issue.
It's sophisticated, cool, edgy, dramatic.
Black says "take me seriously."
But it's also a bit anonymous.
Black is often associated with artists and other creatives.
It travels well.
Black (and other dark colors) recede, therefore are perceived as more "slimming."
We often associate black with French chic.
It's often the most widely available color for clothing, bags, and shoes.
Did I mention that it's easy? 😉
And I also found that wearing black felt powerful and grounding. Until it didn't. I've actually wanted to add more color and brightness to my wardrobe for a few years now, but kept retreating to black. It was comfortable and reliable.
That's one of the reasons I took the plunge on a first-rate color consultation. And once I did that, it was impossible to "un-see" (as my friend Lisa from The Sequinist says) how draining black could be on me.
How To Transition Your Wardrobe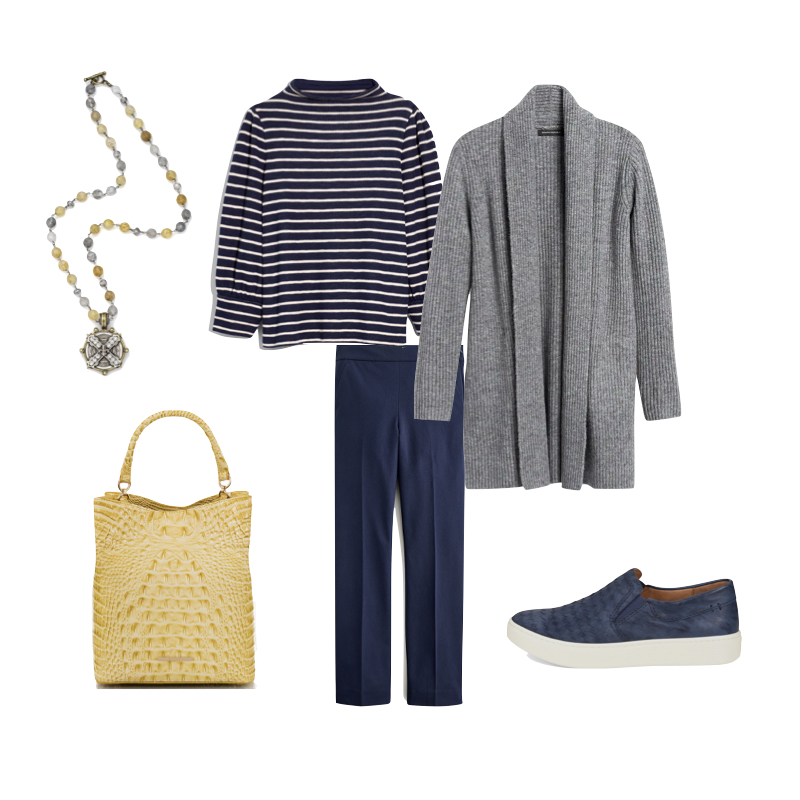 If you want to transition away from a primarily black wardrobe there are a couple of ways to go about it.
The Leap of Faith
I knew that if I didn't make a "clean break," I'd continue to fall back on black as a convenience. So I came home and cleared out my closet. (Almost) everything that wasn't in my Spring palette was culled. Much of my wardrobe was from Eileen Fisher so those went back through her Renew program. A friend has adult daughters who are around my size, so they got next pick, then what was left was donated to a local charity thrift. (If you'll be letting go of any work wear in good condition, please look into Dress For Success. They provide interview and work clothing to women to help them achieve economic independence.)
I knew that it would probably take several seasons to rebuild my wardrobe. I work from home and our lifestyle is casual, so I could make do with limited choices for a while. It's frustrating at times, and I've made a couple of "desperation" purchases that ultimately didn't stick. But I don't regret the choice to take a big leap; for me it was best process.
Slow and Steady
If you work outside the home, or have a lot of commitments that you need to dress for, or need to budget carefully, you may wish to take a more gradual approach. Here are the steps I'd recommend:
Go through your closet and clear out any duplicates in the color(s) you're phasing out. Do you really need 6 black jackets? Or tee shirts?
Make note of what you wear most. Those are the pieces you'll want to replace first. Factor in your lifestyle, activities, special requirements.
What will your "new" neutrals be? Navy? Brown? Camel? Grey? Think in terms of building a neutral capsule first; this will be the foundation of your wardrobe.
BUT if you come across a piece that's one of your best colors and suits your style, grab it, even if it's not a basic or a neutral.
As you find replacement pieces for your black items, consign, donate, or give them away.
It really helps to work from a set palette, either from a color consultation or one that you choose. It's key to building a cohesive wardrobe, which means you can focus on fewer-but-better pieces.
Keep silhouettes in mind. Long over lean? Fitted over full? You may be transitioning to a different silhouette (e.g. from structured, corporate pieces to softer, looser styles) but consistency will help you build a workable, cohesive wardrobe.
Scarves are my favorite way to add color near the face. (You can check out a couple of my scarf tying tutorials HERE and HERE.)
Give It Time. You won't be able to reinvent your wardrobe in a single season. Have patience, be focused and discriminating. Re-assess your needs and shopping list every few months.
Many people have asked, "why can't you keep the black pants and just add color above the waist?" As an interim measure, I did keep a couple of pairs of black pants to wear for dressier occasions, until I can replace them with something in my palette. But many of my warm, bright Spring colors look harsh paired with black, so I stick to wearing black pants with navy or ivory tops.
Unless you're wearing an actual suit, don't worry if your navy or other neutral pieces don't match exactly. As long as they're in your color palette, they should complement. Use textures to differentiate pieces (e.g. a soft sweater over twill pants) and run with it!
It's true…some women look amazing in black: Winters. During my color consultation, I mentioned to Annie how we often associate black with classic French chic. "But so many French and Italian women are Winters," she replied. "That's why they look so good in black!"
But if you're not a Winter and you still love wearing black, I'm not here to pry it out of your hands. Our wardrobes should serve us, not the other way around. And we're each the final judge of what serves.
Have you done any major wardrobe transitions? What were your biggest challenges?
More Neutrals, Not Black
Affiliate links in posts may generate commissions for unefemme.net. See my complete disclosure policy here.