How to get more variety from a capsule wardrobe
At the beginning of January, I decided to put together a small neutral capsule wardrobe to use as the starting point for my outfits for the month. I did this for a couple of reasons. First, I wanted to simplify getting dressed and give myself something of a style "palate cleanse." Second, many of you have said you'd like to see more restyling of pieces, and I thought this would be a good way to format and illustrate that.
The starting point: my navy and ivory capsule wardrobe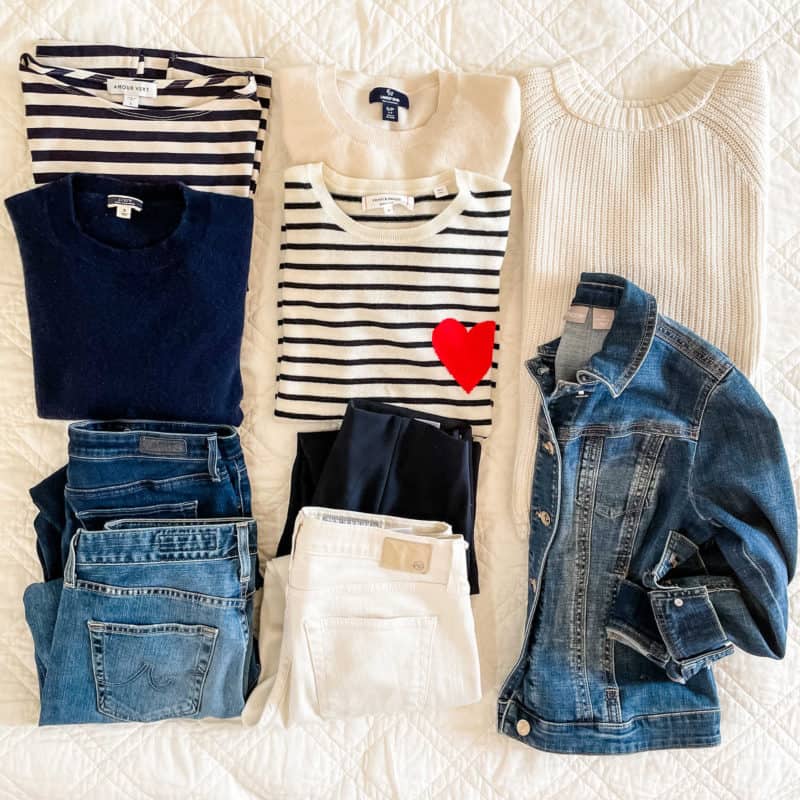 I decided on a navy-based capsule because it's a neutral that's fairly universal (there's a navy for everyone). And because I'd been wearing a lot of brown and wanted a break from it. 😆 As with my travel wardrobes I selected the pieces so that most of the tops could be worn with most of the bottoms, and most layer well.
But I knew that even adding accessories, I'd be bored to tears in a few days with only these neutrals. So I allowed myself latitude to add more color with jackets and outerwear. That formula worked pretty well, I think!

What I learned from this capsule wardrobe exercise
One of my objectives was to simplify getting dressed, and having a limited number of pre-selected pieces did help. I didn't have to make a lot of decisions about my "starter pieces," or worry about what would go together. The blue jeans, solid cashmere sweaters, and the striped tee were what I wore most often.
And fewer decisions about my "base" really spurred me to get more creative in putting outfits together. I found some new combos with older pieces, and leaned heavily on shoes and accessories. It was a great reminder of the power of accessories to personalize an outfit as well as creating variety.

I also learned that as much as I'm drawn toward minimalism, I'm happiest with a little bit of color and interesting detail in my outfits. But not too much. And while I can work with limited choices for a short period of time, I get restless after a while. By the end of the 3rd week, I was looking forward to adding more of my favorites back into the mix.
Some of you have asked about a February capsule, but as I have some travel planned this month (more on this to come), I'm going to hold off until it's time to put my travel wardrobe together. Still, I'll continue to dig into my closet and show you different ways I style some of my favorite pieces.

Do you create capsule wardrobes to simplify getting dressed?
Thanks for reading! If you enjoy une femme d'un certain âge, please support me by sharing on Facebook, Pinterest, or other social media, and subscribe HERE to receive email notifications of new posts, and exclusive content. Thank you!
Stay in touch
Sign up to be notified of new posts and updates from une femme d'un certain âge.