Encore | A Wardrobe Wake-Up Call
This piece generated a lot of great feedback and conversation when I first posted it back in April (HERE). I've had a few months to ponder and experiment, and will be sharing some updated thoughts on wardrobe "show ponies" soon.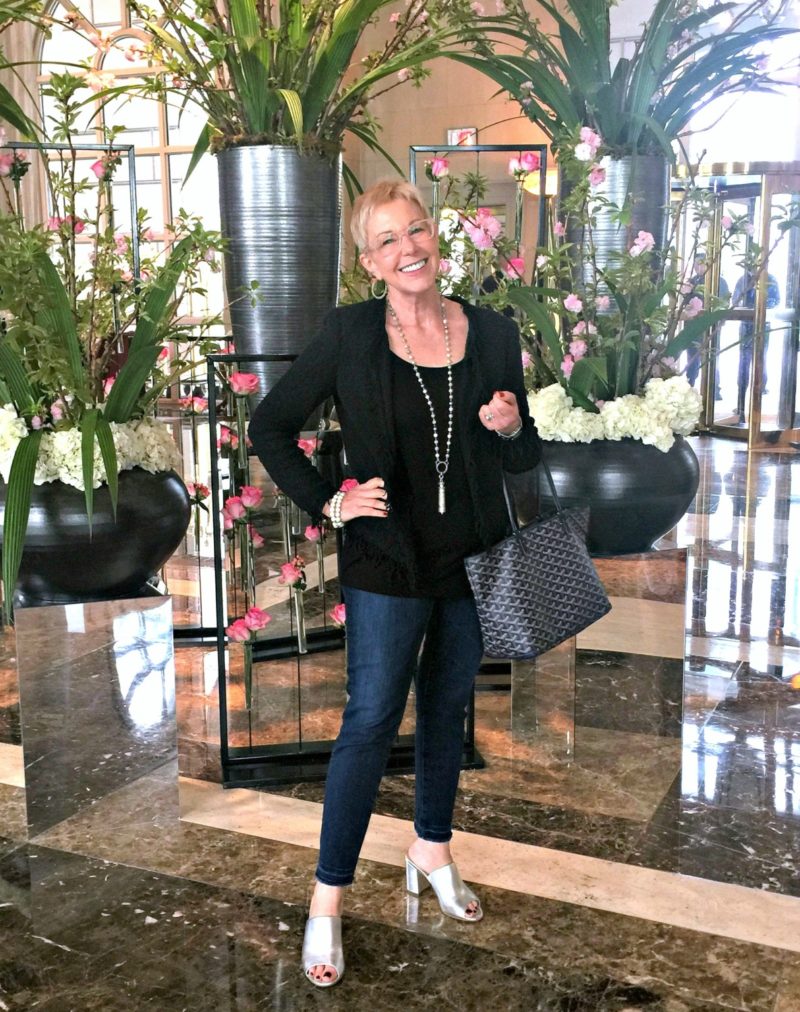 The blogger conference was such a great experience! I learned so much, was so inspired and have so many notes to review. But the best part, by far was meeting so many other bloggers, both those whom I've known and collaborated with over the years, and some whose blogs were new to me. I learned as much if not more from them. We all love sharing our best tips, and that feeling of being with a group of women who are supporting each other is so energizing!
Above: earrings | jacket | top | necklace | bag (similar) | bracelet | jeans (similar) | shoes
But I have to admit, my wardrobe felt really drab. So much so, that over the entire weekend, this was the only outfit I liked enough to shoot and share. (And the accessories really did the heavy lifting here.)
Wardrobe Workhorses And Show Ponies
I've focused for so long on my wardrobe basics that I've collected very few stand-out pieces. As I said to Jennifer (the blogger I roomed with who writes A Well Styled Life), my closet is a stable of Workhorses, and almost no Show Ponies. I'm not looking to completely change my style, just add some pieces that take it up a notch.
There's nothing wrong with having a stable of good basics. They're the foundation of any cohesive wardrobe, and keep us from those "nothing to wear" days. But I've come to realize that (for me anyway) a basic capsule wardrobe isn't a complete wardrobe. It's a starting point.
Adding Wardrobe Personality
While working on a recent post, Style Formula: Simple, With Interest, I began to get a sense of what I'm looking for. Pieces that are special, not necessarily splashy. Feminine but not frou-frou. Modern, but not so of-a-season that they'll look dated in a year or so. Bold color used as an accent, maybe even the occasional print (though I'm still most comfortable with prints in small doses). Interesting shapes and/or details. Movement, fluidity, a little drama.
And they have to "click." Right away. There has to be that "oh yes!" reaction when I first look into the mirror. It's not an easy "ask" but I've found when that element is there, I hang onto these pieces for years and wear them at every opportunity. They're usually not the least expensive pieces in my wardrobe, but I consider them worth every penny.
The Downside To Show Ponies…
is that they're often memorable. A pair of simple black pants can be styled 100 different ways and no one will think, "hey, those are the same black pants she wore last week." A unique, standout piece gets noticed, and remembered. I think we've been trained to worry far too much about looking different every day, but your comfort level is something to think about when considering a balance between basics and statement pieces.
(By Saturday evening, I was a little tired and punchy, and had switched back into my flats.)
Are statement pieces an important part of your wardrobe? What do you think is the ideal ratio of basics to statement pieces? Or do you rely mostly on accessories to make an outfit statement?
Stay in touch
Sign up to be notified of new posts and updates from une femme d'un certain âge.