Retail Reconnaissance: Fall Trends In Situ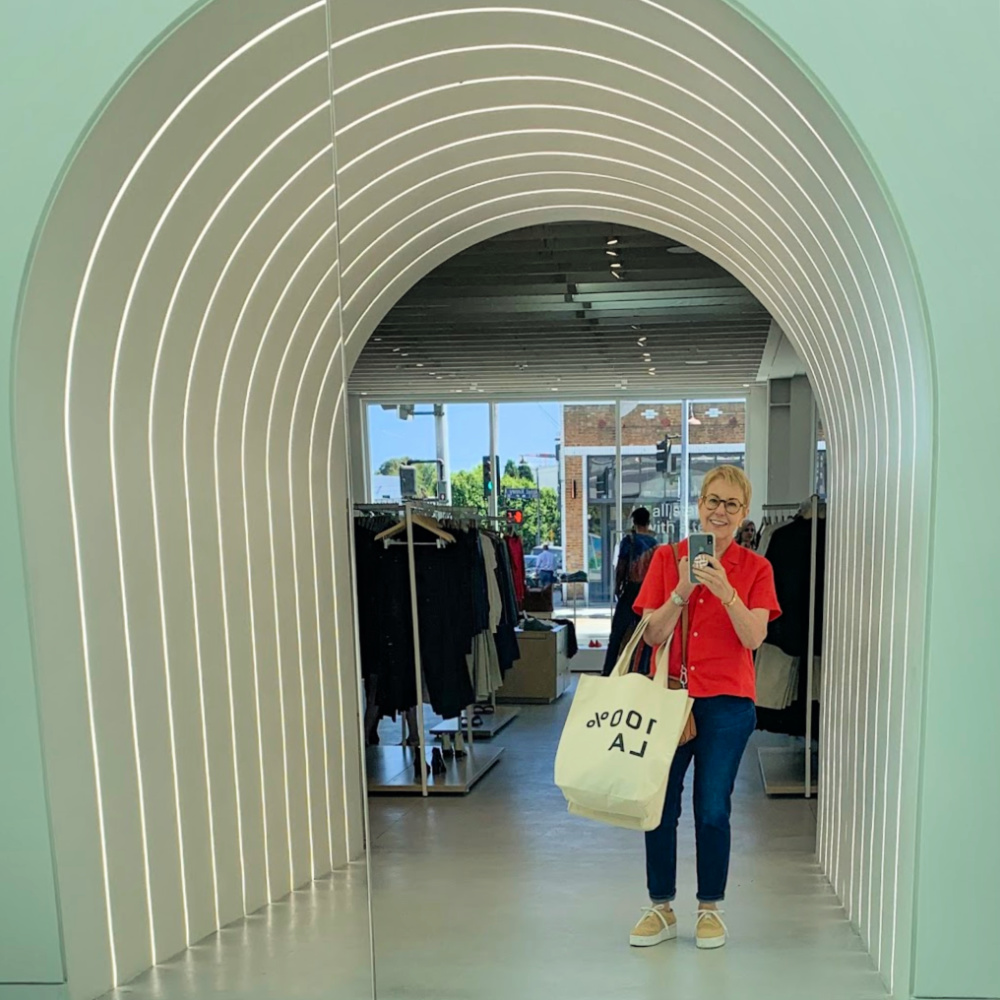 I've done a bit of "boots on the ground" shopping the last couple of days. Many of the fall style trends * I've spotted online are now showing up in brick-and-mortar stores too.
I was invited to attend the pre-opening preview for a new Everlane store in Venice (CA). I tried on several pieces, and a few of them came home with me. 😉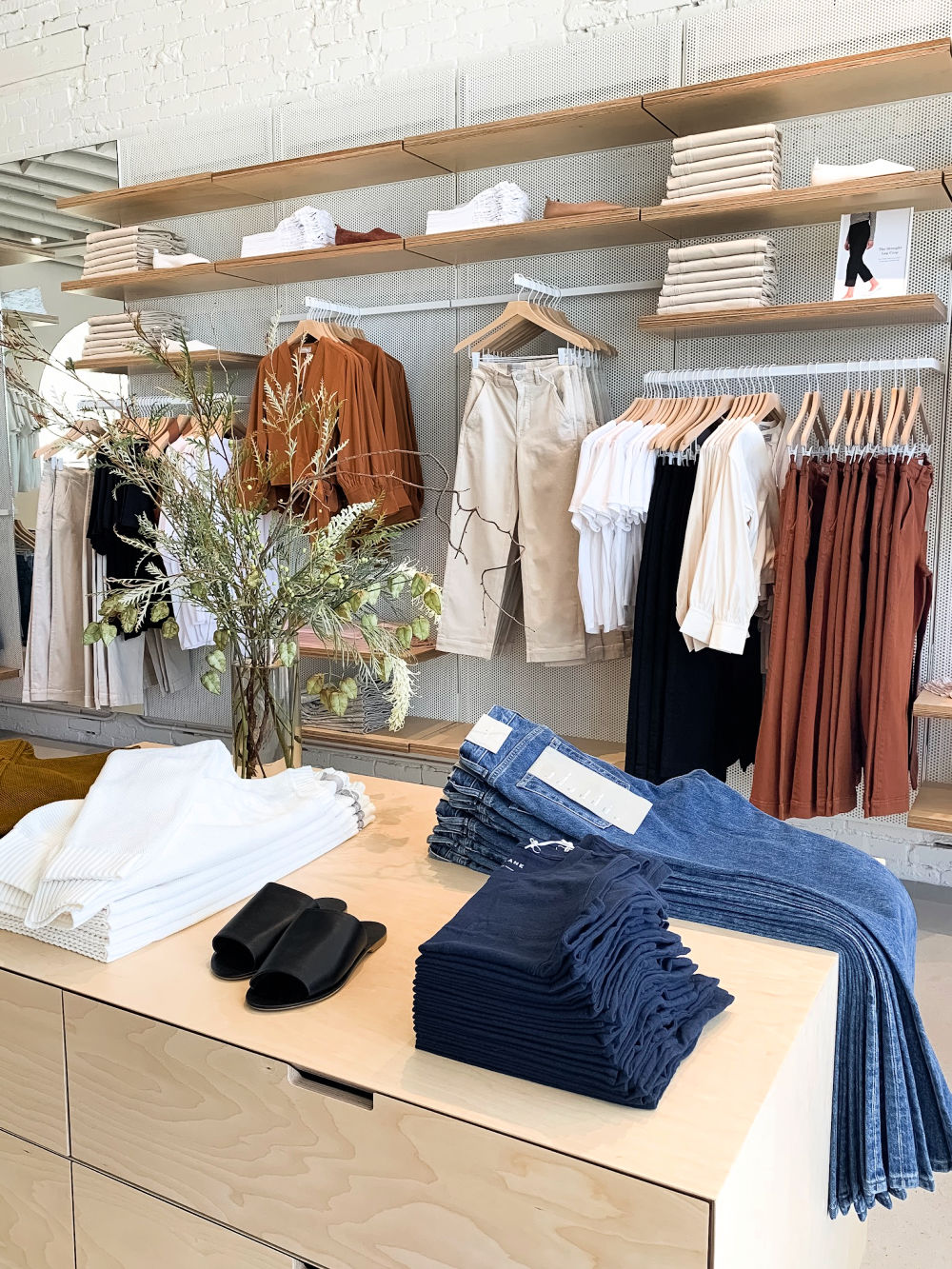 It's a nice, airy space, and well laid out. They carry men's as well as women's styles.
Lots of shoes, too. Last year I was eyeing the Day Boots in bone, but didn't move fast enough and they sold out in my size. They're back in stock, and yesterday they came home with me! (I received a $100 gift card as part of the event.)
Fall Style Trends for 2019
While trends are no longer as monolithic as a few decades ago, I'm seeing a VERY strong showing of the following:
Spice Tones, Shell Pink
Tonal dressing (head to toe in the same or similar shades) continues to be a strong trend going into fall. I've been seeing a lot of shell pinks in fall collections. If this is a color you can wear, it's a nice neutral that works well with browns and rusty hues. (In fact, I think we'll be seeing a lot of this pairing, both in individual pieces as well as in prints.) It also works well with mauve and burgundy, for those who prefer cooler colors. I picked up two of those tees, one in this shell pink ("Rose Pigment Dyed") and one in the rust ("Cider"). Both colors are in my Spring palette.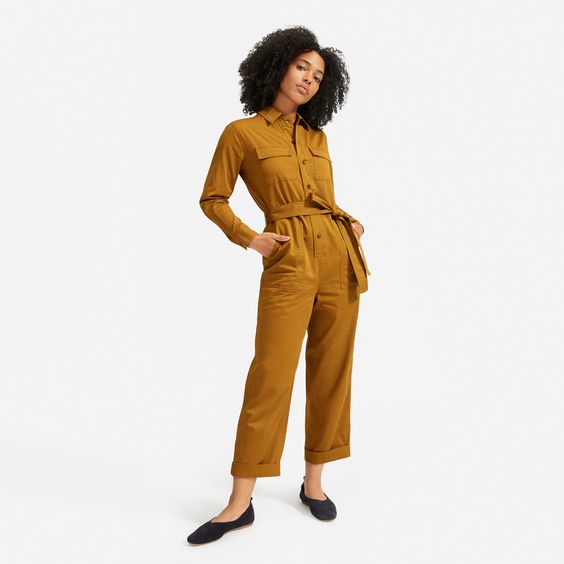 A couple of the Sales Associates were wearing this jumpsuit, (one in Navy, one in this "Brass" color) and several customers were trying it on. Readers, it was cute. The fabric is lightweight and not at all stiff. I tried it on too, and had to admit, I kind of loved it. It's fun in a cheeky and insouciant way. No, it's probably not strictly Gamine, (probably more Natural) but there are ways to "G" it up. I'll play with it a bit at home, and if I decide to keep, will show it to you soon. One Sales Associate told me it's been selling very well. Offered up to size 16, and seems to run true-to-size.
Elsewhere…
Just about every collection at every price point is featuring these shades. Above, from Lafayette148 New York.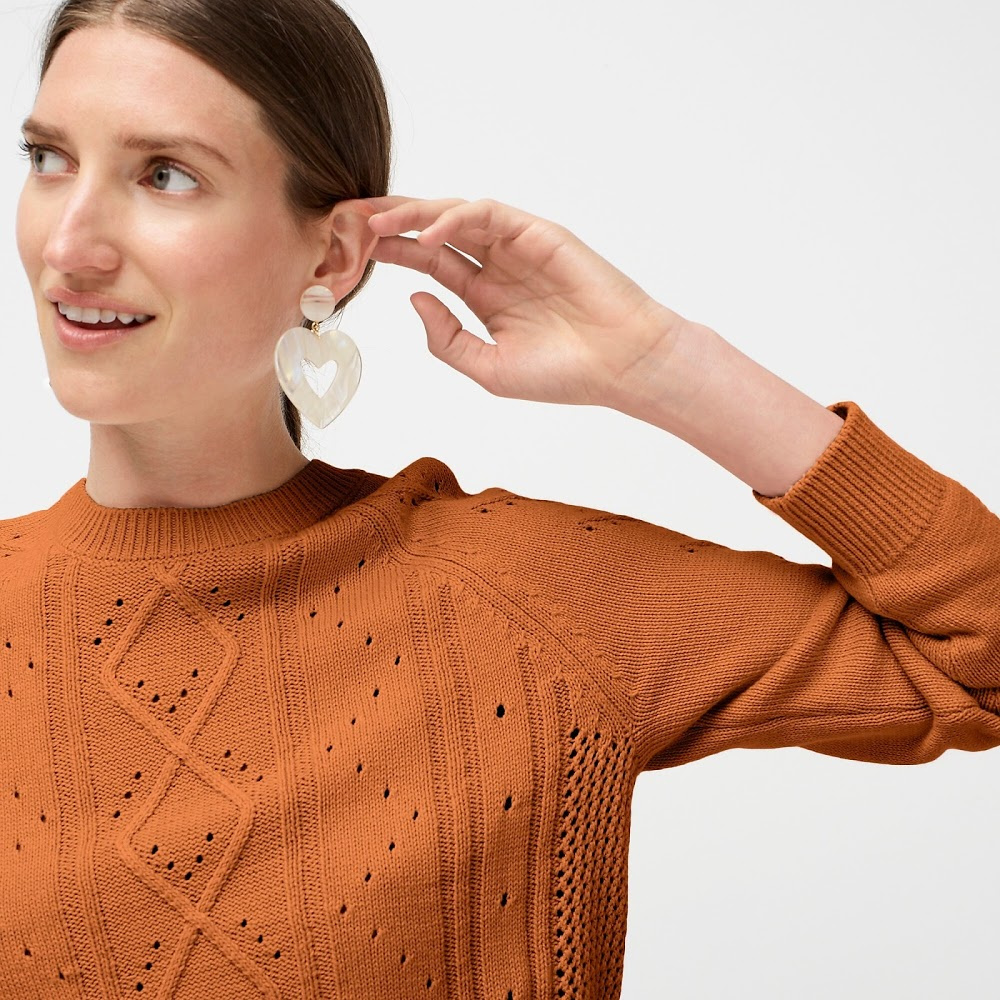 Some of these rust hues are quite warm, like this "Adobe" color from J.Crew.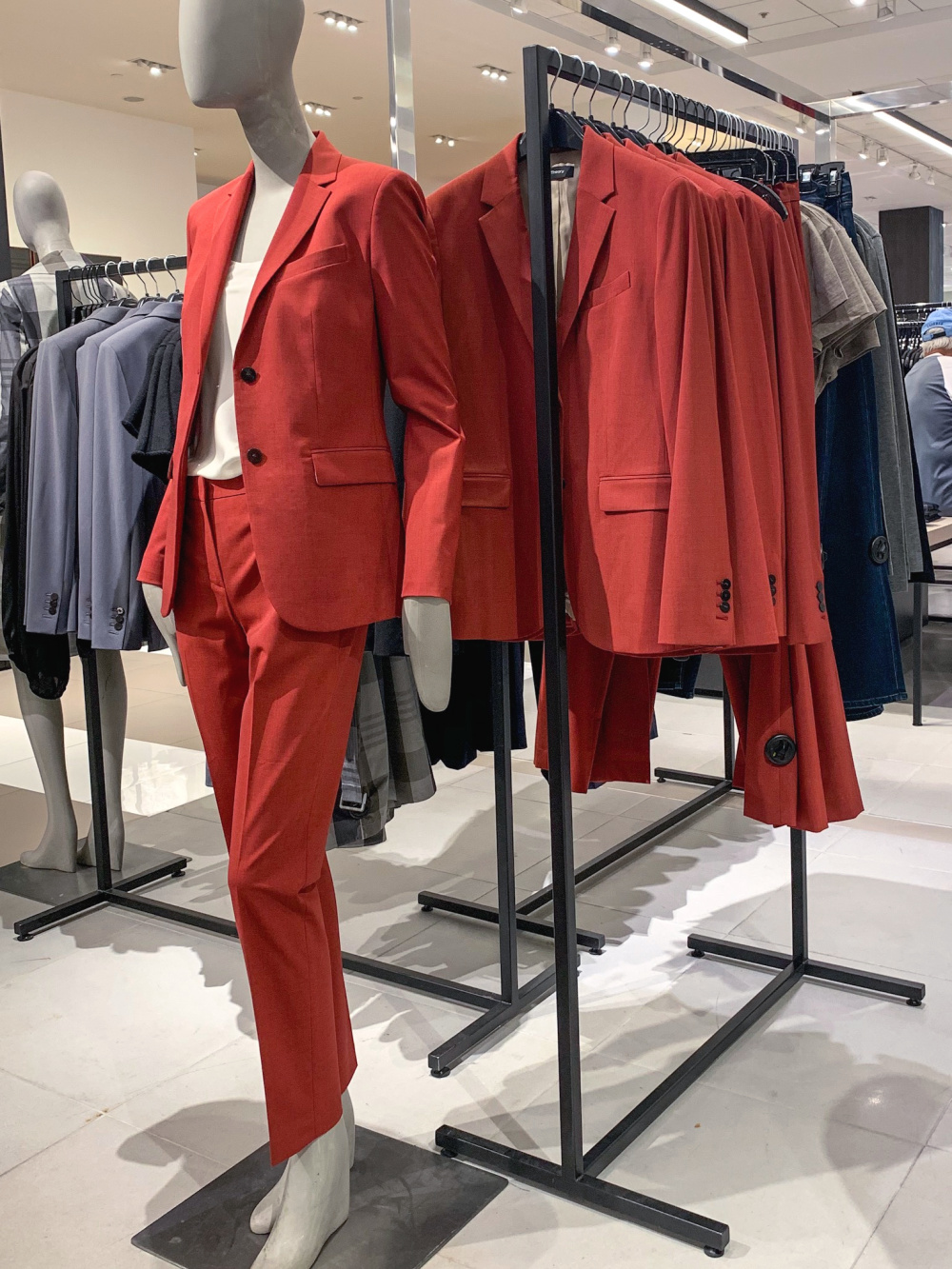 And some are cooler-toned, like this "Deep Mulberry" color from Theory (Jacket | Pants). It's less orange and more berry than it looks here. Trying to capture accurate color in department store lighting is always a challenge.
Long story short, if these colors appeal to you, you'll have LOTS to choose from this season!
Fall Florals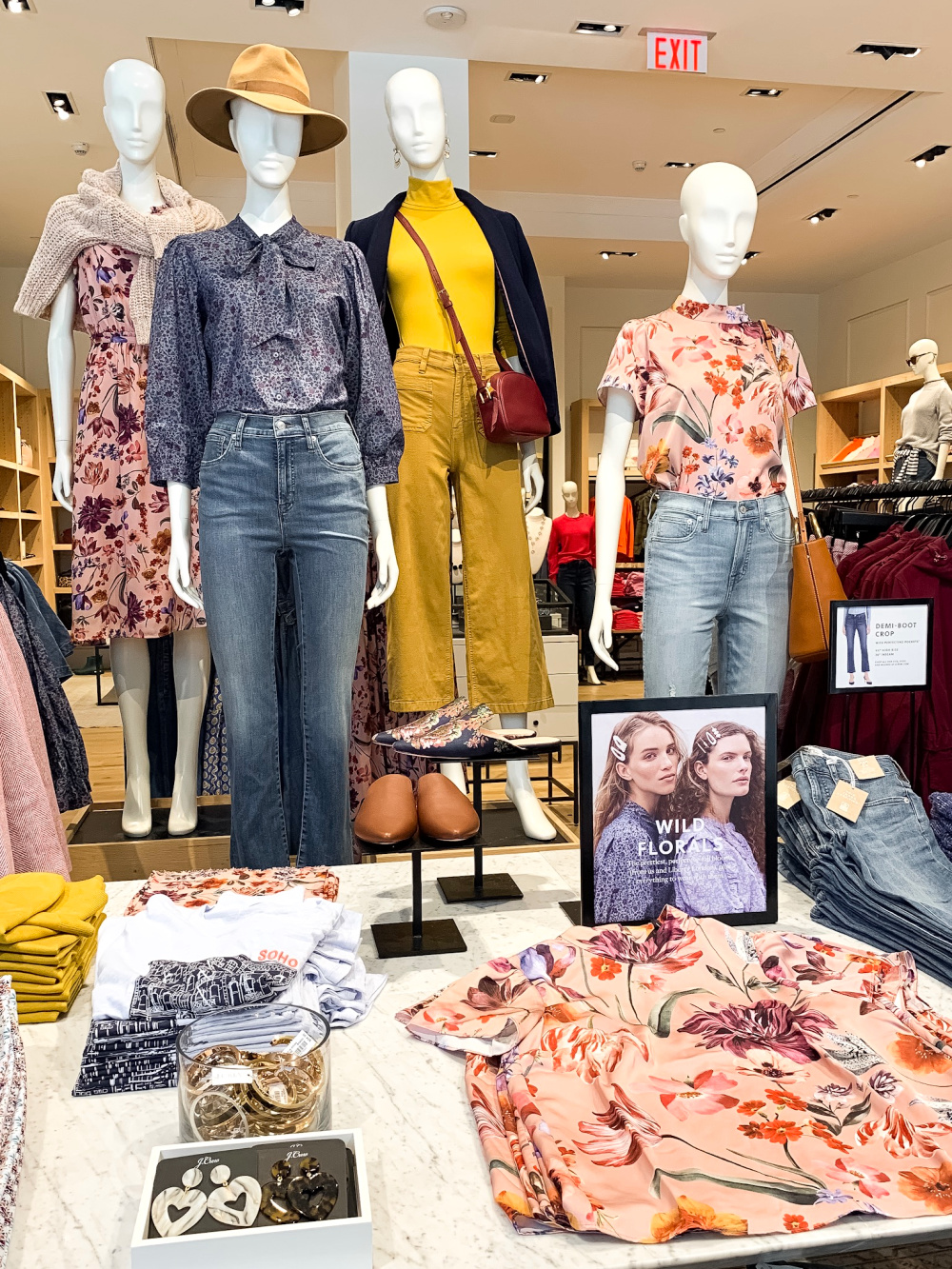 If you are a fan of florals, you are going to LOVE the selection this season. Dainty, bold, warm, cool…there's something for everyone. (And see what I mean about that warm pink and rust tones pairing in prints?)
Soft, floaty floral print dresses are blooming everywhere. Depending on the cut and print, you Bohemians (and maybe some Princesses and Romantics) can find options that suit. Above, from Gerard Darel.
Greens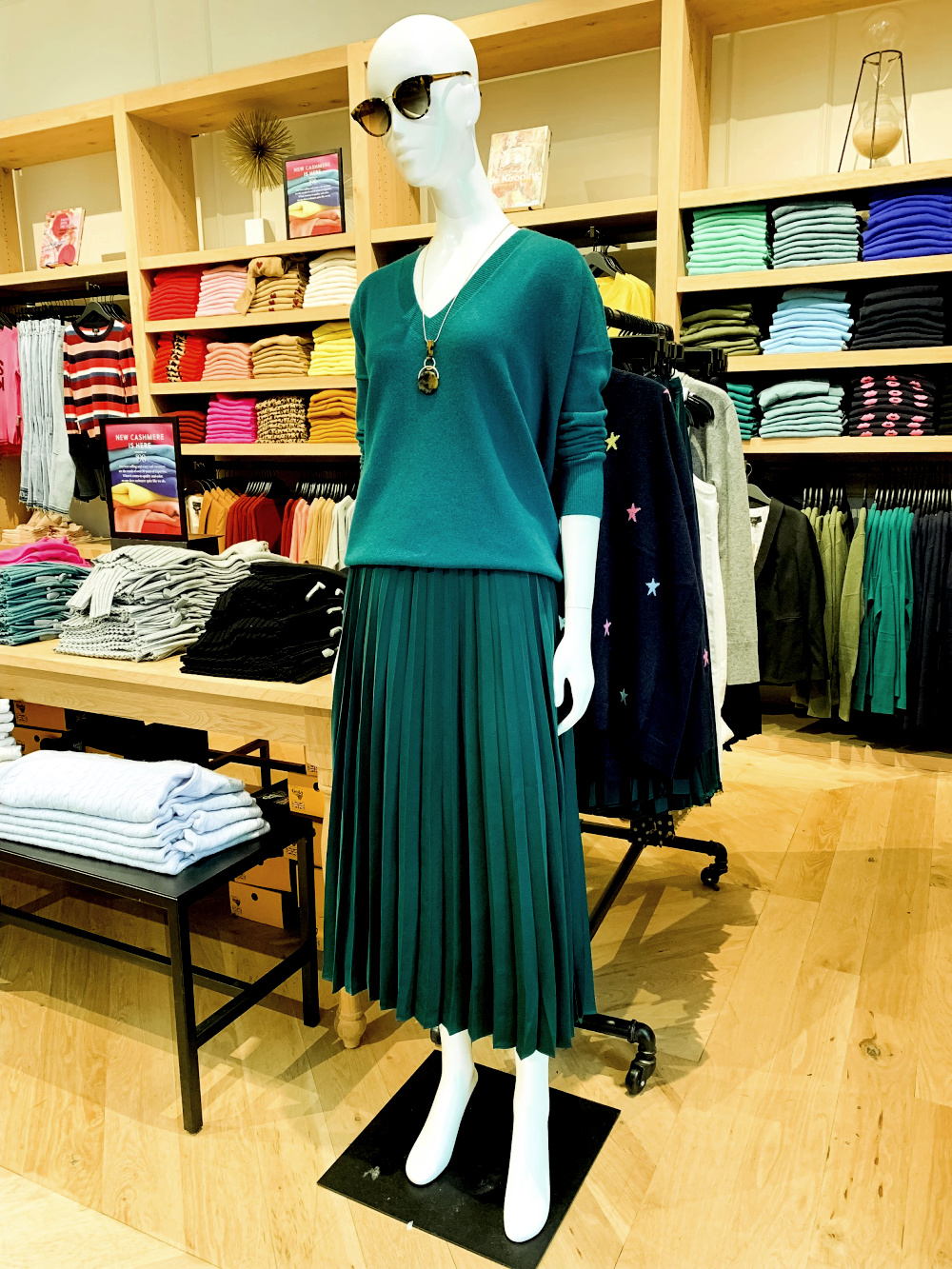 Though not as ubiquitous as rust tones, greens are making a showing. Above, this sweater and pleated skirt show another version of tonal dressing, combining a teal-ish and forest green. (And you can see some other versions of green in the sweaters on the shelves in back.)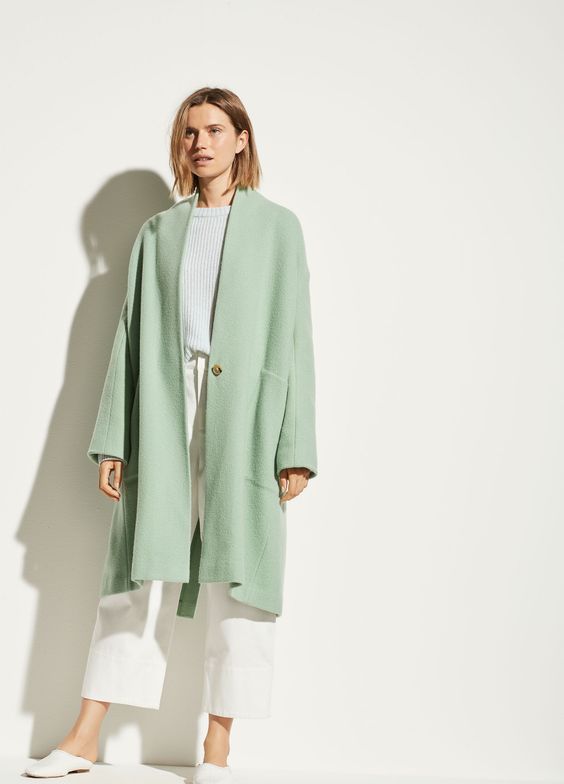 "Pistachio" was predicted to be huge this fall, but I've only seen a smattering of it. Vince has some really pretty "sea glass" and sage greens in their latest collection, including this coat, which is stunning in person. (Though perhaps not the most practical choice, unless dry cleaning bills aren't an issue for you.)
*And here I'll add my usual disclaimer about trends: no one, of any age, should feel compelled to buy and wear items just because they are "on trend." I look at trends as opportunities to find a better selection of styles and colors we'd want to wear anyway. If your preferred palette or silhouette isn't offered this season, it may be next season. That's why I believe it makes sense to pay attention to trends, rather than follow them.
Are there any fall style trends that you're seeing as an opportunity?
And be sure to check out more on Fall style trends from some of my favorite bloggers:
Stay in touch
Sign up to be notified of new posts and updates from une femme d'un certain âge.