How to wear faux leather pants in a casual outfit
Leather and faux-leather pants are on trend this season. Yes, you can wear faux leather pants over 50 (or 60, or 70…)! I've styled this pair of brown faux leather pants in a sporty-chic casual outfit.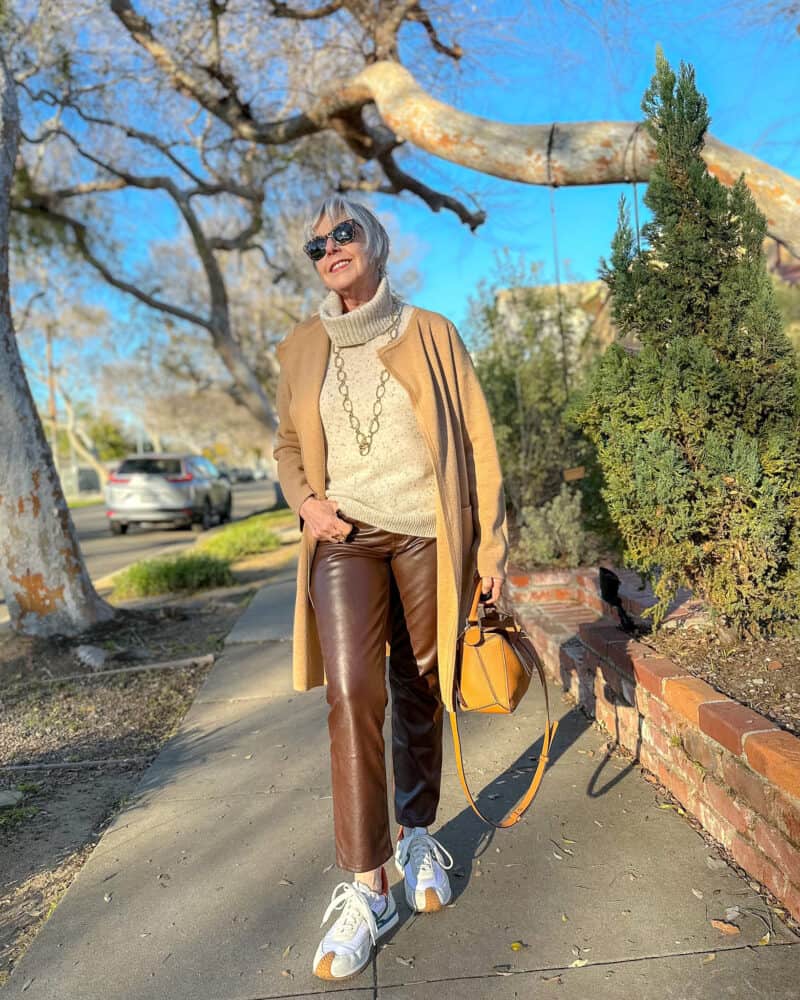 I've received more than a few requests in recent weeks to feature some outfits without jeans. While I do wear jeans most days, I'm always on the lookout for non-denim alternatives that suit my style. Leather and faux-leather pants continue to be on-trend for 2023, so I decided to take the plunge and try a pair.
These are a 5-pocket style with a straight leg. They hit that dressier-than-jeans-but-not-too-conservative sweet spot for me. This pair is budget-friendly, and quite comfortable. I'm wearing a 28 Petite (my usual size).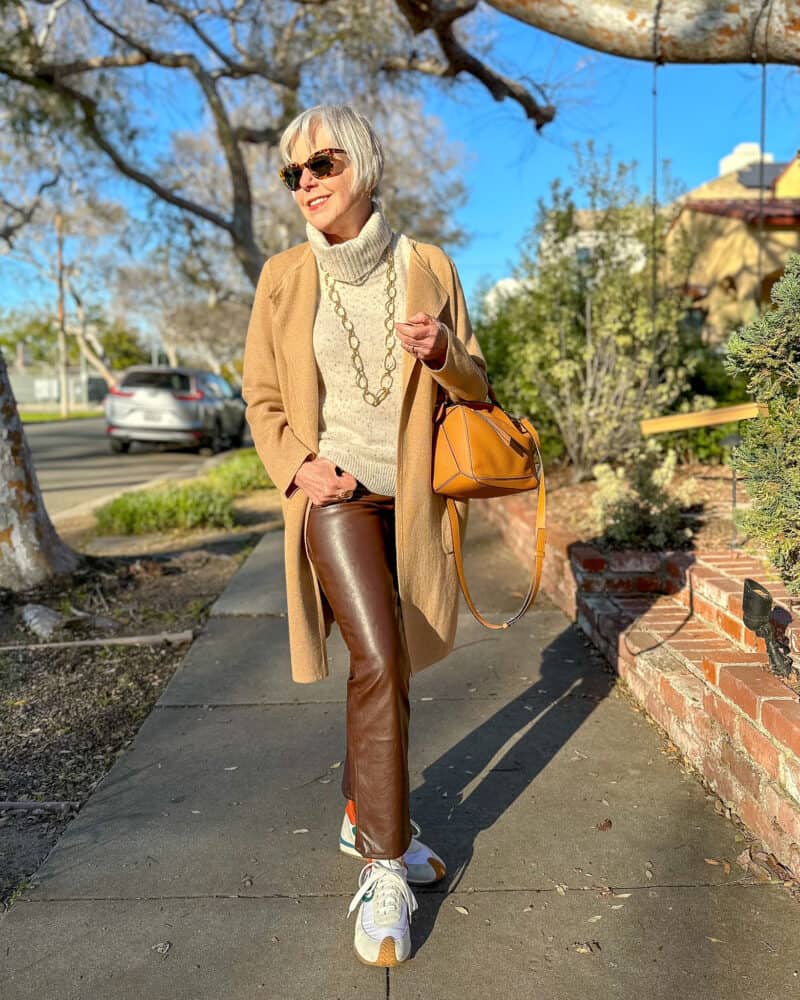 While leather and faux leather pants have often have a more sexy, rock-n-roll image, I think they can be reimagined for everyday wear. For this outfit with faux leather pants, I've dialed down the "vavoom" factor with a classic-look Donegal sweater vest (this one no long available), sweater jacket and retro-inspired sneakers.
Here's the same style that I'm wearing in black.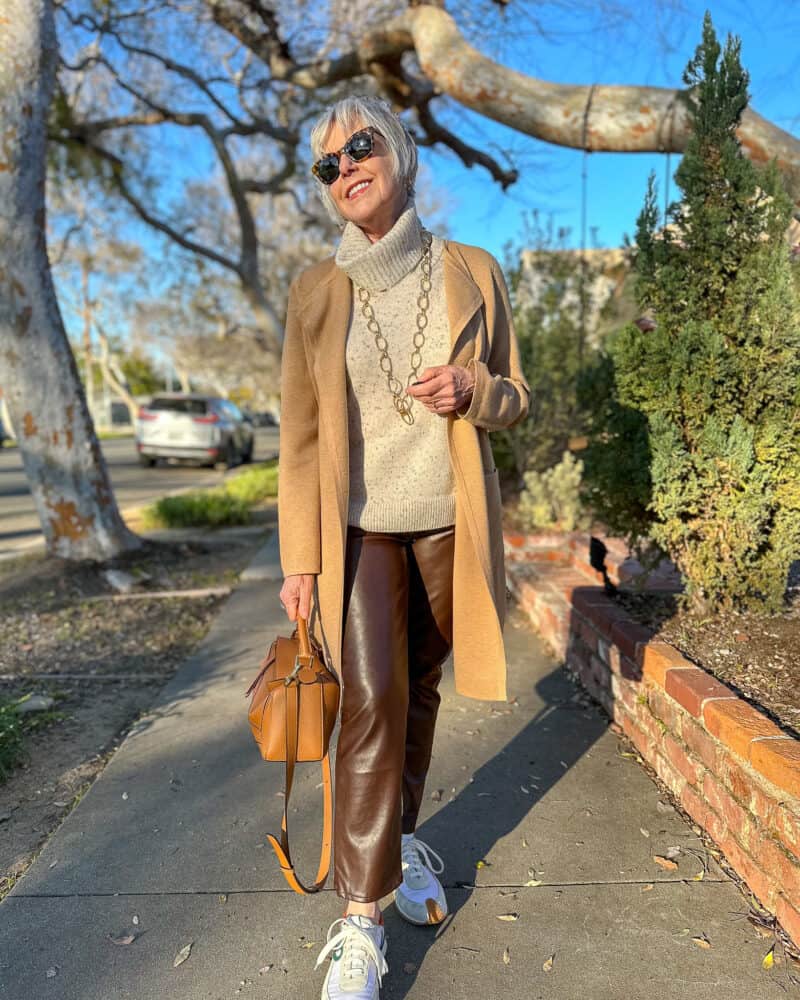 More like these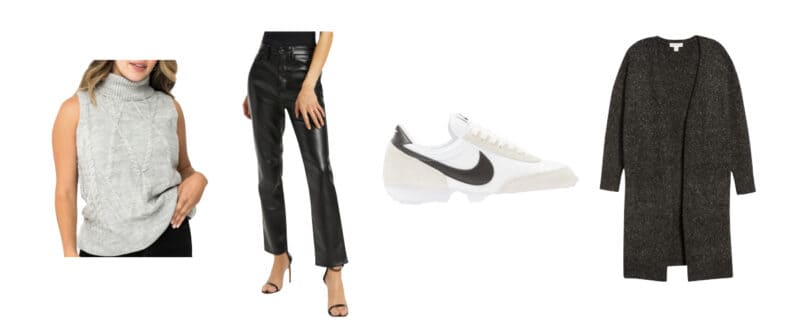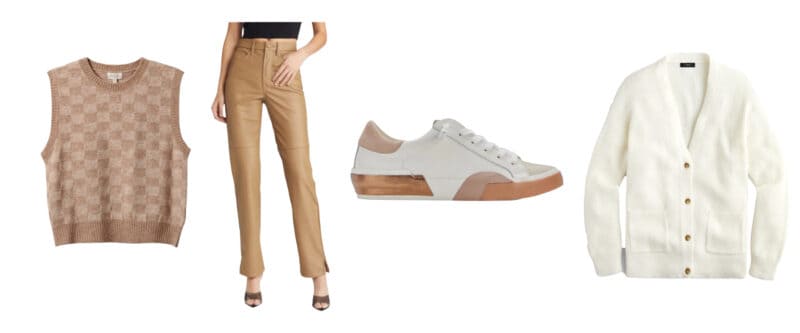 Have you tried leather or faux leather pants recently?
In other news…
Earlier this week I had my last wisdom tooth pulled. (Both of the upper ones came in without a problem, and I never developed any on the lower side.) The procedure itself was a piece of cake. Local anesthesia only, and the whole process took less than 20 minutes. I've had no pain to speak of, other than a little soreness in my jaw the first couple of days.
I've been on a liquids -> soft food regimen, and will be for the next few days. (And of course, have been craving anything crunchy! 😆 🌮 ) But I'm finding that soups are very satisfying, and it's been a good reminder to include more soups in my diet.
Bon weekend!
Stay in touch
Sign up to be notified of new posts and updates from une femme d'un certain âge.