I'll admit, I've always had a Thing for handbags. I believe that a well-chosen, chic bag can elevate any outfit.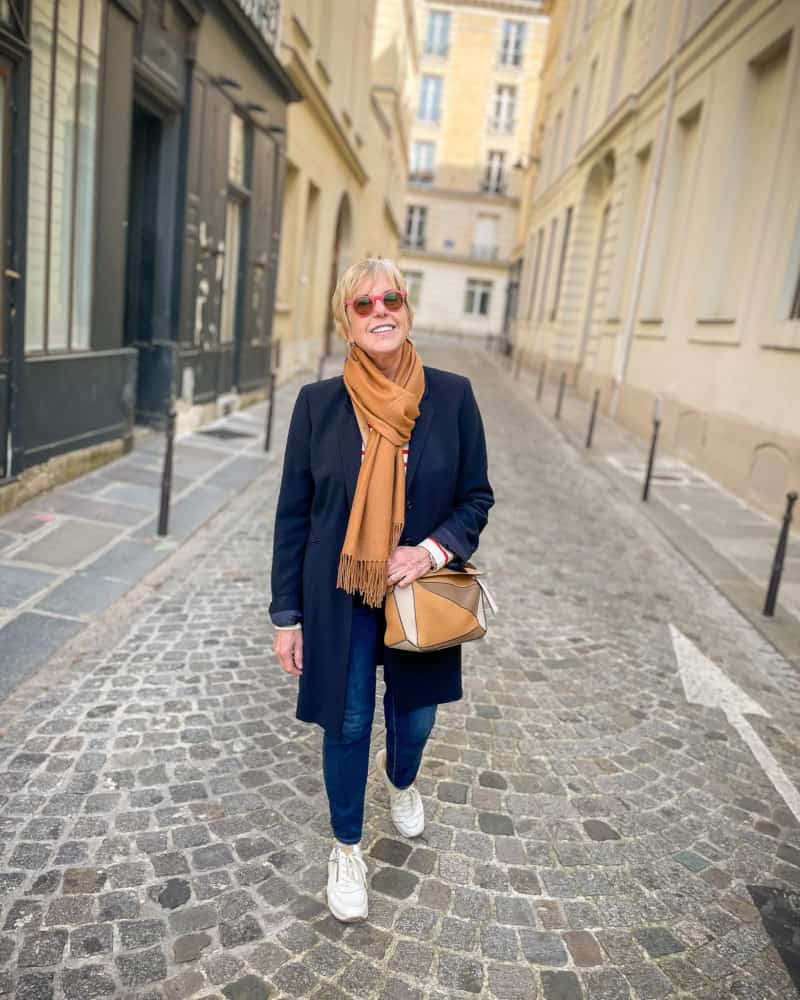 And I'll also admit that I do get spendy with some of my bags (as some of you have noted 😉 ). Back when I was working in my corporate job, I purchased several designer bags over the years. Since leaving that job, I've periodically sold a one or two of them to finance new purchases. And I've learned to check out resale sites like Fashionphile when I have my eye on a particular style. Often, a pre-owned bag will be a fraction of the price of new.
Practical & chic bags for everyday wear
But I know not everyone shares my passion for designer handbags…many of you just want a bag that's practical, versatile, and stylish but not trendy. Here are a few of my recommendations:
Leather bags
This simple leather tote with a zip top has been a best-seller for years. And every time I see someone wearing one, I'm struck by what a good-looking bag it is. It's also available in brown, and black with brown straps. You can also remove the leather cross-body strap and replace with a thicker canvas one if you like.
As I mentioned in an earlier post about the best handbags for travel, hardware, structure, and compartments will often add weight to a bag. But if you want a chic bag in leather that is both lightweight and has lots of organization, my top pick is this one:
The "Pearl" bag is my top pick for travel, but I've also used it as an everyday bag. You can also remove the strap and carry as a clutch, or use to shorter strap as a wristlet. It's available in several neutral colors and gold or silver hardware options. The Nappa leather is softer, and a skosh lighter; the Saffiano leather is more structured and very durable. I have not seen the cactus "leather" in person.
(On a Paris trip a few years ago, through a friend I met a young Parisian woman who worked at one of the big fashion houses. I was wearing this bag pictured above, and over coffee she complimented it and said it was "very chic." So yes, wear it in Paris!)
If you're looking for something a bit more polished and elegant, you could do worse than this sleek bag (which reminds me a lot of the iconic Céline Box bag, but without the eye-searing price tag). It's offered in over a dozen colors, too.
I've purchased a couple of bags from DeMellier in the past and found the quality to be outstanding for the price. Shipping to the US and returns are free. Their bags are ethically and sustainably produced, and for every purchase they make a donation to fund vaccines and medical treatment for children in need.
Also iconic, and probably one of the lightest leather bags you'll find, this Longchamp tote with an optional cross-body strap is a winner. (This one in navy is currently marked down, also this one in dark brown.) If you need more organization, I recommend using small cloth pouches, or an insert like this one which won't add much weight.
Non-leather bags
While faux leather has come a long way in recent years in terms of quality and durability, to be honest I have not yet seen a faux leather bag at a lower price point that I'd want to carry. If you want to steer clear of leather, I recommend canvas or nylon. I think a good quality nylon bag will be better purchase, both in terms of looks and durability.
MZ Wallace bags always get high marks for design and their light weight. This lacquer finish quilted nylon bag can go from day out to dinner.
I love bags that have the option to carry or wear cross-body. Navy is a nice alternative to black (but yes, it's available in black too, and many other colors).
I often find the prints on coated canvas bags to be unappealing, but this basketweave print is subtle and good-looking. It has a zip top closure and removable pouch. 3 colors available.
Here's a subtly updated version of the "OG" Le Pliage nylon tote. Love the little racehorse! Also in Navy with red accents.
What do you look for in an everyday bag?
Affiliate links in posts may generate commissions for unefemme.net. See my complete disclosure policy here.