How to build a foundation for effortless style
Any skill, including style, starts with mastering the basics. Here are some of my tips to help you create a capsule wardrobe for effortless and chic style over 50.
This is the second post in my Effortless Style Series. Read my introduction, "the truth about effortless style" here.
Mastering the basics: the effortless chic capsule wardrobe
What is a capsule wardrobe? I've seen many versions and definitions, but to me it's a core of versatile basic pieces that can be worn in multiple combinations. A well-chosen capsule wardrobe reduces decision fatigue and makes getting dressed easier. And with simple pieces that can multi-task and be worn in different combinations, you can do more with less.
There's an oft-quoted statistic that most of us wear 20% of our wardrobes 80% of the time. If that's true for you, what pieces are in that 20%? Those garments you tend to reach for day after day are a solid clue as to the basic building blocks of your capsule wardrobe.
So each person's "basics" may be quite different. Think about your lifestyle, climate, aesthetics, style personality, and budget. Your basic wardrobe capsule should accommodate all of those aspects.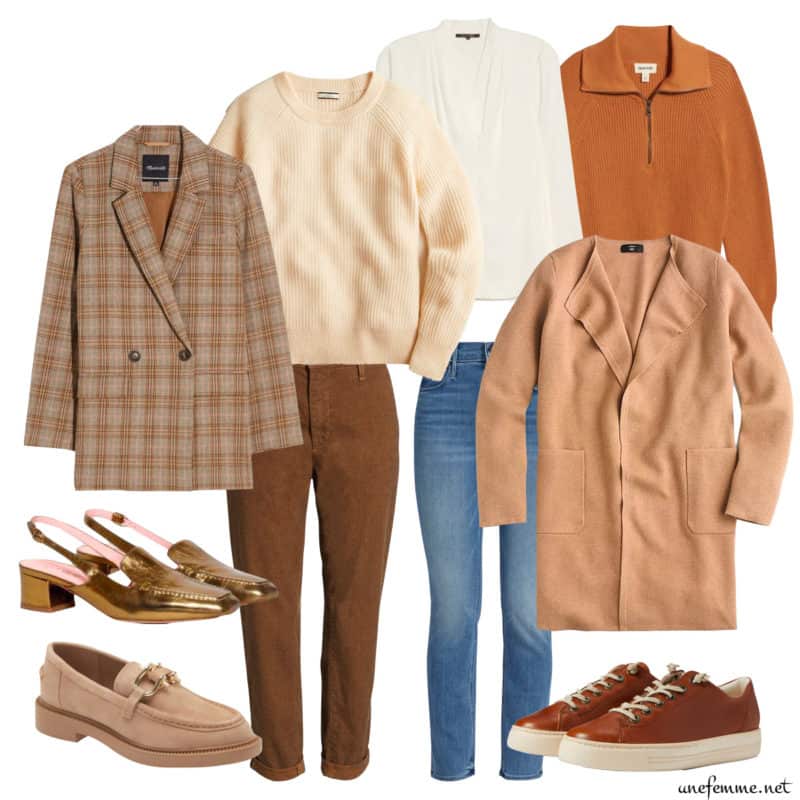 Budget-friendlier options:
jacket | blouse | trousers (plus) | jeans (plus) | slingbacks | sneakers
For many of us, lifestyles are more casual now. (Even those who have returned to work in an office may find the dress code is much more casual than in the past.) If you're updating or refreshing your wardrobe to accommodate these changes, look for pieces that can dress up or down, depending on what you wear them with. (And mixing levels of formality in an outfit is one of the ways to achieve a modern look.)
The case for neutrals
By neutrals, I'm referring to white, black, navy, gray, charcoal, brown, tan, cognac, camel, ivory, cream, and olive. (Navy is the most universal neutral across color seasons; I'll be doing a post soon on finding the best navy for yours.) And I consider most denim a neutral.
Yes, I wear some color most days, but versatile, neutral basics are the foundation and starting point to my outfits. Why?
they're versatile and easy to style
neutrals tend to look more polished and sophisticated
neutrals tend to be perennial, and won't look dated in a season or two
yes, you can often mix your neutrals (navy + black, navy + brown, black + gray, ivory + camel, etc.)
The collages in this post include some examples of the types of neutral wardrobe basics I find work well for mostly casual lifestyles. Think of these sets as a "starter kit" rather than a complete capsule wardrobe. Remember, there is no single garment that's a "must have" for everyone. And you can use some of these same concepts as a starting point for smart travel wardrobes.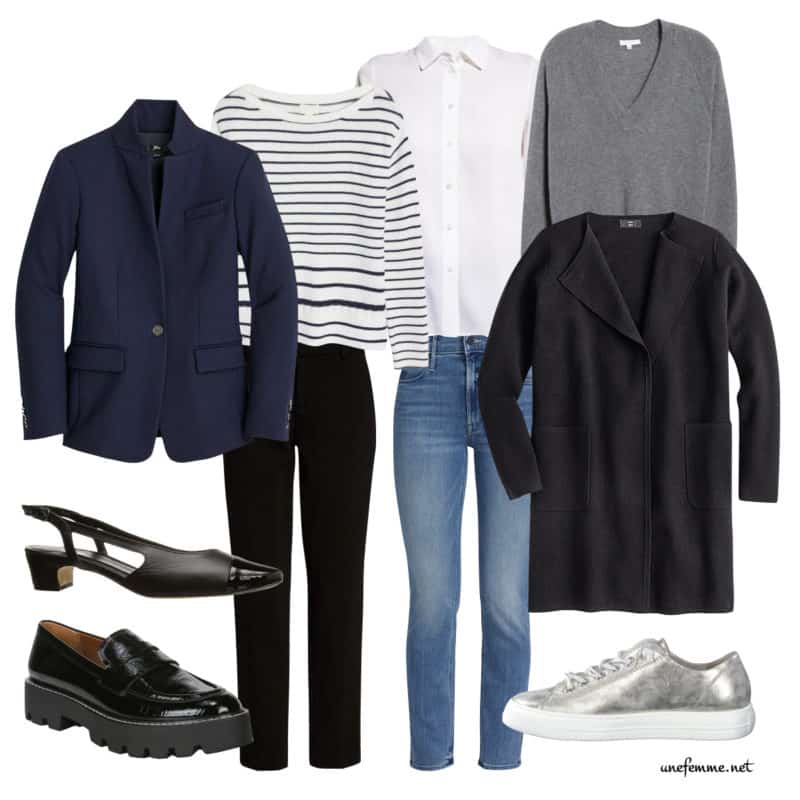 Budget-friendlier options:
blazer | shirt | sweater | jeans (plus) | sneakers
Building your effortless chic capsule
I often refer to my basics as "wardrobe workhorses." They're the pieces I rely on day in and day out as the starting points for my outfits. I keep them in the most visible section of my closet. But my best basics may be quite different than yours. How do you know which pieces are truly your basics and worth investing in?
Identifying your wardrobe basics
Look at your lifestyle, and how you live 70-80% of the time. Is it casual? Do you work in a corporate setting? Business casual? You'll want to build your capsule around that 70-80% (We'll deal with the one-off's in a separate post.)
What are the pieces you reach for most days? Those are a good indicator of the types of items you'll want to focus on.
Think in terms of building blocks: bottoms, tops, outer layers. (Or dresses + another layer if you wear them.) You'll want your capsule to be cohesive, which means that most tops go with most bottoms.
What's your aesthetic and style personality? If jeans are anathema to you, then by all means skip them. Maybe you've never been able to wear-button front shirts. Maybe utility jackets suit you more than blazers. Lean into your own tastes and preferences.
And of course, climate. If you live in a very warm climate, you'll probably want fewer sweaters and more light tops than if you live where it's cooler most of the year. Again, look at what you reach for most days.
Just a note…
about the images/items shown in the effortless chic capsule wardrobe collages: it's becoming more and more difficult to find "flat" clothing images (not on a model). Some of the items I've used for illustration are spendy, but I've linked to many more budget-friendly alternatives in the SHOP. Click HERE for more neutral wardrobe basics.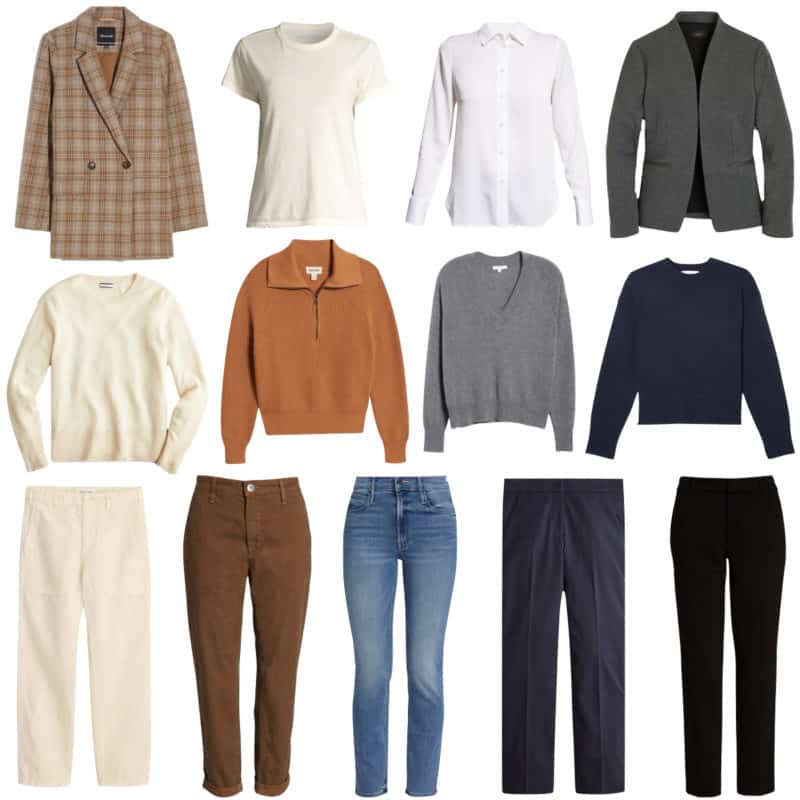 Do you use capsule wardrobes or something similar?
Thanks for reading! If you enjoy une femme d'un certain âge, please support me by sharing on Facebook, Pinterest, or other social media, and subscribe HERE to receive email notifications of new posts, and exclusive content. Thank you!
Stay in touch
Sign up to be notified of new posts and updates from une femme d'un certain âge.