Making it work: 2 new looks with "old" favorites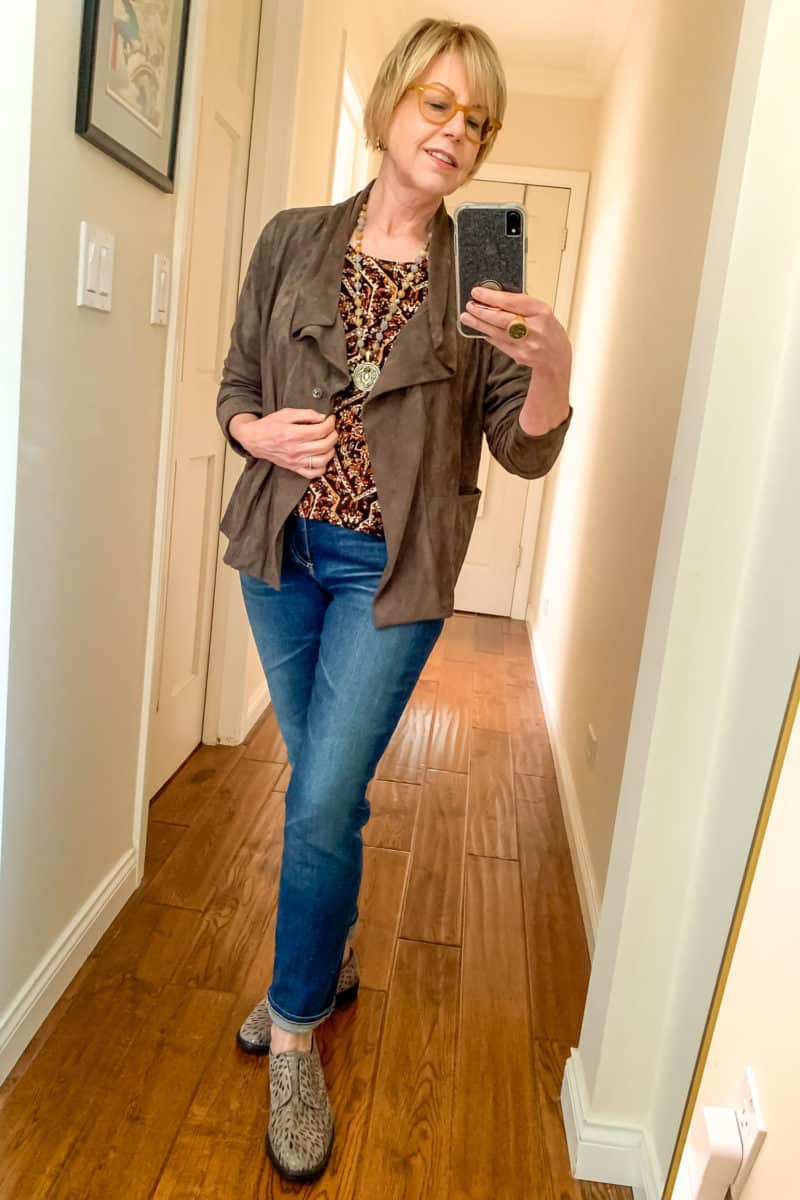 2 outfits with a faux-suede jacket…
I've been revisiting some older wardrobe items that I haven't worn in a while. Even pieces I love can feel "tired" sometimes, so I put them aside for a few seasons, and come back to them with fresh eyes.
I purchased this Ruti faux suede jacket about 2 years ago. I loved the interesting collar shape, and that it had a snap fastening in front. Though I wore it a few times that Spring, I don't think I ever shared it here. By the time cooler weather rolled around again, I was a bit burned out on "cascade" style jackets.
The color is a dark taupe, which is one of the neutrals in my Spring palette. When I tried it again last week, I remembered why I'd loved it so much. In addition to the interesting shape, it's really soft and comfortable, and a perfect weight for Spring.
Similar jackets:

Those Clergerie sparkly oxfords are one of my best shoe purchases EVER. I bought them in New York City in 2016, when I was visiting to attend a cousin's wedding, and catch some of the New York Fashion Week action. They were so comfortable I wore them right out of the box and walked miles in them the first day with nary a blister or any discomfort. They're a lighter taupe (with sparkly gold "raindrops") and I love how they coordinate with the jacket.
Similar shoes:

I really like that first outfit, but it does feel a little dark and heavy for Spring. So I swapped out the jeans and top for lighter colors. Here's a lighter, more minimal look with the faux-suede jacket.
Doing an exercise like this not only helps me get the most out of my wardrobe, but also reminds me where I have some gaps. For example, in the first outfit, a pair of brown or tan trousers might have been a nice alternative to the jeans. I love how a printed tee looks under a jacket, and would have loved to add one in lighter colors for the second look. I've had both of these on my wish list for some time, and will keep them front-of-mind when I'm shopping.
And it also reminds me not to overthink an outfit. If I'm doing a lot of "faffing" (love that word!) trying to make it look right, I know I need to pare back.
Do you put aside favorite pieces periodically, and then re-visit after a few seasons?
Stay in touch
Sign up to be notified of new posts and updates from une femme d'un certain âge.