Gray hair, don't care: how going gray has boosted my confidence
It wasn't that long ago that when a woman openly let her hair go gray, it was perceived as a radical act. Or else, a sign of having given up. I'd like to think that's changing. As more of us decide to go au naturel with our hair color, it becomes just one in a myriad of choices we make about our appearance, and how we present ourselves in the world.
Growing out my gray hair
Today I'm joining up with three fabulous bloggers to talk about going gray: the process and the maintenance of gray hair. Be sure to check out all of the links at the bottom of this post. And keep reading to see my gray hair progression and tips!
How it started…
I'd been coloring my hair since my late 20's. Not to cover gray, but because I felt my natural color was a bit drab, and wanted to have some fun with it. Mostly some shade of red until my early 50's, when I decided to try going blonde. I really liked it, and stayed with various shades of blonde up until last year.
I kept coloring even through the pandemic, having masked, outdoor color touch-up sessions with Brian whenever it felt safe enough to do so. I'd toyed with letting my natural color grow out a few times. But I was worried that it would still be mostly the drab "dishwater" color I'd started dyeing to hide.
In January of 2022, a few weeks after my last color appointment, I noticed that the roots in front were looking pretty…bright. So I decided to let it grow out to "see what's under there." And I kept my hair in a short, layered cut for the next few months to abbreviate and facilitate the gray hair grow-out process.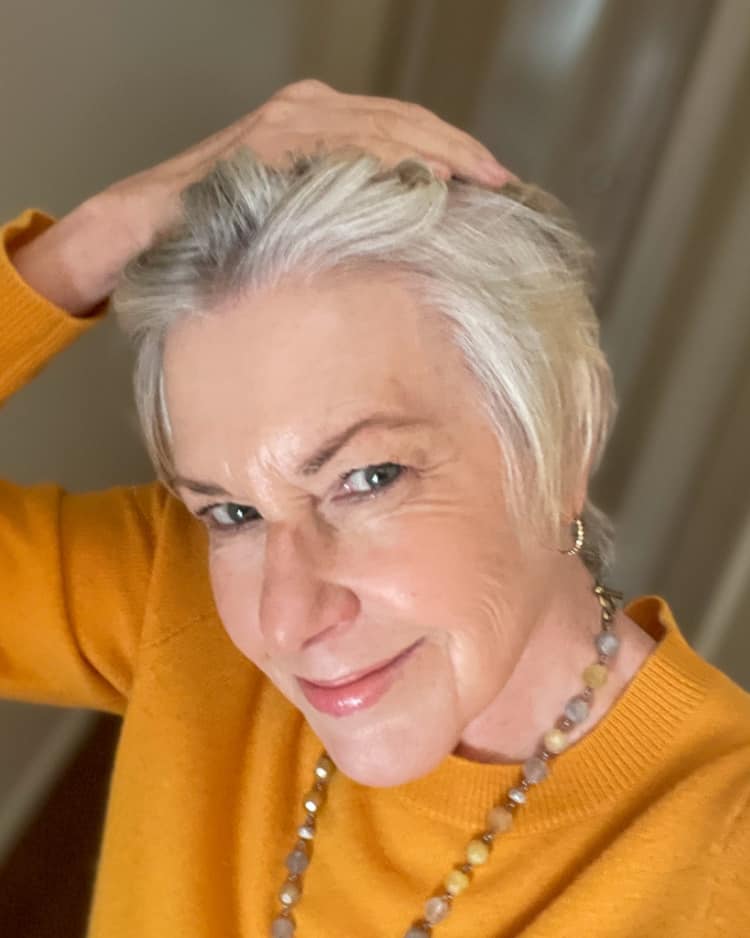 At the 5-month mark, I had about 2″ of my natural color, which turned out to be a mix of "white" (more platinum blonde in my case) and a slightly salt-and-pepper mix of my natural taupe-ish color and gray strands.
I was pretty lucky, in that my natural colors weren't in high contrast to the hair color we'd been using. (And a few strategic highlights at the beginning of the process helped blend the line of demarcation.)
How it's going: happily gray!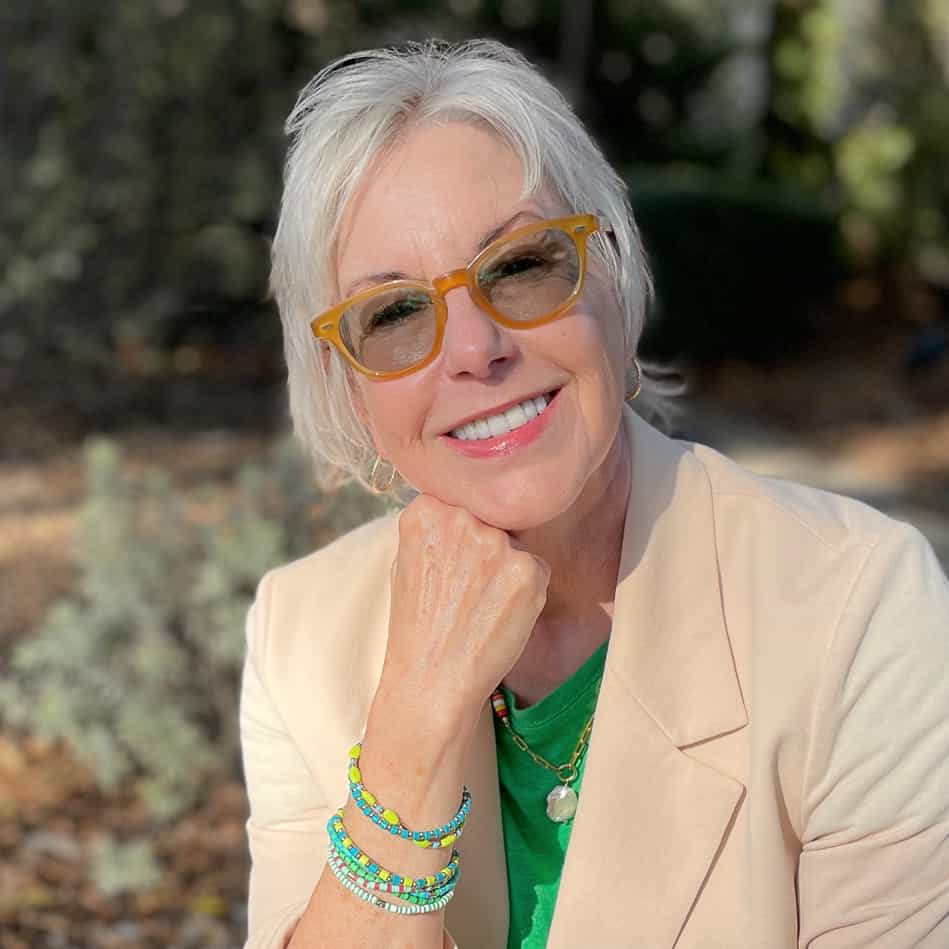 By September, my natural color had fully grown in, and none of the colored sections remained.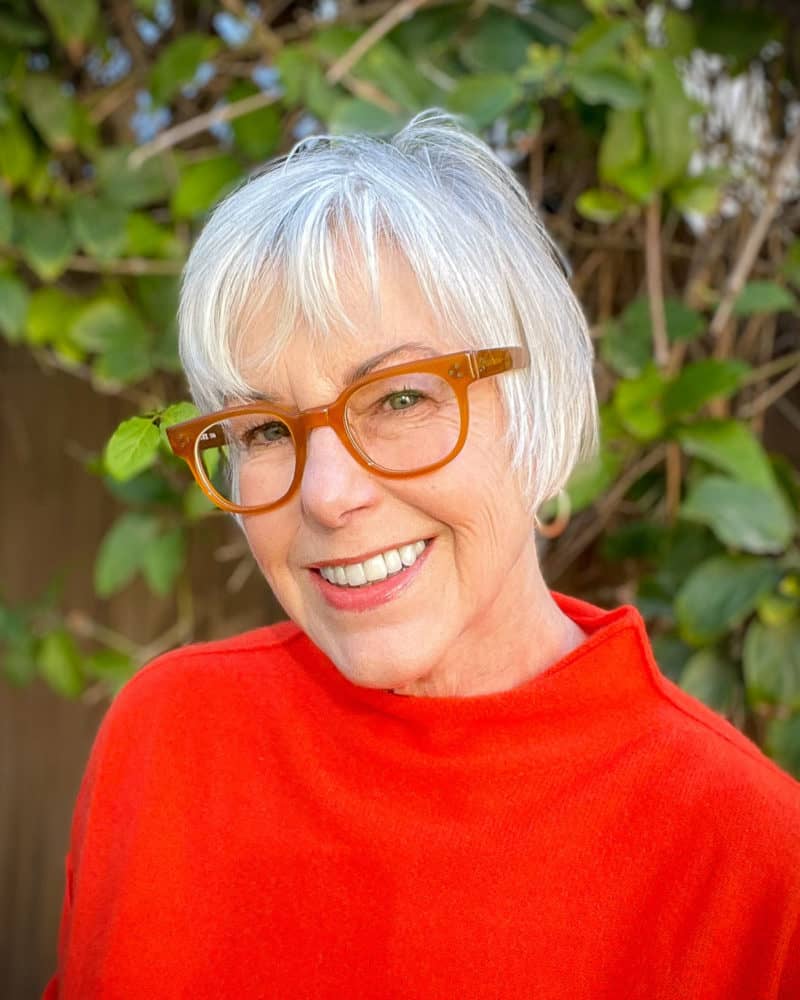 Toward the end of October, I decided to try a layered French Bob, which I've kept a version of ever since.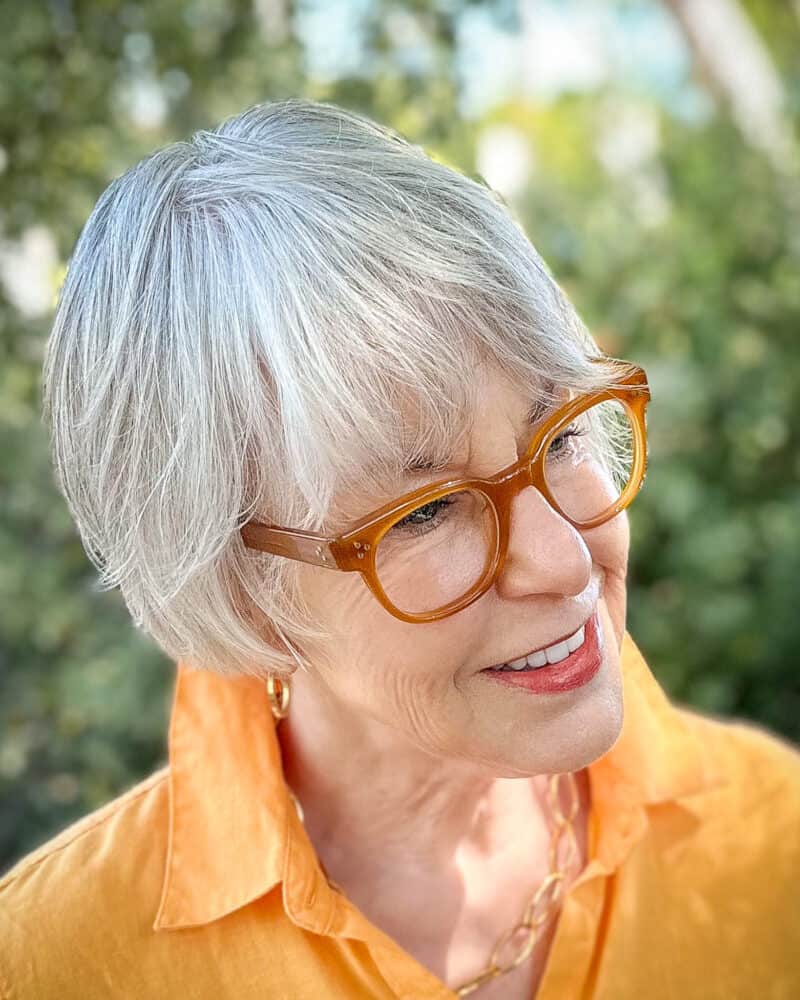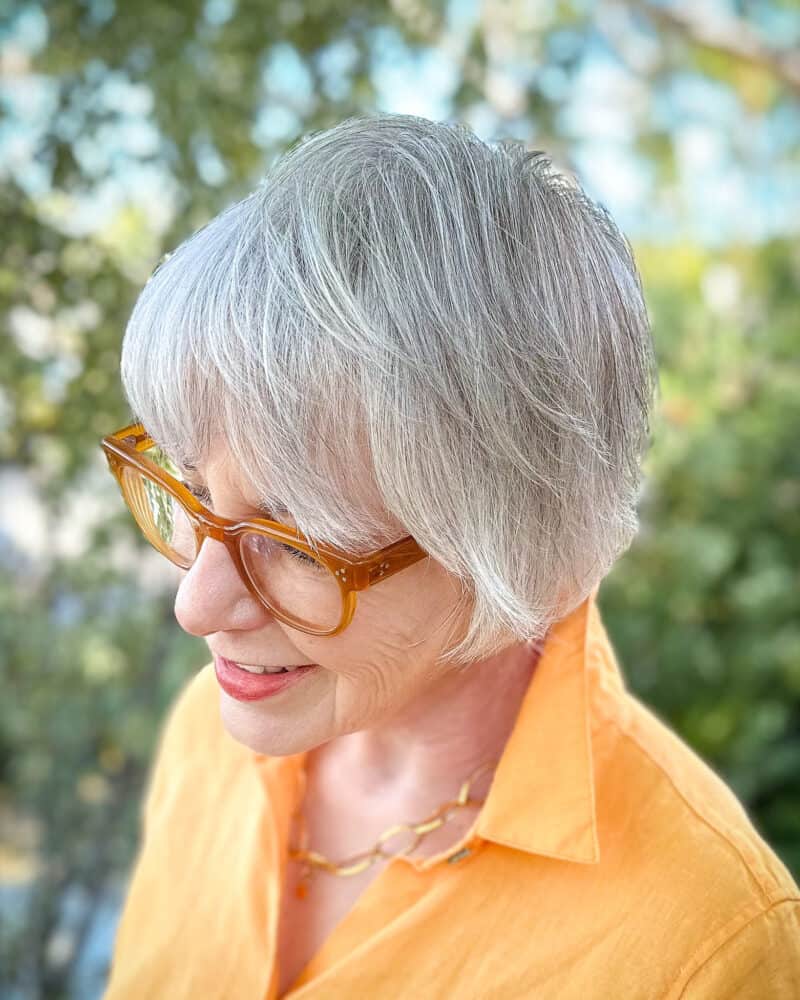 What has surprised me most…
When I first decided to go gray, a few people cautioned me that it would be "aging." Maybe it is, maybe it isn't, but either way, I don't care.
I don't care because for the first time since I can remember, I'm truly happy with my hair! It feels great, and I love how it looks.
I love the brightness of the gray, and the interesting depth created by the lighter and darker bits. I love not having to worry about my roots. (And yes, I love that I'm saving money on hair maintenance.) And there's a certain confidence that comes with feeling like my authentic self, which was an unexpected bonus.
I've always had fine, straight, thin hair, and haven't noticed much of a change in texture since going gray. It does get a little more wavy when it's more humid, but that's about it. And no, going gray hasn't changed my seasonal color palette. You can read more about that in my post, "Color FAQ: answering the top 3 questions people ask me about color analysis."
Of course, the decision whether or not to color one's hair is a very personal one, and should be made on the basis of what makes each person feel most comfortable and confident.
My (low-maintenance) gray hair care routine
I've always been rather low-maintenance when it comes to my my hair. Because it's fine and thin, I've never really been able to grow my hair much past chin length without it starting to get weighed down and looking lank. Here are the products I'm currently using and liking.
Shampoos/conditioner
I've switched from products for dyed color preservation to those that are supposed to thicken my hair. Twice weekly I use the Keratase Densifique Shampoo & Conditioner.
Once a week (at most) I'll use a purple shampoo, which does brighten up the lighter gray areas. (But no more than that, or my hair starts to look too "steely.") I'll follow that with the Keratase conditioner.
Styling
I find that most styling products tend to weigh my hair down, so the only one I use (maybe twice per week on shampoo days) is this bumble & bumble Surf Spray, which seems to add some body and volume without stiffness or weight. Usually I just spray a little in and massage through before drying.
This dryer, oh man! It's been worth every penny. It's really quiet, and even on the lowest heat setting dries my hair fast without drying it out. (I usually dry the ends first and then scrunch/tousle while the roots are still damp and let air dry.)
Inside out…
I started taking these supplements for thinning hair as part of a clinical trial my dermatologist was running. It was a double-blind trial, and the first six months I was in the placebo group. As soon as I was switched to the real product for the second six months, I noticed changes within weeks. (At first with nails and brow growth, and then later my hair felt slightly thicker and stronger.) So I've continued to take them.
More gray hair tips from my blogger friends…
I always get great recommendations and tips from my blogger friends, so can't wait to see what they've shared!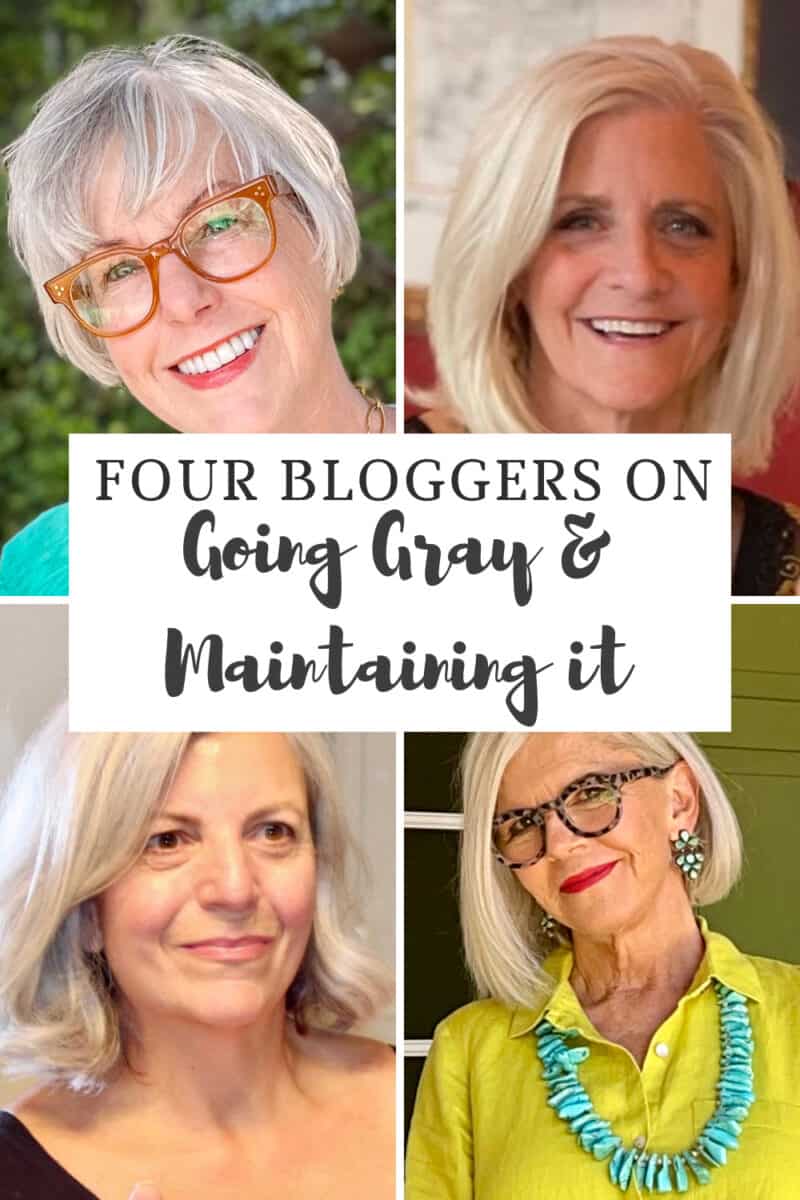 Please do go visit these other fabulous blogs for more tips on going gray, and gray hair maintenance!
Cindy Hattersley Design-Cindy Hattersley
Silver is the New Blonde-Jan Correll
State of Gray-Gray Maher
Stay in touch
Sign up to be notified of new posts and updates from une femme d'un certain âge.