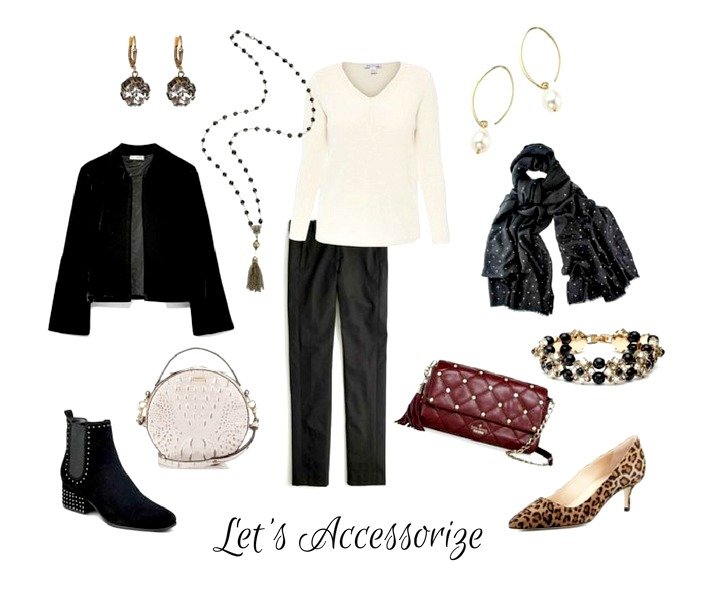 The Spontaneous Soirée
We've all been there. While most holiday party plans are made weeks in advance, there are always those impromptu events that pop up. An old friend is in town for a couple of days and wants to get the gang together for cocktails. A spouse's business associate invites you both to their holiday open house…tomorrow evening.
Left: earrings | necklace | jacket | bag | boots
Middle: sweater | pants
Right: earrings | scarf | bracelet | bag | shoes
I've been working on building up a stable of Going Out Clothes, but my fallback for these types of spontaneous get-togethers is Dressed Up Basics. Little Black Pants, a simple blouse or sweater, and accessories that take the look up a notch. I've almost never felt over-dressed or under-dressed using this formula.
The Accessory Capsule
Above I've started with simple black pants and a cream sweater. You could always substitute navy, grey or any other color you like for either or both pieces. To dress those up, I've built a 10-item accessory capsule in a mostly neutral theme. While of course you wouldn't wear all of these accessories at once, you could create any number of bundles (and looks) by mixing different pieces from the capsule.
A few details worth noting…
the "dots" on the scarf are actually small Swarovski crystals. It's a really lovely piece!
that long necklace can be worn as-is or doubled.
many of the pieces shown above are currently marked down. Win-win!
How do you handle dressing for impromptu holiday get-togethers?
Affiliate links in posts may generate commissions for unefemme.net. See my complete disclosure policy here.