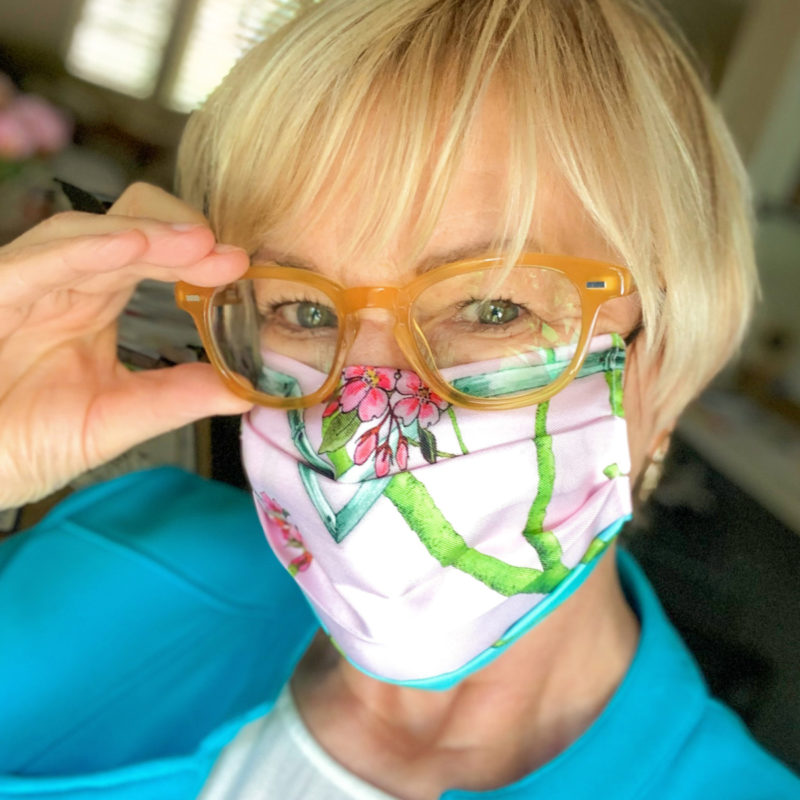 Depending on where you live, you may need or want to wear a mask in public spaces. According to the CDC, cloth face coverings can help slow the spread of coronavirus. I think it's prudent as well as considerate, and have decided to make the best of it by regarding masks another opportunity to accessorize.
This gorgeous silk mask was a gift from Ivana Nohel. This one is one-of-kind, in the "Madame Butterfly" pattern, but she's going to be making more styles in the future, so if you're interested, bookmark her website and check back. (And while you're there, check out some of her gorgeous scarves!)
But masks can present some challenges too. If you wear glasses, you may find they fog up. (Here are some tips that might help.) I find that wearing my glasses over the top of the mask helps.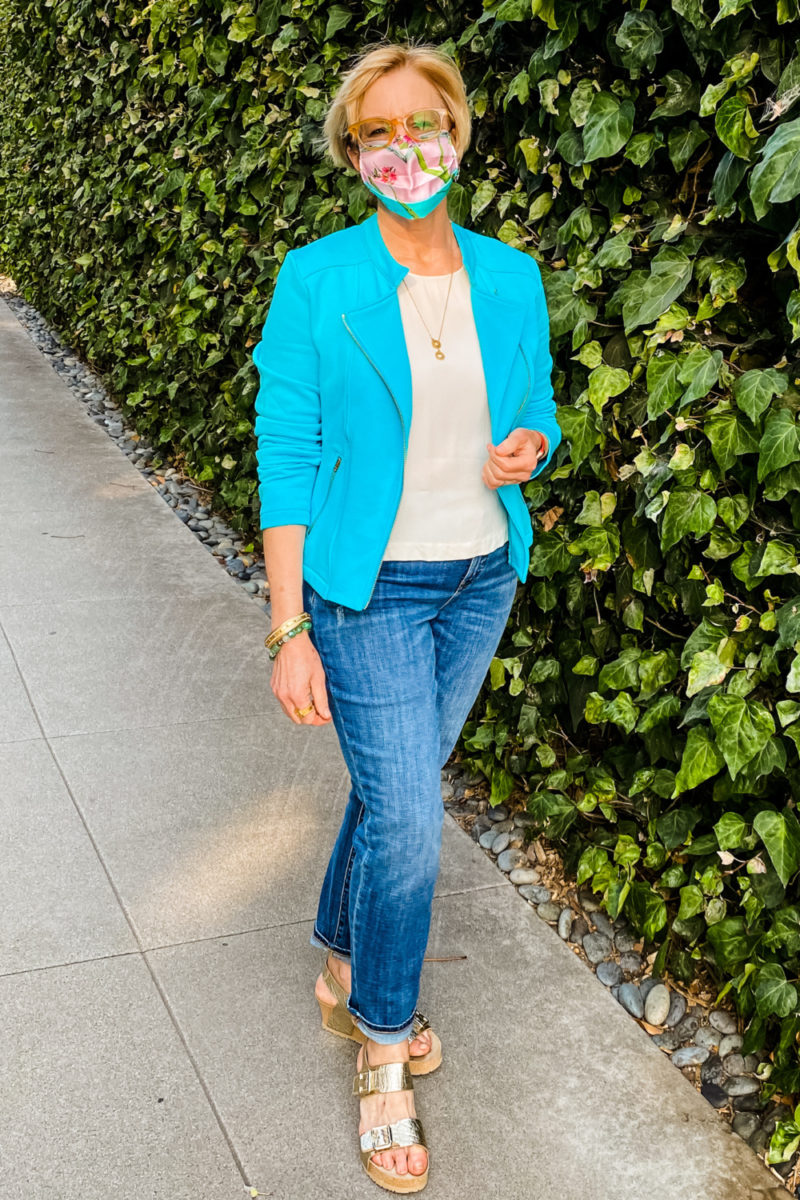 And then there's makeup.
Makeup tips for wearing masks
My attempt at doing a makeup video for this post Did Not Go Well. 😆 I knocked over and cracked my magnifying mirror, and couldn't get the lighting right. I'll keep trying. In the meantime, here's most of what I attempted to cover.
I don't usually wear a lot of makeup on a daily basis. I'm a fan of "le no makeup look" and frankly think I look better with less. But I do wear some, and here's what I'm finding works best with a mask:
1. Think "sheer"
Skip the heavier, highly-pigmented formulas. Instead of foundation, I've been wearing Chanel Les Beiges Water Fresh Tint. I was introduced to this in Paris last summer by the makeup artist at Chanel on rue Cambon, and bought it on the spot.
I now consider this one of my Holy Grail makeup products. While it goes on sheer, it effectively evens out my skin tone, and has a blurring effect that makes my skin look smoother and radiant. It doesn't settle into lines or pores either. (Jane Iredale has a similar product that I have not been able to try yet.)
If you do wear a blush or bronzer, again go with something sheer and light.
2. Focus on the eyes
I don't usually wear a lot of eye makeup, but always at least fill in my brows, and curl my eyelashes. I like this brow pencil from Chantecaille. (Light taupe is a perfect match for my brow color.)
I've started wearing a little eyeliner more often. I've switched from black to brown, and really like this one from Chanel in "Brun Agape." With mascara too, I've switched to brown. Le Volume de Chanel Waterproof in "Brun."
When I'm feeling inspired, I might add a little bit of Benefit High Brow Glow around the inner corners of my eyes and on the brow bone.
3. Gimme some lip
If you wear lip color at all, you'll want to avoid anything goopy or heavily pigmented. I suggest sticking with a sheer shade that's close to your lip color. Tinted balm is probably a good choice (like Burt's Bees), or you might like a lip stain. I've found some lip stains (especially the liquid ones) drying but friends of mine love them.
I've mostly been wearing my Chantecaille Lip Chic. One of my go-to colors is Sunrise. It's sheer, but stays on and keeps my lips moisturized for hours. I use a light application under a mask, and haven't found that it rubs off or smears.
Chanel Les Beiges Water Fresh Tint | Chantecaille Waterproof Brow Definer | Benefit Cosmetics High Brow Glow | Chanel Stylo Yeux Eyeliner | Chantecaille Lip Chic | Le Volume De Chanel Mascara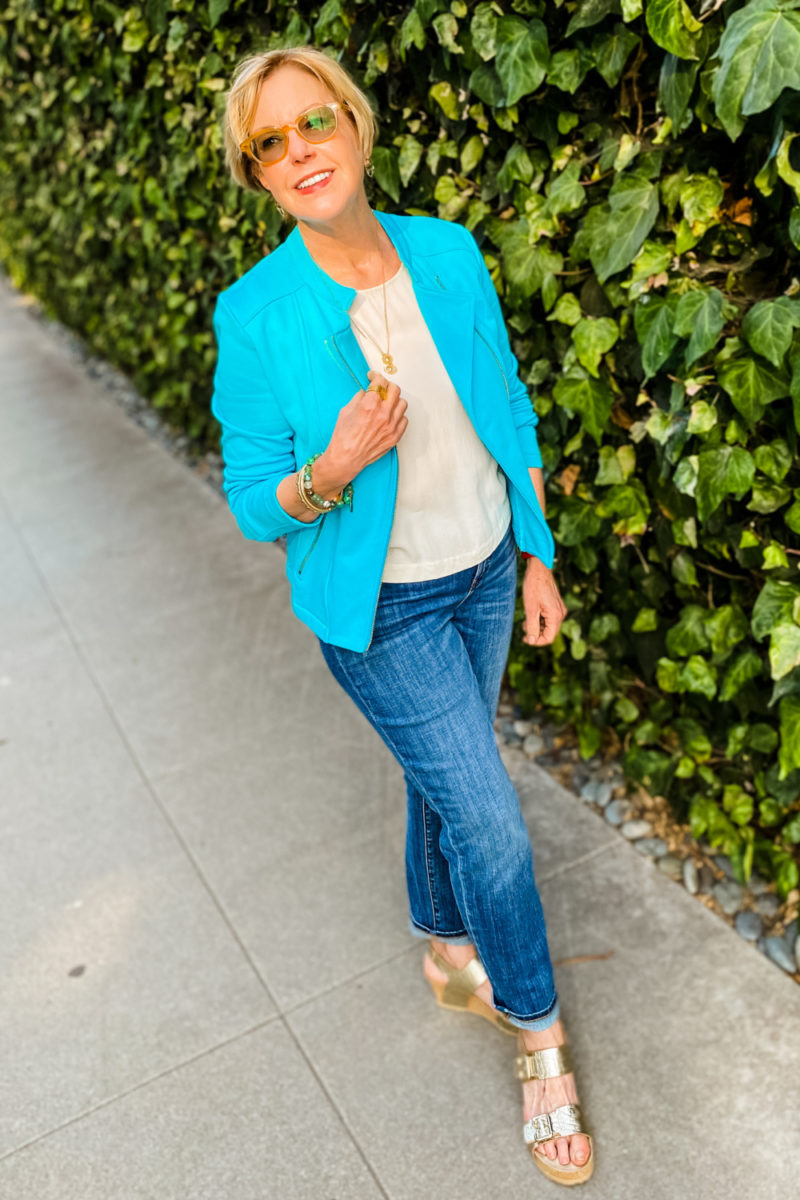 What is your "bare minimum" makeup these days?
Stay in touch
Sign up to be notified of new posts and updates from une femme d'un certain âge.