Travel Wardrobe Recap: Italy 2017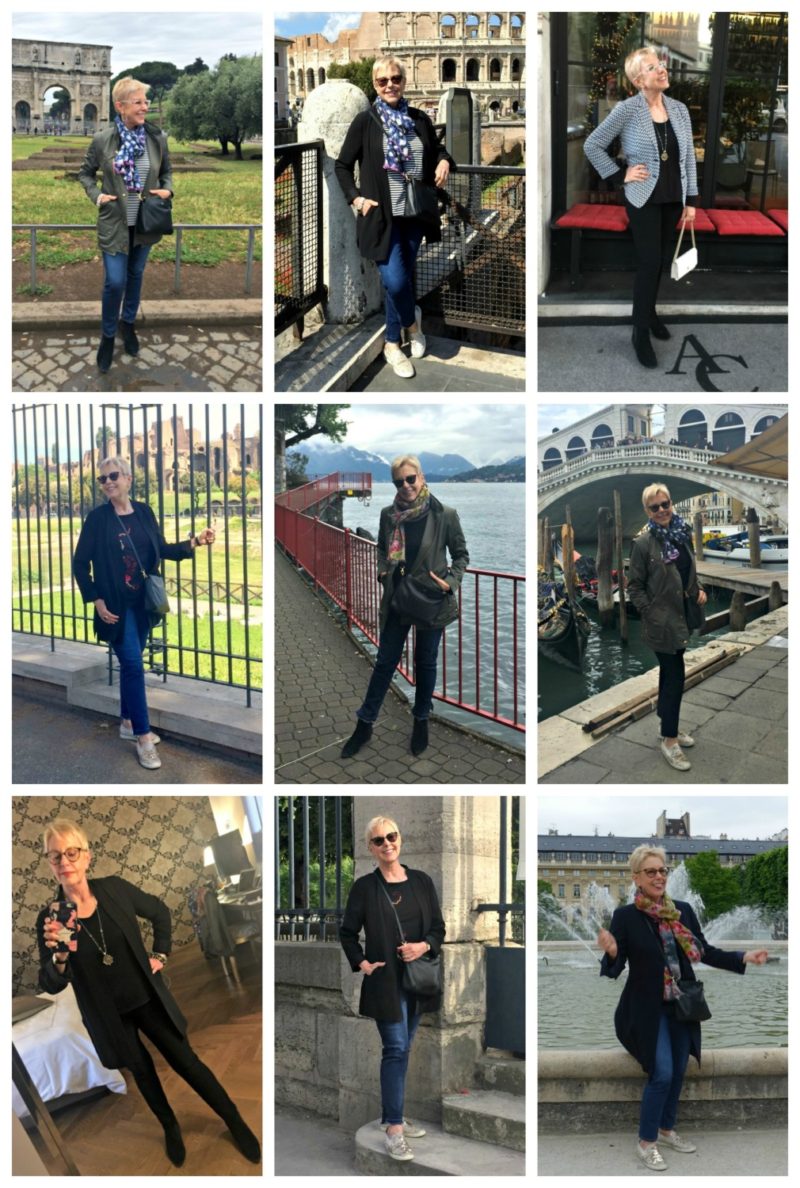 I often find it's helpful to put together a quick recap of my travel wardrobes upon returning home. I'll refer to these when planning future trips, and they also give me a bit of a barometer for how I'm feeling about my wardrobe in general.
Cooler Than Expected…
When we visited Italy the first time in May 2011, it was HOT. So. Freaking. Hot. This time I kept a careful eye on weather forecasts, but even so we experienced cooler temperatures than expected. I packed more warm weather clothing than I ended up needing, or wearing. The boots got more use than I'd anticipated, and there were a couple of times I wish I'd packed a warmer sweater.
To see what went into the suitcase, have a look at Packing For Italy: The 12-Piece Travel Wardrobe. I did make a couple of very last-minute substitutions. I replaced the pink tee with a 3/4 sleeve black one with embroidery, and replaced both bags with lighter or less bulky ones.
Though I always felt appropriately dressed, between the cooler weather which meant several things went unworn, and my Black Burnout toward the end of the trip, I have to deduct some points. I'm giving this wardrobe a 6 out of 10.
Breaking It Down…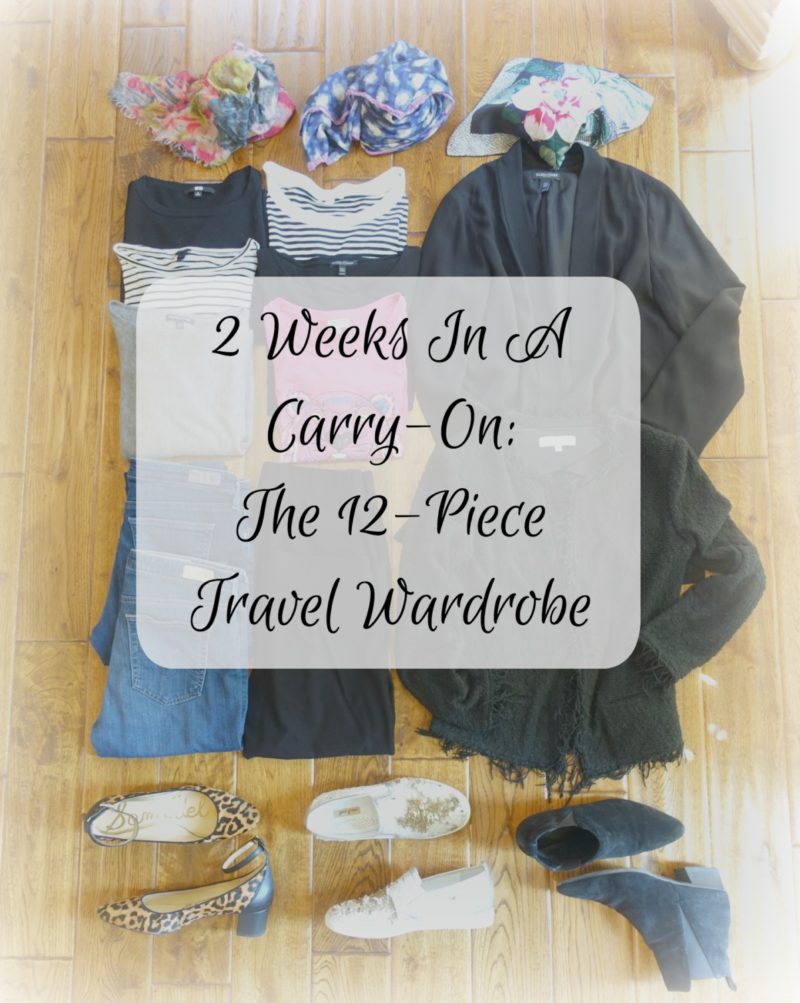 MVP's
Both the weatherproof boots (similar style) and the embellished slip-on sneakers (similar). I had nary a moment of foot discomfort, and both styles suited our venues.
The lightweight silk jacket (similar). I wore this much more than I'd expected…on the (slightly) warmer days as a top layer, or as a mid-layer underneath my outerwear.
The Eileen Fisher stretch crepe pants. Wore both casually and out to dinner (with the jacket).
Infield
Jeans (here and here). I find a pair of slim-leg jeans are always easy to style, and workable for most venues.
Utility jacket (similar). Wore most days, and it provided enough protection for the amount of rain we experienced. I've had mine for a few years now, and noticed midway through the trip that the stitching was coming loose on one of the exterior pockets. I'm going to have it re-stitched, and hopefully can wring a few more years out of it.
Benched
(Mostly because of weather.)
Wish I'd Brought…
My packable puffer jacket. There were a few days and nights (especially in Lake Como) that were chilly enough that I was sorry I hadn't packed it. BTW, saw plenty of short puffer jackets still being worn in Italy, so it wasn't just me.
Warmer sweaters. At least one cashmere.
A pair of trousers. Though I never felt underdressed, I found myself wishing for something that looked a little more polished and less just-out-of-a-suitcase.
More variety. (This is also a function of not having as much variety in my day-to-day wardrobe to pull from…am working on that.)
Travel Laundry Tips
I always bring along some powdered "delicates" wash. I like Forever New. Just put a couple of capfuls into a baggie, will be plenty to do a few sinkfuls of laundry if needed. Or you can always use a few drops of hotel shampoo in a pinch.
I usually pack one week's worth of underwear, two bras and two tanks/camisoles, and do one or two sink washings over the course of a 2-week trip. I usually plan to wash when we're not traveling the next day, so everything can get good and dry before re-packing. I find that silk tanks and camisoles I wear underneath most of my tops will almost always dry completely overnight.
Using either a hotel towel or a microfiber travel towel, roll up wet clothes and compress to remove excess moisture. This helps everything to dry more quickly.
One of the reasons I like to travel with 2 pairs of jeans is that I can alternate them, and they rarely will need to be washed over a short (less than 3 weeks) trip. The stretch crepe pants can be sink washed, and will also dry overnight if rolled in the towel before hanging.
On-the-go spot cleaners like a Tide To Go pen are intermittently helpful for spot cleaning, but for plain old dirt or caked-on schmutz, you can't beat a little piece of foam like those you'll find underneath clips on pants hangers. They're also great for removing deodorant marks.
I call it "Schmutz-B-Gone" and never travel without a little piece of foam like this one.
To remove odors from clothing that's otherwise clean, a spray like Febreeze or Downy will do the trick. (We've had no trouble finding this in grocery stores or Monoprix, if you don't want to pack it.)
As a last resort, we've occasionally sent a couple of pieces out with the hotel laundry service, or dropped off at a nearby cleaners. Be sure and check their usual turnaround time, though! If you don't mind spending a couple of hours, a self-service laundromat can be your least expensive option.
What pieces do you find yourself wearing "on repeat" when you travel?

Stay in touch
Sign up to be notified of new posts and updates from une femme d'un certain âge.