A Few Things That Caught My Eye This Week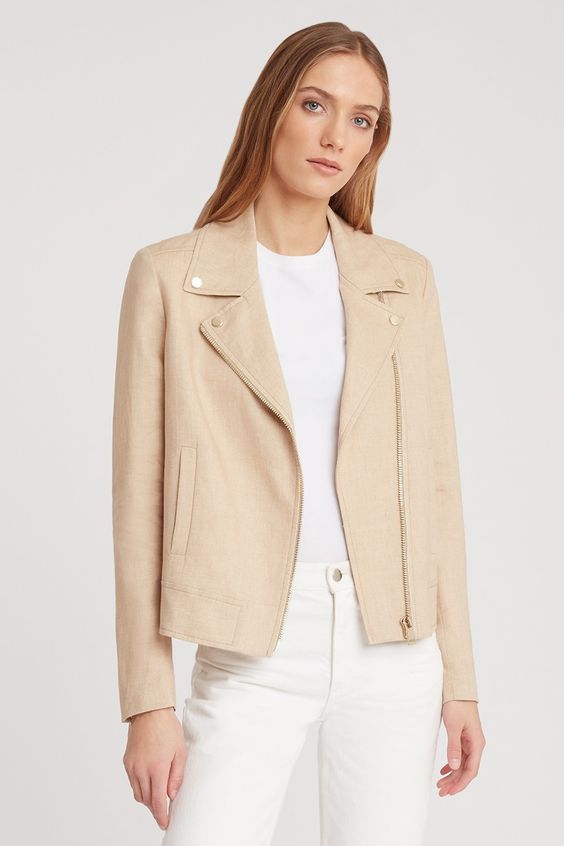 Jackets and Jumpsuits
I'm perpetually on the lookout for lightweight jackets that aren't blazers. In our climate, I'll wear them 9 months out of the year. I'm going to go try on this linen moto jacket, and will report back. I like that it doesn't have a lot of hardware or other extraneous details. It's offered up to size XL.
Here's a cotton moto jacket in Plus. While this one has some zip pockets, the overall look is still clean and unfettered.
But I also really like the softer look of this draped jacket in a linen blend fabric. Offered in Misses, Petites and Plus sizes.
I'll admit, I've been jumpsuit-curious lately. For a while I held off, but the concept of simple, "one-and-done" dressing does have a certain appeal. So many of the jumpsuits I've looked at were too flouncy, had necklines that wouldn't accommodate a standard bra, or were either too stiff/structured or oversized.
I did try on the one above (in my favorite travel-friendly stretch crepe fabric) and did seriously consider it. I liked how it fit, and it wasn't too onerous to get in and out of (a concern for travel and/or public restrooms). Ultimately, the lack of pockets made me give it a pass.
Everlane has just added a jumpsuit to their lineup, and this one does have pockets. There's a removable tie belt, and it's also available in olive and light blue, up to size 16. But I fear it would be too long overall for me (the model is 5'11", and I'm quite a bit shorter at 5'1″).
I'm not saying "never," but suspect I may continue to sit out this trend.
Reporting Back…
After trying several pairs of white jeans, these were the winners. They are comfortable, and have a nice mid-rise. The fabric is opaque but not heavy. There's some stretch, but they don't show every lump and bump. Offered up to size 32, in both 28 and 30 inseam lengths. (There's also a higher-waisted "Mom jean" for those who prefer.)
Finally, I'd included this cashmere-linen blend cardigan in my Summer Travel Wardrobe Capsule, because I liked the look of it. I've been trying for a while to replace an older navy cashmere cardigan that was worn out. I was curious enough to order it, and it's a keeper. It's soft, lightweight but warm, and has a fun swing shape that doesn't feel too boxy or oversized. I think it runs large, so you might want to size down. (Offered in sizes XS to XXL.) It's still plenty cool enough here that I'll have some time to test drive it before our trip.
How do you feel about jumpsuits? Have you added any to your wardrobe?
Stay in touch
Sign up to be notified of new posts and updates from une femme d'un certain âge.