Jeans and a blazer: it's a mix of casual and refined that feels just right for how we live now. It's an evergreen look, yet there are probably hundreds of ways to put a personal spin on it.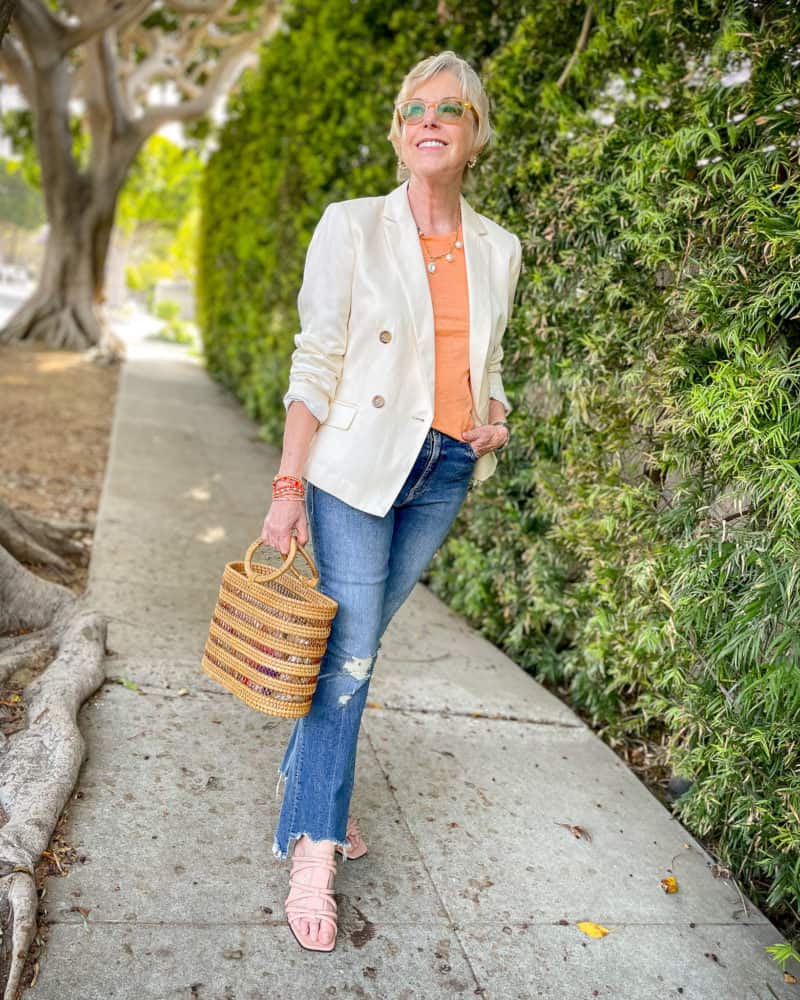 A spring-to-summer jeans and blazer outfit
Lightweight jackets are wardrobe gold for me. This season I've been crushing on blazers and have stumbled onto some nice lightweight options. My favorite styles are relaxed but not oversized, and hit just at the top of the thigh. Here, I love how the neatness and structure of the blazer contrasts and plays off the ruggedness of the jeans.
Sadly, the blazer from Ann Taylor I'm wearing here is almost sold out. Here's a double-breasted style in stretch linen from J.Crew (available in sizes 00-24, also Petite and Tall). And here's a single-breasted style in linen, available in Misses, Petite, Plus, and Plus Petite sizes. (See more options below.)
Details, details
(You can really see how my gray hair is coming in here…just a couple more months of grow-out and I should be able to get rid of the last colored ends.)
I love playful pearl jewelry that isn't fussy or frumpy. The multi-colored beads along one side of this necklace make it perfect for casual summer wear. And those colorful bracelets below…I've been wearing these almost daily! (Also have them in green.)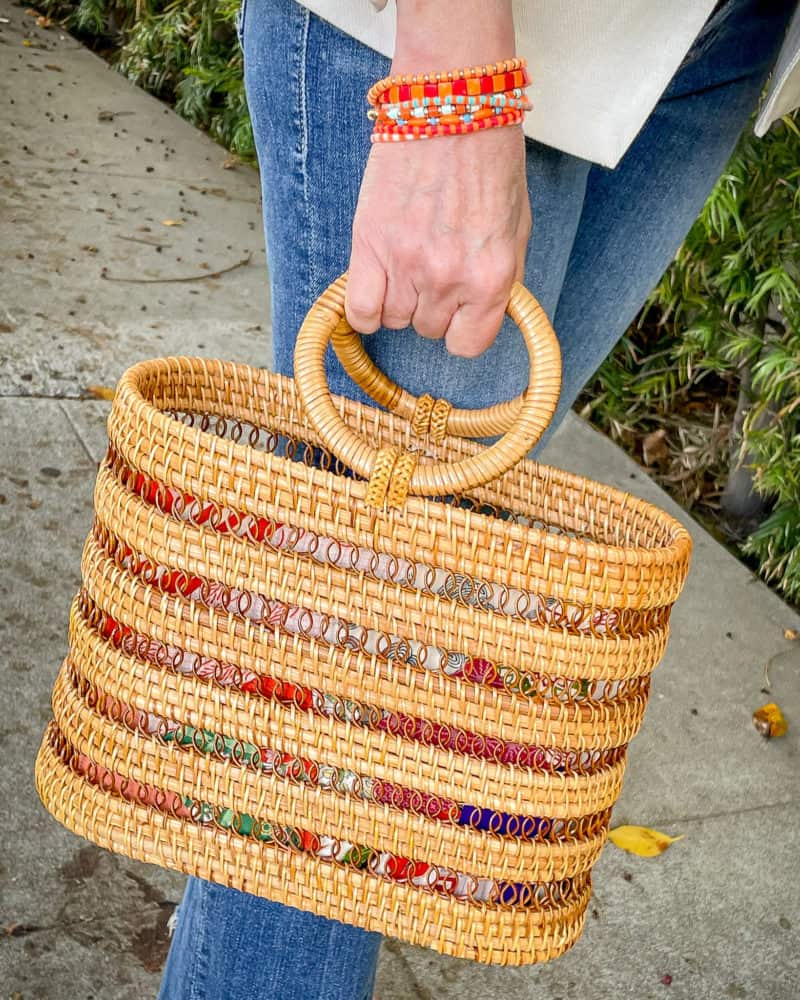 A straw or rattan bag lightens up an outfit and adds some interesting texture. I use zippered cloth pouches inside to corral smaller items like lipsticks, lotion, and keys. (I always look for these when we travel, and find museum gift shops are the best source.)
A sales associate suggested I try these jeans, and I instantly loved the fit and look. I know distressed jeans aren't everyone's cup of Darjeeling, but I've always loved the look of (moderate) distressing. À chacun son goût. They are apparently on-trend again for 2022 (along with looser styles) so if you have a pair that's been languishing in your wardrobe, you might want to take them out for a spin.
*save 30% through today with code SUMMER
More lightweight blazers (to wear with jeans, or just about anything)

Affiliate links in posts may generate commissions for unefemme.net. See my complete disclosure policy here.