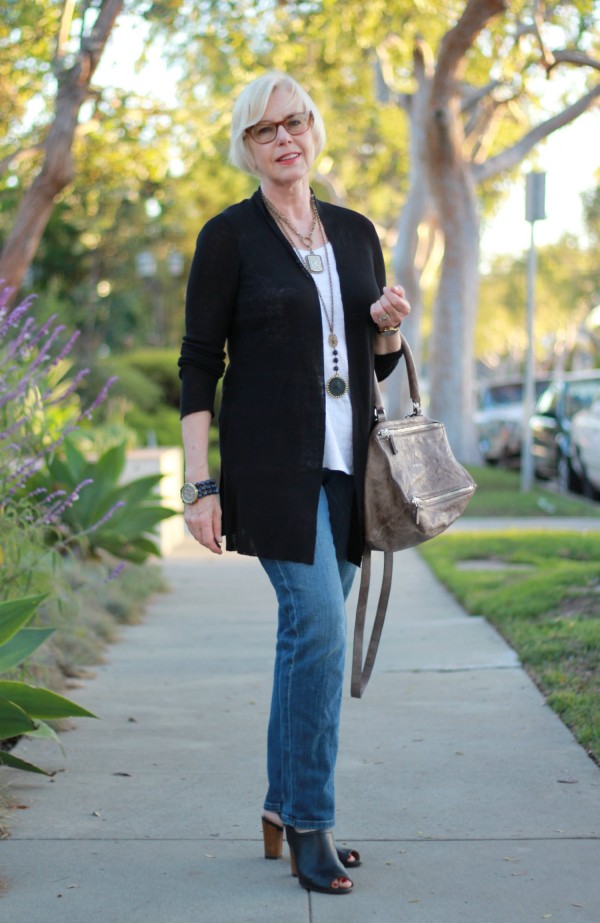 Whew, it's been a busy week…(and in my head, I'm finishing that sentence with "…in Lake Wobegon." In Garrison Keillor's voice). We moved our offices at the beginning of the week, which gave me the opportunity to clear out about 14 years' worth of accumulated junk, and start with a clean, uncluttered space. We're still within the same building but now on a different floor, with a fresh new build-out. New furniture, new carpeting, new air conditioning system….which still needs a bit of calibration. While the warm weather has continued in LA (low to mid-80's F) It's been so chilly cold in the office that by day three, I'd even gone past this level of layering and had resorted to the Drastic Measures…a lightweight wool sweater and a scarf.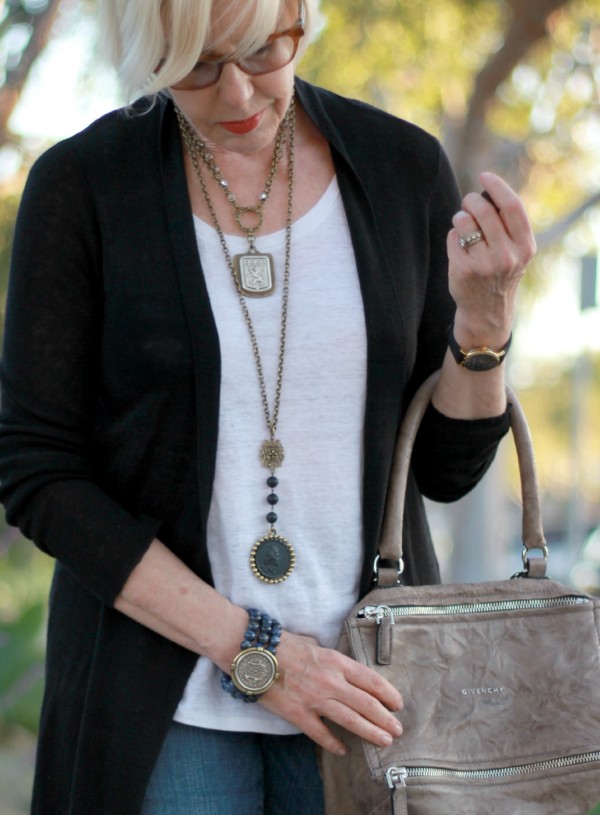 I love the look of layered necklaces, which become the focal point of this simple outfit. The two above are both from the French Kande "Concorde" collection, which I think is one of her best yet. The shorter necklace has strands of Swarovski crystals that add a nice bit of sparkle. The longer necklace (c/o French Kande) has a black-coated "Rex" medallion and black jasper beads. The bracelet is from an earlier collection. Those blue beads are sodalite, and coordinate beautifully with denim.
short necklace | long necklace | tank | cardigan (similar)  | bracelet | bag (similar) | jeans | shoes (similar)
I purchased this bag in Paris in early summer, and though I've worn it, haven't yet featured in an outfit post. (It's not always the case, but this particular bag was priced considerably lower in France than here in the States, and stronger dollar while we there helped too.)
Do you layer your necklaces or wear singly? Do you plan your outfits around a focal point?
Linked up: Visible Monday
Affiliate links in this post may generate commissions for unefemme.net. See complete disclosure policy here.
Affiliate links in posts may generate commissions for unefemme.net. See my complete disclosure policy here.