Shopping my closet: I'm calling this one my "summer suit"
Menswear-inspired vests are one of summer's biggest trends, and one I've been wanting to try. I've always had a thing for androgynous style, going back to Diane Keaton's quirky ensembles in Annie Hall. Today I'm sharing a linen vest outfit I wore recently and was quite pleased with.
Though we've managed to avoid the heat dome that's currently plaguing much of the country, it has finally warmed up enough that I've been "shopping" the summer section of my closet. Even (or especially) on days when I may not be getting out much, I try to dress with intention and put an outfit together. It's a way of showing up for myself, and really helps my outlook.
A linen vest as a summer outfit "finisher"
This outfit came together kind of by accident. I'd been going for a "Meg Ryan in French Kiss" vibe when I reached for the striped top and baggy pants. It wasn't bad, but I felt like it needed something else. I grabbed this linen vest and was pleased with how well it coordinated with the pants. So I'm calling this my "summer suit." 😉
I love to layer, and I thought a lightweight vest might be a workable "third piece" alternative when it's too warm for a jacket. I'd purchased this one a few weeks ago, and have occasionally thrown it on with jeans and a tee. I'm wearing a Small and were I to order again, I'd size up to the Medium to have the option to (comfortably) button it.
These lantern pants in undyed linen are no longer available in most sizes. But there are several other options in this "lantern" shape. I think the wide-leg trousers in undyed linen could work equally well in this look.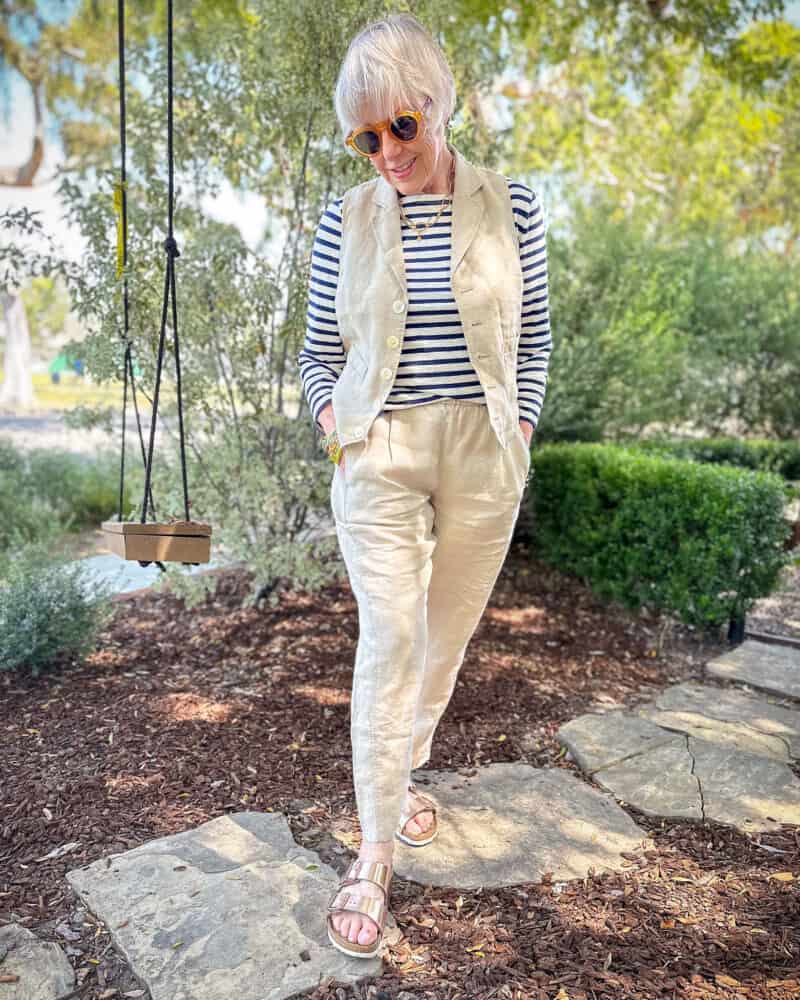 I'm going to be keeping my eyes open in the pre-fall collections for a longer vest or two for transitional season wear.
In-vest-ed…
Here are a few more lightweight vest options to top off your summer outfits…

Stay in touch
Sign up to be notified of new posts and updates from une femme d'un certain âge.