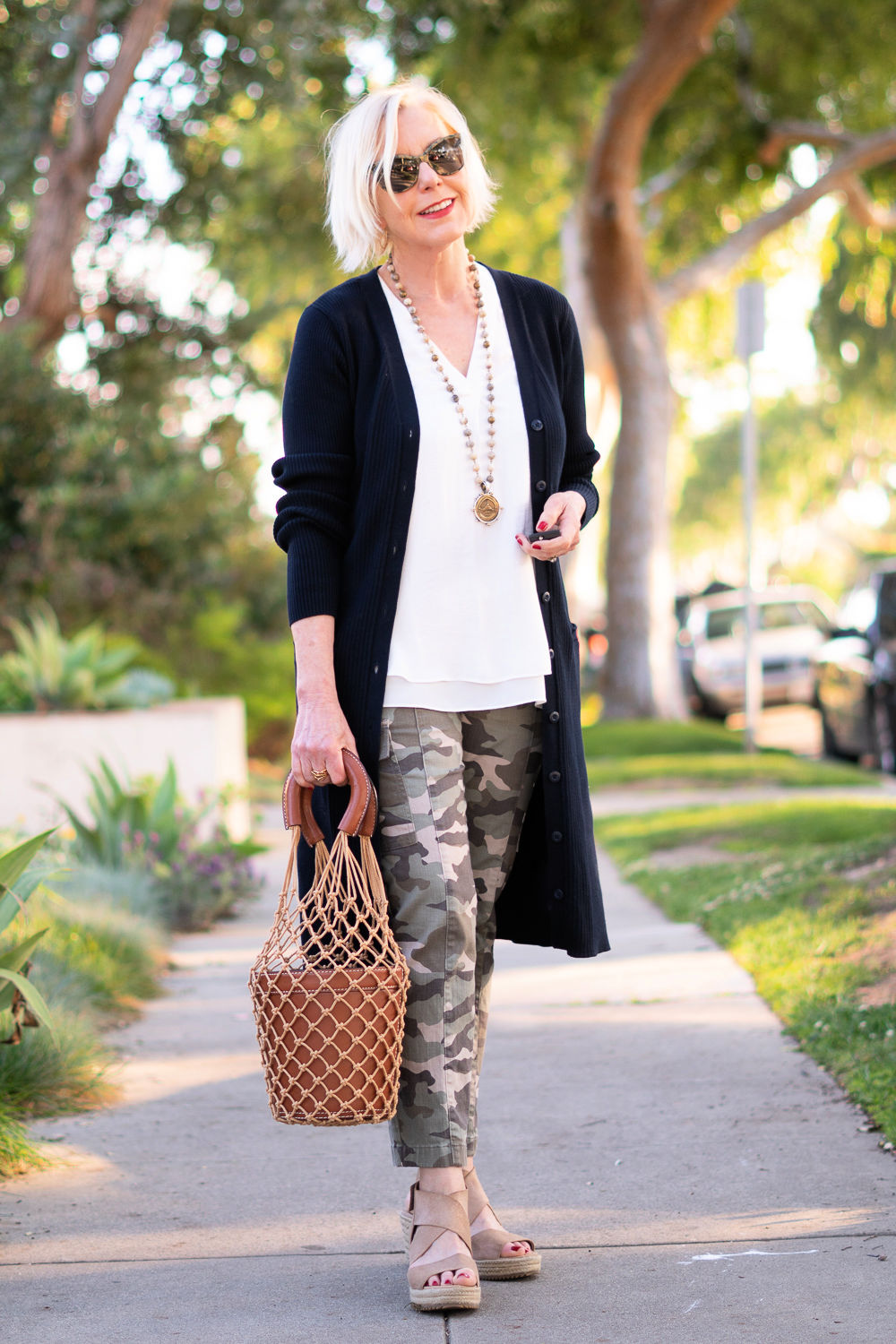 I've been feeling in a bit bored with my wardrobe lately. I'm chalking it up to change-of-season doldrums, and have been challenging myself to create some fresh mixes from my existing wardrobe. I wore this outfit to run some errands earlier in the week and was pleased with it. I felt I'd hit that sweet spot between making-an-effort and trying-too-hard.
Today I'm partnering with Tania Stephens of 50 Is Not Old for Friday With Friends. Read more below 👇
Casual Outfit With A Navy Cardigan
Plus options: Cardigan | Top | Pants
The navy cardigan (gifted) is from the Cabi spring collection. It's mostly cotton, so it's perfect to wear on cool spring mornings, but I don't overheat in it as the day warms up. I'm usually wary of ribbed knits, finding they can be too clingy, but this one is substantial. I'm wearing the size Small.
I recently purchased the cami to use as a layering piece. Here I've layered it under a favorite v-neck shell, and like the effect. The soft, feminine tops balance out the masculine vibe of camo pants, I think. I hadn't worn these pants in a while and had forgotten how much I like them.
These espadrille wedge sandals are seriously comfortable. I wore them all day, didn't even take them off when I got home.
Friday With Friends
One of the things I love most about blogging is the people I've met, either online or in person. I've found women in the blogging community to be so encouraging and supportive of each other.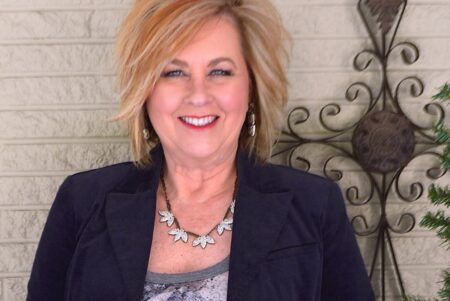 I was delighted when Tania Stephens of 50 Is Not Old invited me to participate in Friday With Friends, a weekly feature on her blog. You may be familiar with Tania's blog; if not go take a look. She's from Tennessee, began blogging in 2015, and writes with such honesty and a sense of humor! She's not afraid to try new trends and mix it up. Thanks so much, Tania, and I hope we have a chance to meet in person sometime!
Happy Passover
Passover starts tonight. Here's an easy and delicious recipe for Passover Apple Kugel.
And Happy Easter to those celebrating!
Affiliate links in posts may generate commissions for unefemme.net. See my complete disclosure policy here.