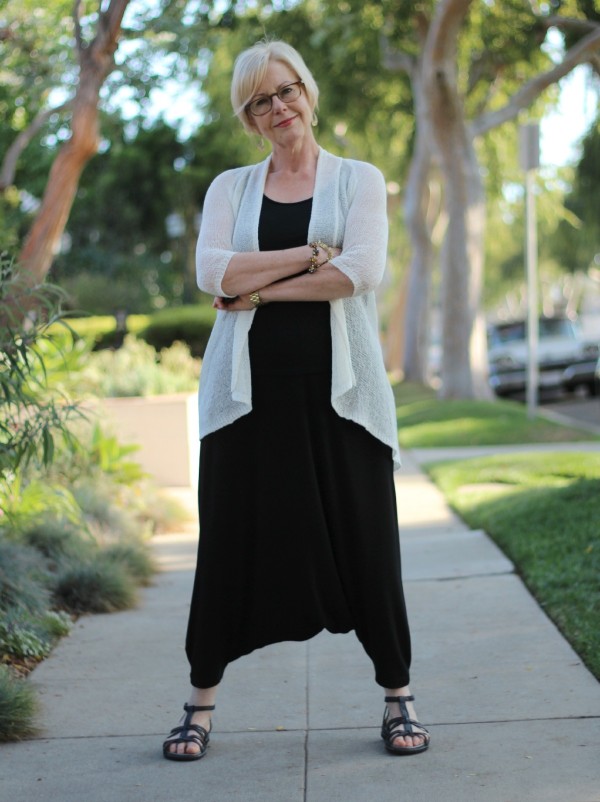 Summer has finally arrived in Southern California. Right now we're getting sub-tropical heat from Mexico, served up with a side order of humidity. Soon the seasonal Santa Ana winds will bring their own brand of dry, intense heat intermittently over the next few weeks.
"There was a desert wind blowing that night. It was one of those hot dry Santa Ana's that come down through the mountain passes and curl your hair and make your nerves jump and your skin itch. On nights like that every booze party ends in a fight. Meek little wives feel the edge of the carving knife and study their husbands' necks. Anything can happen. You can even get a full glass of beer at a cocktail lounge." — Raymond Chandler
The last of our big projects at work is now "live." It's been a busy few weeks, and I think the stress and occasional lack of sleep is showing on my face. We probably still have a bit of Higher-Ups-Want-To-Tweak-It last-minute changes to work through, but I'm hoping things will settle down to the usual nonsense soon. Yes, this is a departure from my usual uniform of slim pants. Between the heat and being a bit worn out, comfort was top priority so wore these Eileen Fisher harem* pants to a backyard BBQ in The Valley™ (hotter than our coastal neighborhood) over the weekend. These pants are so very comfortable and totally non restrictive. I actually like the edgy look of them, and yes, I know, they're not "flattering" in the conventional sense. I've had them for several weeks and have worn mostly very casually, running weekend errands and such. Here I'm wearing as a maxi-skirt alternative. I'm certain they'll divide the masses. 😉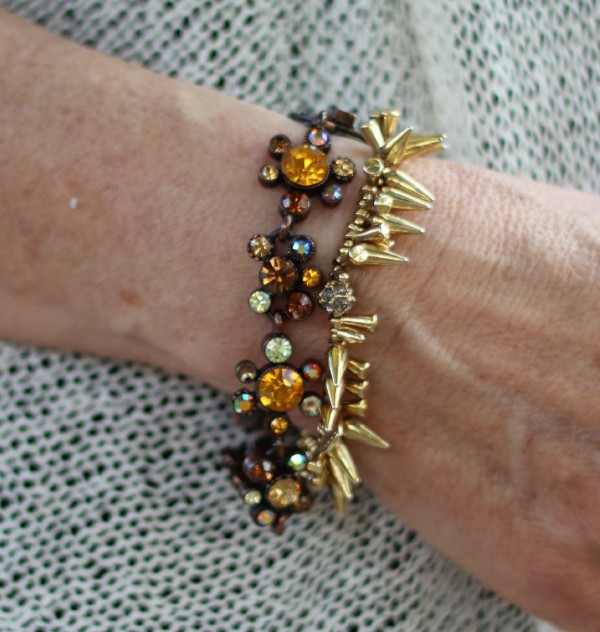 You've seen the Stella and Dot spiky bracelet many times. The other was an impulse purchase from 12-14 years ago, snatched up from a spinning countertop "vintage" jewelry display at a strip mall salon as I was paying for a haircut. I have no idea how "vintage" it actually is, but I love the colors and quasi-mid-century design; it's quite sturdy and has held up amazingly well. (It looks like there's a piece missing, but that's actually the design; every other "flower" is like that.) I get compliments every time I wear it.
The Stuff:
Sweater: Eileen Fisher, no longer available. Similar / Tank: Eileen Fisher / Pants: Eileen Fisher / Earrings: Alexis Bittar, similar / Bracelets: Stella & Dot, unknown / Watch: Michael Kors / Sandals: ECCO, similar.
Do you have some odd seasonal weather patterns where you live?  How do you dress for "unseasonable" weather?
Linked up with Verizon Voices Fashionista Style Hop!
*I hate the name because, well, "harem" which I associate with polygamy and women as property. (Per Barbara in comments, this isn't necessarily so.) I tried calling them Genie pants but then remembered that Genies get trapped in bottles until they do masters' bidding. Hammer pants? Suggestions are welcome.
Linked up with Visible Monday at Not Dead Yet Style!
Disclosure: actions taken from links in this post may generate commissions for unefemme.net
Stay in touch
Sign up to be notified of new posts and updates from une femme d'un certain âge.