One of the things about Paris that always enchants is the attention to detail. This is true when it comes to shops and markets too; one gets a sense that the proprietors take great pride in their business and go out of their way to create a personal and positive experience. The window displays, the arrangement of the merchandise, even how the shops often smell lovely (thanks to scented candles or diffusers)…it's meant to be a pleasing sensory experience, often very different from shopping at home.
When you step into a shop in Paris, the staff will greet you, "bonjour Madame/Monsieur" and you are expected to greet them back. In most places, you don't just rush in and grab something off the rack. You engage, you let them assist you and make suggestions. That sense of connection is an important part of the process. (There are exceptions to this, of course: discount chains and larger stores come to mind, but even so the level of interaction is higher than what you'd experience in comparable venues here in the US.)
We visit Paris usually no more than once per year (this year being the exception). We usually stop at the Fragonard shop on Boulevard St. Germain to look for some small gifts to bring home. Even with our infrequent visits, there are a couple of employees there who remember us from year to year. It's extraordinary.
And stores in Paris seemed to be going out of their way for the holidays, from decorations to these cute and charming doormen at Le Bon Marché…
to the personalized engraving at L'Artisan Parfumeur on bottles of perfume and candles.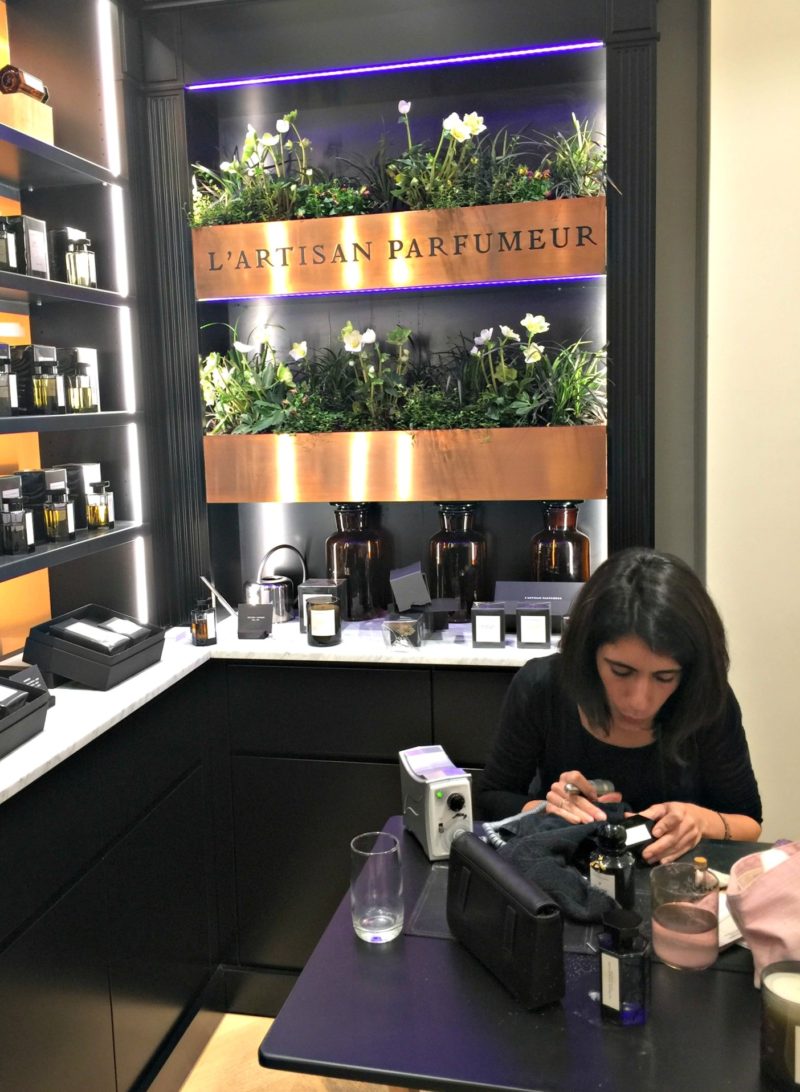 When the Sales Associate offered free engraving on the bottle of perfume I purchased (Premier Figuier Extrème), my answer was "bien sûr, merci!!"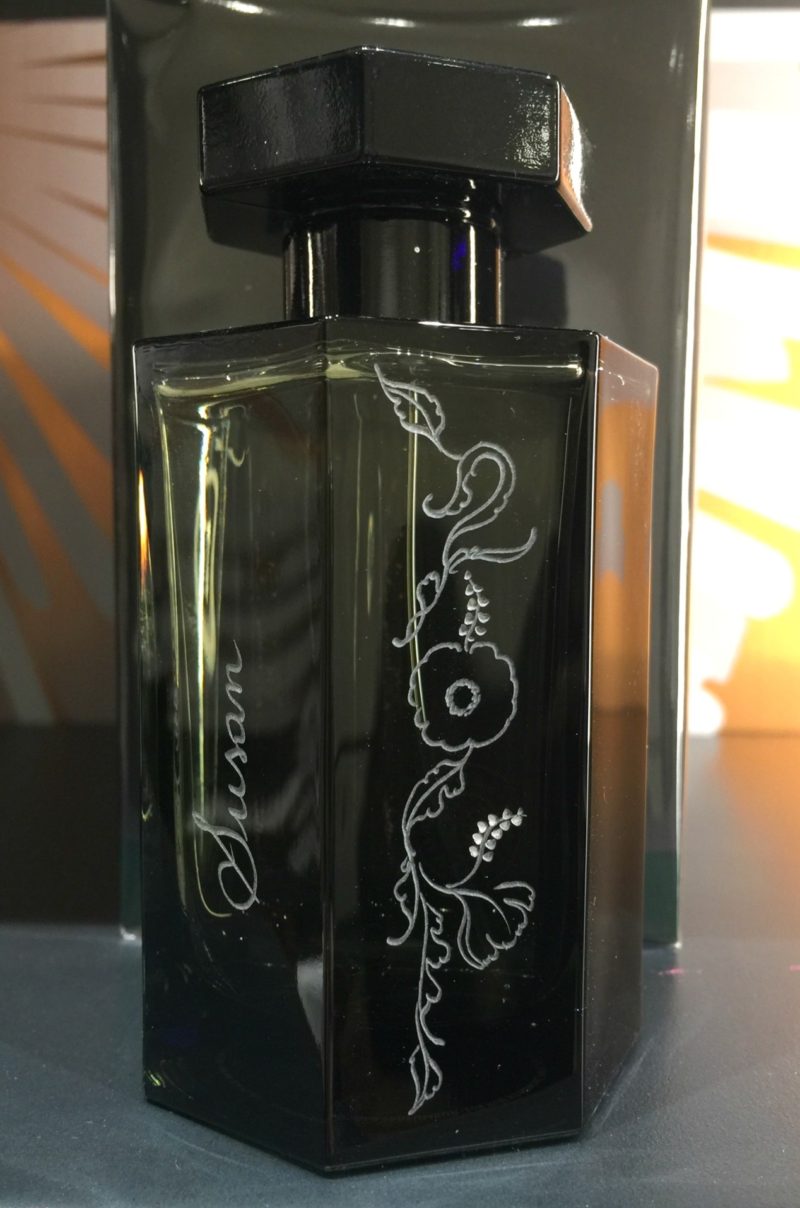 The finished result. She did the entire thing freehand!
Starting with something nice, and making it unique and personal…that's really a special treasure.
I want to tell you about something my friend Sharon Santoni of My French Country Home is putting together that's also personal, unique and special. It's called My Stylish French Box.
It's a keepsake box of French items for the home, each selected by Sharon. I met Sharon for lunch in Paris and was able to see the little treasures she's selected for the first box, and let me tell you, it's an extraordinary collection of truly unique and delightful things! I was blown away. The boxes (4 per year) are available by subscription (details HERE) and the first box will be shipped in February. If you'd be interested in giving a subscription as a gift for the holidays, Sharon will provide a printable voucher that can be given to the recipient. (And then they'll have something nice to look forward to!) I'd suggest if you're interested not to wait too long, as there are a limited number of boxes and I have a feeling they'll go fast.
What's been your favorite shopping experience?
Affiliate links in posts may generate commissions for unefemme.net. See my complete disclosure policy here.