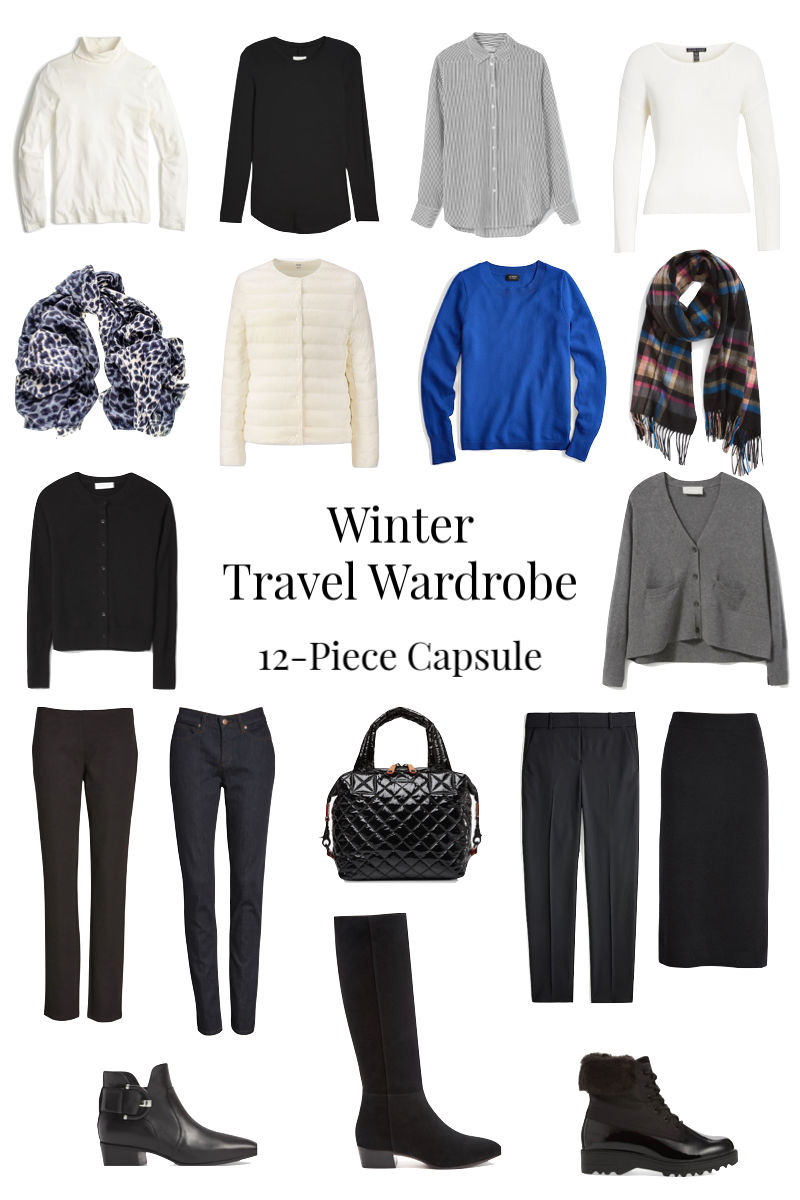 Several of you have asked when I'll be posting my travel wardrobe for Paris in mid-December. While it's still too early for final selections, I've been keeping an eye on the weather forecasts, and making a mental list of the possible pieces I'll take. It's likely that my Paris travel wardrobe will include many of the same types of items I've shown here.

Trying to build a universal winter travel wardrobe is next to impossible. Winter where? Montreal? New York? Oslo? Dallas? So for this exercise, I've assumed temperatures at or above freezing most days, light snow if any, and urban or suburban settings. Consider this a blueprint or starting point, and adjust as needed for the climate you'll be visiting. (Note: I don't count shoes, accessories, outerwear or underpinnings as part of the 12 pieces.)
Travel Wardrobe Guidelines
As with most of my travel wardrobes, I've adhered to some formulas:
Start with the shoes. Decide what kind of footwear the climate and activities will require, and build up from there. Choose clothing that will work with the shoes you'll be bringing.
Tabletop dressing. If you're trying to keep a limit on the number of pieces, keep the bottoms simple and add variety and interest above the waist. This also makes it easier to create a cohesive wardrobe that can be combined many ways.
A neutral foundation. It doesn't have to be black, or even a single neutral (I've used four above) but again, neutrals will greatly improve your wardrobe cohesion. I also find that neutrals are easier to dress up than bright colors.
2-to-1 ratio. I find that two tops to one bottom works well for most travel.
Choose pieces that can layer for warmth as needed. Three lightweight layers that can be removed if temperatures rise are preferable to one bulky layer. Be sure that everything can be worn under your outerwear.
Use scarves, hats, gloves, outerwear to add color and/or pattern.
When adding color, focus on two colors that can also be worn together.
I'll usually start with a base layer like a silk tank, or (if frigid enough) a long-sleeved silk tee or long underwear. I like silk because I find I don't overheat in it, and my other clothing slides over easily without sticking. Any of the tops above would be the next layer after that.
That little jacket is really warm, and so compact it will fit underneath your outerwear.
I've chosen two cardigans with distinctly different shapes. Each could be worn buttoned as a mid-layer, or unbuttoned as a top layer indoors.
I've stayed with dark neutrals for the bottoms. Those Eileen Fisher ponte knit pants are a stalwart in my travel wardrobes. Jeans are a must for me, and I have never regretted bringing them. I chose skinny jeans (similar) for this set, as they work with the knee boots. The wool trousers (lined) can dress up if needed. I don't usually travel with skirts, but I know many of you do, so included one here. It's a bit longer and will work with most of the tops, and with all of the footwear choices. Add a pair of merino tights to stay warm and cozy.
Bottom Row: Ankle Boots (similar) | Knee Boots (similar) | Lace-up Boots (similar)
The boot choices cover a range of temperatures, and all are weatherproof. Again, choose your footwear first (and be sure it's well broken-in!) and go from there.
Next week I'll have some outerwear suggestions and outfit ideas using these pieces, so do check back.
Advance Travel Prep: Paris In December
See all of my Travel Wardrobes HERE.
Will you be traveling this winter? Any particular travel wardrobe challenges?
Affiliate links in posts may generate commissions for unefemme.net. See my complete disclosure policy here.