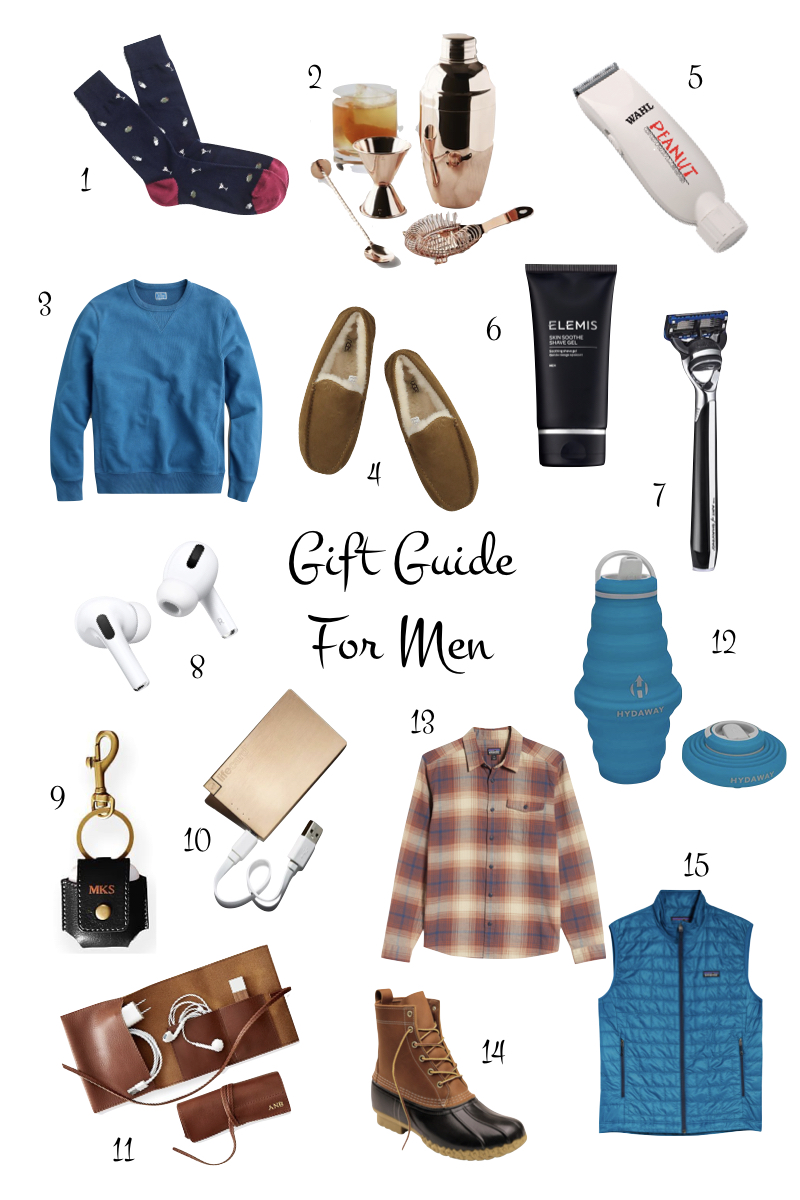 Buying gifts for the men in my life used to leave me flummoxed. I'd wrack my brain for the "perfect" gift: something unique, creative, dazzling. Ultimately, I realized that the simple, practical gifts were the ones that were the most used and appreciated.
And that's just fine with me. I believe in giving gifts that will be utilized, rather than some clever thing that will wind up collecting dust in the back of a closet, or worse, be in a landfill within a few months.
Practical Gifts For Men
Here are a few gift ideas for the men in your life. Some of these are gifts I've given that were a hit, others are suggestions from a recent survey of le Monsieur and some of my male friends and family members.
Le Bon Vivant: 1 | 2
He can always use another pair of socks, and they don't have to be boring. Here's a fun themed gift idea: a pair of Martini print socks and a good-looking set of cocktail tools.

Comfort Factor: 3 | 4
Has he been wearing the same old, worn-out sweatshirt and slippers at home since the last century? Here are some comfortable upgrades.
Well Groomed: 5 | 6 | 7
A couple of my friends with facial hair recommend this trimmer for keeping it neat. For Team Clean Shaven, this is le Monsieur's favorite shave gel. He also recently upgraded his razor, and wonders why he waited so long.
The Techie: 8 | 9 | 10 | 11
I've been hearing great things about these new Airpod Pro wireless headphones with active noise cancellation. I think the idea of a keychain pouch for them is kind of brilliant. (And, you can have it monogrammed.)
A portable power source that's wallet-sized sounds like a winner to me. And for those who travel or commute, I like this roll-up charger cord organizer to keep them organized and accessible. (Also can be monogrammed.)
Ditch the disposables…these collapsable water bottles are great for travel or outdoor activities. The soft flannel shirt is made from 100% organic cotton, similar shirts here. The original Duck Boot, still made in Maine. Add warmth with a compressible puffer vest (similar) made from environmentally friendly recycled materials.
Experiential Gift Ideas
The men I surveyed also mentioned that they like receiving experiential gifts. You could also give:
tickets to see their favorite sports team
scuba or golf lessons
a day spent touring local wineries
concert tickets
What gifts have been most well-received by the men in your life?
Affiliate links in posts may generate commissions for unefemme.net. See my complete disclosure policy here.