I've almost never met a stripe I didn't like. 😉 They can be classic or offbeat, and I find them one of the easiest patterns to wear. Stripes can add a focal point to a simple outfit without screaming for attention. A striped top looks more "finished" on its own than a solid one, IMO. And it looks fabulous layered underneath a jacket or cardigan. They're also an easy starting point for mixing patterns, if that's your thing. Now that the weather's cooled down, I have my eye on some striped sweaters for layering….
A Fresh Crop of Striped Sweaters…
Many of us were raised with the notion that horizontal stripes are "unflattering." That isn't inherently true. I think it depends more on the cut of the garment, the fabric, and how we style it. And no, we don't have to hew to the concept of always trying to look taller and thinner. Sometimes wearing what makes us happy is the most flattering choice of all.
But certain stripes can be easier to wear…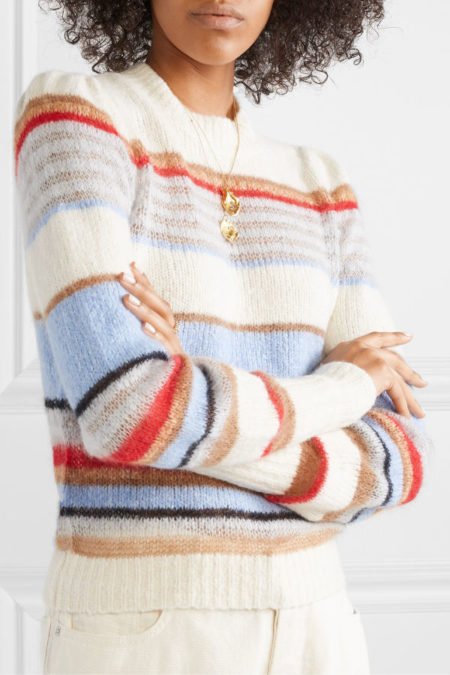 Irregular stripes like these can draw the eye up and down rather than across. The softness and low contrast of most of the stripes also helps.
I saw this sweater in person over the weekend, and may go back for it. Most of the colors are in my palette, too! (The dark color is navy, not black.)
Narrow stripes with more "negative space" in between are another way to minimize the horizontal effect. This sweater is neutral, timeless and classic in ivory and black, but is also offered in a pretty raspberry pink. The button cuffs are a nice detail, too. In Misses, Petites, Plus, and Plus Petite.
For those who need a wool-free option, this 100% cotton sweater also has some nice button detail at the shoulder. Other color combos too, and it's currently 40% off!
Here's another wool-free option. The open neckline and gathered sleeves make this more feminine, while the stripes keep it from being too frou-frou.
I've also been seeing a LOT of styles with these broad, color-blocked stripes. This is definitely a more bold and vibrant look, but the the softer contrast between the colors here keeps it from being overwhelming.
Here's a plus-size option that's also wool-free.
Color, but make it subtle. This one's wool-free as well.
And let's not forget Fido! This sweater has a hood to keep his little noggin warm too.
Do you like colorful stripes, or do you stick to neutrals?
More Seasonal Stripes

Affiliate links in posts may generate commissions for unefemme.net. See my complete disclosure policy here.